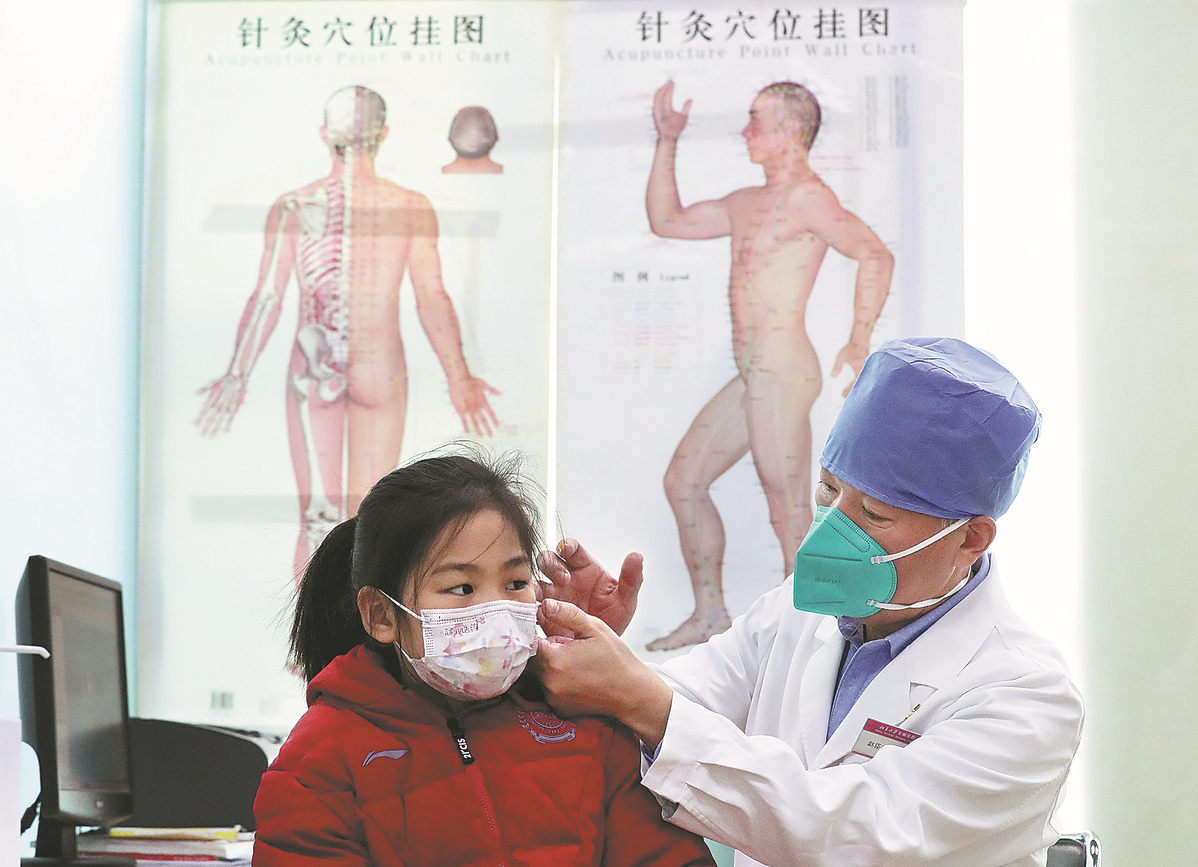 After overcoming a COVID-19 infection, some people still suffer from symptoms of discomfort and some are now turning to traditional Chinese medicine for help.
Liu Naigang, chief physician of the TCM department at the China-Japan Friendship Hospital in Beijing, said that he is receiving 5 to 10 such patients every day.
"Most are suffering from rhinitis, fatigue, headache and lumbago. To relieve their discomfort, we prescribe a TCM decoction. Needle-knife, acupuncture and sphenopalatine ganglion stimulation, three external TCM therapies, can also be used in treatment, depending on diagnosis. These methods are helpful to dissipate cold, improve breathing and adjust the balance of nerves," he told China Daily.
With standardized treatment, for most patients, discomfort will disappear but rest, keeping warm and avoiding overexertion are also important, Liu added.
Xu Xinyi, a 35-year-old suffering from back pain for unclear reasons after overcoming a COVID-19 infection, turned to Liu for TCM when X-rays showed no sign of abnormality.
After receiving needle-knife therapy five times, her backache disappeared. She said that TCM really worked in her case.
Liu, the doctor who treated her, described TCM as a precious wealth passed down by the ancestors. "TCM treatments are quite effective in relieving post-COVID-19 discomfort.We should be confident of this time-honored, ancient medicine, exploit its advantages in clinical practice, and devise standard treatment methods to benefit patients all over the world."
In addition to Beijing, hospitals in other cities are opening up special TCM departments to help with post-COVID-19 rehabilitation.
Zhang Minyu, director of Dinghai Community Health Service Center in Shanghai, told Jiemian, a local news portal, that their clinic had begun trial operations last August. "We sent two doctors to study at the Yueyang Hospital of Integrated Traditional Chinese and Western Medicine to bring back their experience and prescriptions."
On Tuesday, the China Association of Chinese Medicine and the Tianjin University of Traditional Chinese Medicine released an expert consensus on the use of TCM for common post-COVID-19 short-term symptoms.
It proposed the concept, etiology, pathogenesis, clinical manifestation, TCM treatment and precautions of diseases common after tests turn negative, to facilitate recovery and provide clinicians with a reference.
Wang Songsong contributed to this story.