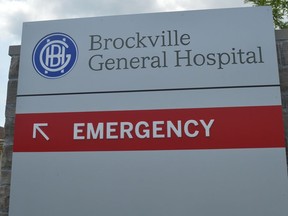 Article content
The number of people showing up at the local hospital with respiratory illnesses is leveling off, but local hospital officials say the threat of COVID-19 remains.
Article content
Officials at the Brockville General Hospital (BGH) said this week hospital operations have stabilized "slightly" since late December, a time when they were dealing with an unseasonably high level of respiratory illnesses.
"Patients presenting to BGH with flu and respiratory syncytial virus (RSV) has been tapering off, however we continue to see a moderate volume of patients who are positive for COVID-19," Abby McIntyre, hospital spokesperson, said on Thursday.
"At the Brockville Assessment Centre, they are seeing an increase in people presenting with rhinovirus (common cold) and still a significant amount of COVID-19."
McIntyre said as of 9 a.m. Friday, seven patients in hospital had tested positive for COVID-19, influenza or other respiratory viruses. 
Article content
The news comes after a prolonged cold and flu season where respiratory illnesses hit children – and adults – harder than in previous years.
Last November, data from BGH showed a steady increase in young children and youth coming to its emergency room with respiratory problems, which hospital officials attributed to a mix of the common cold, seasonal flu, COVID-19, and RSV.
At the time, visits from patients experiencing symptoms of a cough, congestion, fever, and shortness of breath had increased more than 60 per cent, many of whom were young children aged three and under.
The trend continued for many weeks, but on Thursday the hospital said it's begun to see signs of relief, marginal as they may be. In spite of this, hospital officials say they've managed to continue "to serve the needs of our community" while still dealing with the "many challenges felt by the health-care system" – including a chronic staffing shortage issue.
Article content
The hospital has been vocal about its staffing shortages, an issue that was exacerbated by the pandemic and the ensuing rise in respiratory illness throughout the community.
The staff absences this created, on top of the unprecedented patient volumes, have contributed to the pressures the local hospital has been facing. And while those pressures have somewhat waned in recent weeks, they still remain a significant challenge.
"As members of our community, our health-care workers are not immune to respiratory or other illnesses, which continues to put pressure on our clinical teams," McIntyre said.
"This is not a unique challenge for BGH. Staffing pressures remain the single biggest challenge across Ontario's health-care system. We are grateful to each of our health-care workers for their commitment to the health and well-being of our community."
For those experiencing respiratory-related illnesses, McIntyre said the Brockville Assessment Centre is the best place to go.
"Thank you to the many people working at the Assessment Centre. This service has helped to reduce non-emergency related visits to our emergency department, which allows us to care for those with serious illnesses (and) injuries faster. We appreciate the teamwork shown by our community partners."
They are open daily, and appointments can be made at www.brockvillegeneralhospital.ca/bookassessment or by calling 613-704-1441.