KOLKATA: Patients suffering from respiratory ailments continue to throng Kolkata's private hospitals, which, doctors believe is very unusual since winter is over and it has already turned reasonably warm - a weather that sees a drop in the number of such patients.
According to some experts, lack of exposure to common viruses during the Covid period, when everyone used masks and stayed away from crowds, blocked the transmission of viruses and has led to a reduced immunity.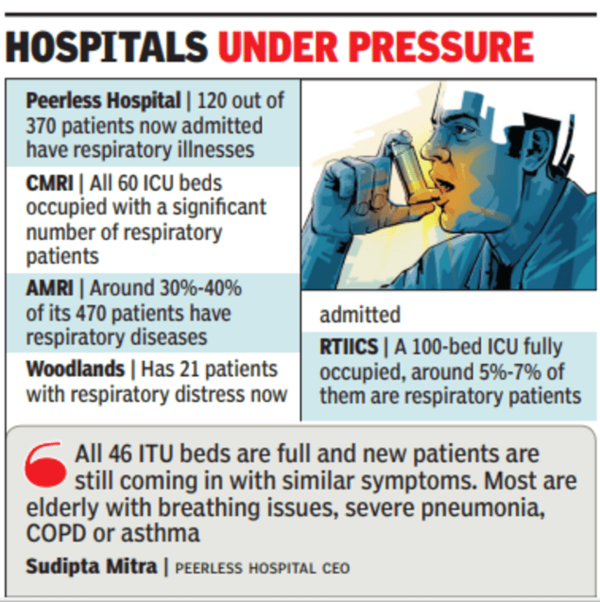 At Peerless Hospital, 120 out of 370 patients now admitted have respiratory illnesses, which is triggered by viruses that proliferate in winter. "All 46 ITU beds are full and new patients are still coming in. The rate of admission has not gone down with the exit of winter," said Peerless Hospital CEO Sudipta Mitra.
All 60 ICU beds at CMRI Hospital are occupied with a significant number of respiratory patients. Despite the mercury climbing up, the number of patients with breathing issues has not gone down, which, according to CMRI director of pulmonology Raja Dhar, is 'very unusual'. "Every year, we see a spurt in respiratory patients in winter due to increased pollution. This year, we saw an unprecedentedly high number of such patients seeking admission. Surprisingly, the number has remained constant despite the fact that it is quite warm now and pollution levels have dropped," said Dhar. He added that a reason could be lower immunity due to lack of exposure to viruses during Covid.
At AMRI Hospitals, around 30%-40% of its 470 patients - admitted across its three units - have respiratory diseases. While the number of patients has not dropped since late-January, the hospital is now getting less severe cases. "The number of patients needing ventilation has come down marginally, but we continue to receive those with severe COPD, asthma, influenza and adenovirus cases," said AMRI CEO Rupak Barua.
A 100-bed ICU at RN Tagore International Institute of Cardiac Sciences (RTIICS) remains fully occupied. "Around 5%-7% of them are respiratory patients. This number was much higher two weeks back," said Narayan Hospitals zonal head R Venkatesh.
Woodlands Hospital has 21 patients with respiratory distress now admitted. "Our ICU beds are completely full, almost 50% of them with patients suffering from respiratory ailments," said Rupali Basu, managing director & CEO, Woodlands hospital.
Viral load has been very high among severe patients, according to Fortis Hospital pulmonologist Sushmita Roy Chowdhury. "We ate getting a stream of patients with upper respiratory tract infection. It has ebbed a little this week," she said. Arindam Banerjee, director of Manipal Hospital, Salt Lake, said: "There are 15-odd respiratory patients in ICU and HDU units, including five children."