'It's good news, with caution,' says a doctor who took 18 months to recover from long COVID. Some remain symptomatic for more than a year
Get the latest from Sharon Kirkey straight to your inbox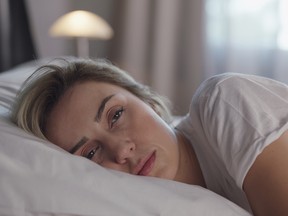 Article content
A large new study involving thousands of "long haulers" suggests most symptoms of long COVID clear within a year, a finding its researchers say should help ease growing fears of long-lingering effects of a COVID infection.
Article content
"Although the long COVID phenomenon has been feared and discussed since the beginning of the pandemic, we observed that most health outcomes arising after a mild disease course remained for several months and returned to normal within the first year," the researchers report in this week's issue of the British Medical Journal.
Article content
"When we started this study there was a lot of uncertainty regarding the long-term effects of the pandemic and there was a fear that a large proportion of infected individuals will have long-lasting symptoms and emergence of new morbidities," the study's senior and lead authors, Dr. Maytal Bivas-Benita and Barak Mizrahi, of the the Ki Research Institute in Israel, wrote in an email to the National Post.
Article content
As they analyzed the data, "we were surprised to find only a small number of symptoms that were related to COVID and remained for a year post infection, and the low number of people affected by them."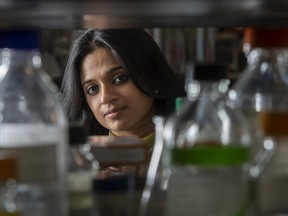 While other scientists not involved in the study said it adds a critical piece to the long COVID picture, "it's good news, with caution," said McMaster University immunologist Dr. Manali Mukherjee, who developed long COVID after a SARS-CoV-2 infection. It took 18 months for her to recover.
Article content
"There is a subset who remain symptomatic," one year, post COVID infection, Mukherjee said, especially those aged 19 to 40. "Weakness, cognitive impairment, brain fog, shortness of breath — these are the ones you keep hearing from patients," Mukherjee said.
Article content
"The people I look after who are suffering with long COVID have severe shortness of breath or severe weaknesses even beyond a year that significantly impacts their ability to look after themselves and their families and to work," said Dr. Kieran Quinn, a general internal medicine and palliative care specialist with Toronto's Sinai Health System.
But the study also shows that long COVID is a true phenomenon. "People are still questioning whether long COVID is a 'real' thing," Quinn said. "This kind of evidence continues to show that it is a real thing, and people need to be listened to and their experiences need to be validated and we desperately need to try to find a way to help them."
One government of Canada survey, the Canadian COVID-19 Antibody and Health Survey, found that 15 per cent of adults with a confirmed or suspected COVID infection experienced symptoms of long COVID, and, of those, nearly half (47 per cent) said their symptoms persisted for a year or longer; 21 per cent said their symptoms "often or always" limited their day-to-day activities.
Article content
What, exactly, defines long COVID, or "post-COVID condition," is still evolving, the Israeli researchers wrote in BMJ. So far, it's been defined as symptoms persisting, or new ones appearing, more than four weeks after infection with COVID; others define it as symptoms persisting for at least three months. More than 100 symptoms spanning virtually every organ system have been reported, from abdominal pain and hair loss to problems concentrating.
But in the era of widespread vaccination and milder variants, long COVID may be less frequent now than the earlier days of the pandemic, according to a brief from Ontario's former COVID-19 Science Table last year. However, it still poses "substantial health risks" and a heavy burden to the economy and health-care system, scientists said.
Article content
It's still not clear what's driving it. Working theories pin long COVID on persistent inflammation, or a hyper-stimulated immune response. Once SARS-CoV-2 is cleared from the body, the body's immune activation may go rogue, unleashing auto-antibodies that turn on its own tissues and proteins.
It's also possible that pieces of the virus, or the virus itself, can linger in reservoirs in the body, including the gut. Other scientists are reporting that tiny blood clots called micro clots cold be blocking vessels throughout the body, causing symptoms like shortage of breath and brain fog
The Israeli study was based on the electronic health records, and not questionnaires, of 1.9 million people who took a COVID PCR test between March 2020 and October 2021. The researchers compared 300,000 people who tested positive for SARS-CoV-2, but who weren't admitted to hospital, in the month following a COVID diagnosis and matched them to a similar number who tested negative. The median age was 25.
Article content
They looked at a list of 70 reported symptoms, compared the vaccinated to the unvaccinated, and looked at people at different time periods: one to six months after infection with COVID, and six to 12 months later.
People who tested positive for COVID had significantly higher risks of problems like loss of smell and taste, concentration and memory problems, breathing difficulties, weakness, palpitations, cough, muscle aches and pains and dizziness throughout the year following a COVID diagnosis.
But chest pain, hair loss, cough and muscle aches and pains decreased after six months. Concentration and memory problems peaked at four months, and then slowly declined.
Weakness persisted throughout the year for people aged 19 to 60.
Article content
There was only up to three months of follow-up for the vaccinated group. But the vaccinated who became infected with COVID had a lower risk of shortness of breath compared to the unvaccinated, though a similar risk for other problems.
The study covered periods when older variants were circulating, and not Omicron.
Quinn said he was surprised the study didn't include fatigue — "people describe it as waking up with only 10 per cent battery in your smart phone," or "post exertional malaise," where "even seemingly simple physical or cognitive mental activities that use some energy can leave you with total energy deficit and depletion, for days afterwards."
The researchers told CNN fatigue was coded under "weakness."
Mukherjee said the data are also based on people who sought medical attention. "Many people may not have come in. These records are based on who actually took the effort of coming in."
About 1.4 million Canadians have experienced long COVID, according to Statistics Canada.
For more health news and content around diseases, conditions, wellness, healthy living, drugs, treatments and more, head to Healthing.ca – a member of the Postmedia Network.
Get the latest from Sharon Kirkey straight to your inbox