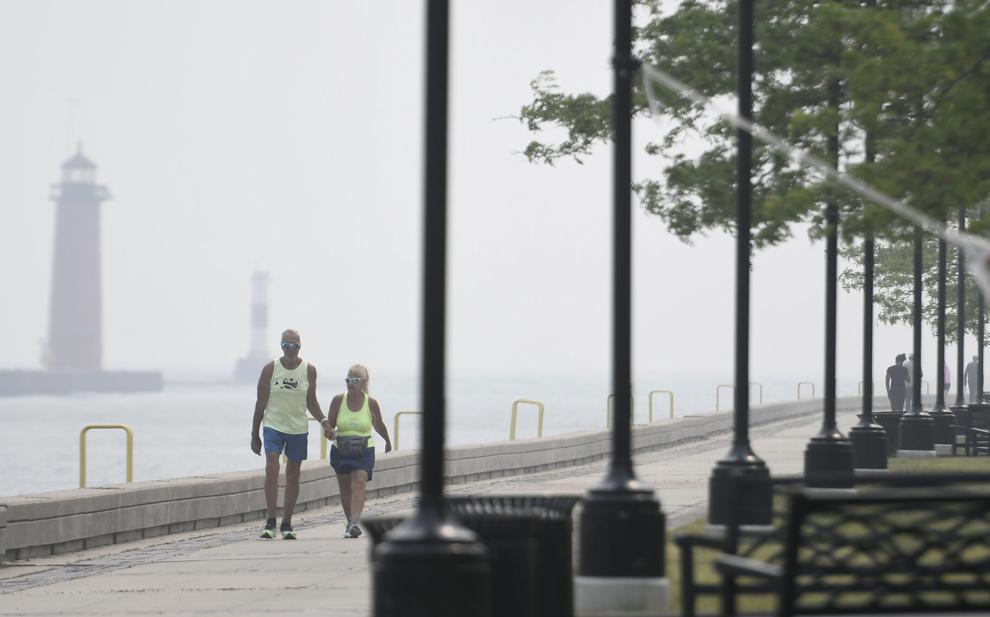 The City of Kenosha is currently under a burning ban due to wildfire smoke from Canada creating "unhealthy" air quality conditions according to Deputy Fire Chief Daniel Tilton.
Open burning is not allowed until the burn ban is lifted. Kenosha County air quality was considered "unhealthy" as of Tuesday afternoon according to the Wisconsin air quality monitoring data website.
"The elderly or those with underlying conditions should avoid strenuous activity outside and stay indoors," Tilton said.
Due to the poor air quality, Tuesday night's bicycle racing at the Washington Park Velodrome, including the annual Bill Schulte Memorial Junior Trophy Race, was postponed. The race will be rescheduled in July.
Air quality advisory
The Wisconsin Department of Natural Resources sent a press release warning of a multi-day air quality advisory across all of Wisconsin due to the smoke from Canadian wildfires.
The current advisory is in effect through noon on Thursday. The "most significant" air quality and health impacts are expected through noon Wednesday.
The DNR warns conditions can change rapidly and advises residents to pay close attention to air quality in their area and take action, especially if they feel unwell.
During an air quality advisory, the DNR and the Wisconsin Department of Health Services recommend residents keep outdoor activities light and short. They should watch for symptoms like coughing and shortness of breath and take a break or move indoors.
Groups sensitive to such conditions — including people with heart or lung disease, older adults, children, those who are pregnant and those who work outdoors — should consider moving all events inside.
Protecting against wildfire smoke
Residents should close windows and doors, run their air conditioning on recirculate, and use an indoor air purifier.
Those who have to spend time outside should check air quality conditions before leaving their homes and avoid or limit exercising outdoors. They should consider wearing an N-95 mask or better, especially if outdoors for extended periods of time.
Online, residents can go to airquality.wi.gov/home/map for the statewide air monitoring network. You can also download the free WisconsinAQM mobile app to receive air quality updates anywhere on a mobile device, or sign up to receive air quality advisory notices by email or text.
The EPA utilizes corrected data from air quality sensors to fill in the spatial gaps between regulatory air monitors on their airnow.gov web map, which shows current fire and smoke conditions.
Kenosha Unified
Kenosha Unified School District will be limiting student time spent outdoors for summer school and KUSD recreation department activities during the air quality advisory, according to an automated call made to students' parents and guardians.
"We encourage parents and guardians to watch the news and make the best choices for their children based on air quality, especially those with asthma or other breathing conditions," the district call stated.
Asthma program
Kenosha County Public Health offers an asthma program for eligible residents. The Asthma-Safe Homes Program provides free self-management education and home environmental walk-throughs to Medicaid-eligible children ages 2 to18-years old and pregnant women with poorly controlled asthma.
Participants are given up to $1,000 worth of asthma-friendly cleaning supplies and other household goods upon completion of the program, including a cleaning kit, vacuum cleaner and air purifier.
'Worst in the world'
Residents of the Chicago area and throughout the Great Lakes region woke up Tuesday morning to the worst air quality in the world, according to IQAir and AirNow.gov, which monitor air quality conditions around the world.
Other parts of Illinois — along with almost all of Wisconsin, Michigan, Indiana and Ohio and areas of Minnesota, Iowa, Kentucky and West Virginia — have also been affected.
The poor air conditions are the result of a wildfire season in Canada that's among the worst in that nation's history, with particular difficulties in the eastern province of Nova Scotia. As of early Tuesday afternoon, 488 active wildfires were burning across Canada, according to the Canadian Interagency Forest Fire Center, with more than half considered to be "out of control."
The United States had three Midwestern cities with the worst air quality in the world, led by Chicago, followed by Detroit and Minneapolis. The "worst in the world" designations also include Dubai of the United Arab Emirates and the cities of Lahore and Karachi in Pakistan.
Drifting smoke from the ongoing wildfires across Canada is creating curtains of haze and raising air quality concerns throughout the Great Lakes region, and in parts of the central and eastern United States.
The small particles in wildfire smoke can irritate the eyes, nose and throat, and can affect the heart and lungs, making it harder to breathe. Health officials say it's important to limit outdoor activities as much as possible to avoid breathing in these particles.
Fires in northern Quebec and low pressure over the eastern Great Lakes are sending smoke through northern Michigan, and across southern Wisconsin and Chicago, said Bryan Jackson, a meteorologist with the National Weather Service.