The Holla rapper says a series of incidents led him to lose 100LBS including a near-fatal experience after a night of partying, the bedroom incident, and a "90 percent blockage in my throat" due to polyps
In an interview with Men's Health for its "Hip-Hop is Life" issue, the rapper detailed a traumatic health scare, revealing what ultimately inspired him to take action and get healthy after he became overweight.
During the pandemic, Busta weighed over 300 pounds, attributing the weight gain to the death of his father in 2014.
"That had to do with me never properly dealing with the loss of my father," he said. "My dad died in 2014 and I drowned myself in work. I just kept drinking, smoking, eating bad -- the whole nasty -- and recording a bunch of songs just to escape the pain. I also had a 90 percent blockage in my throat because of polyps on my vocal cords, and my breathing was bad."
The Touch It rapper said the first wake up call came after he experienced breathing issues following an intimate moment with his then-girlfriend.
"One night I was getting ready to have, make, you know...I was getting ready to have an intimate moment with my ex," he recalled. "I had a breathing issue after the intimate interaction."
"I was having a really difficult time breathing, so I got up and I walked out of the bedroom so she wouldn't panic seeing me trying to keep myself calm. I was trying to inhale, and it felt like it wasn't working," Busta continued, adding that it felt like he was suffering from an asthma attack, even though he doesn't have asthma. "So I walked out of the bedroom and went into the living room, and I was forcing myself to inhale, to relax."
"That was scaring me so much that it was a mindf---, because I had to stay calm and make sure she didn't hear me panic or hear me struggle to breathe," he said. I'm butt-ass naked in the living room, trying to calm myself down."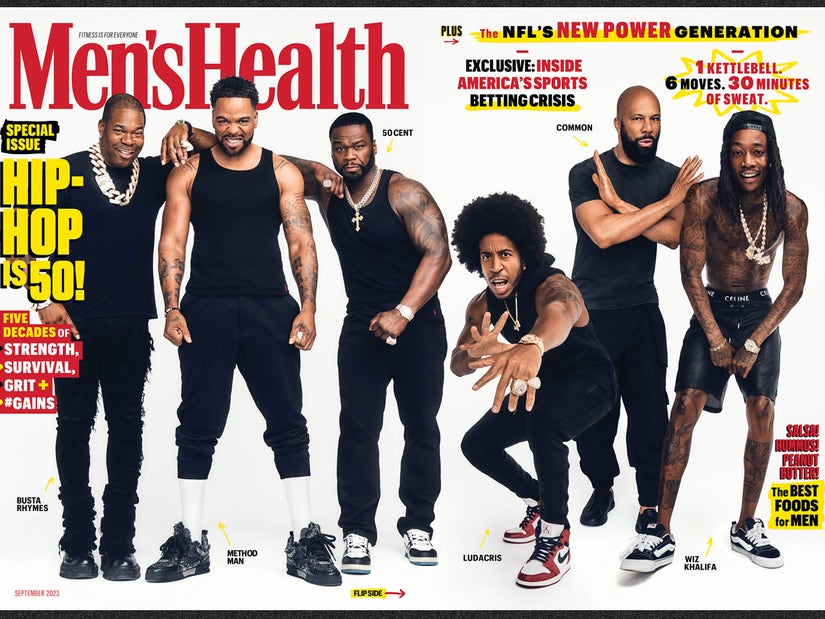 Shayan Asgharnia for Men's Health
The 51-year-old added that when he returned to the bedroom, his ex said, "something to me that really f---ed me up."
"She was like, 'Yo, this is not who I fell in love with,'" Busta said, "She didn't know what had happened outside, but she was looking at my body and the weight. She was like, 'You gotta lose this weight. This breathing is scaring me. When I met you, you wasn't like a musclehead, but you, you was slim, you was cut, you had your s--- right. I need you to get back to who I fell in love with."
The Break Ya Neck artist said the second wake up call came when his son "slapped" him on the stomach when he went to fist bump him, noting that "these things never happened when [he] had a six-pack."
"Those are two moments that really made me say, 'Right, I gotta fix all of this,'" he said.
However, Busta said he ultimately realized he needed to make a change following a near-fatal experience in which he was found unresponsive in the back of a car after a night out in LA.
"The third moment was when security and my son took about 45 minutes to get me up in a crib [when he passed out in the car in 2019]," he recalled to Men's Health. "I was also scared about surgery for the polyps on my vocal cords because my voice is how I feed my family -- the voice is the dragon. I ran from the surgery as long as I could, but after that weekend I saw the doctor and he looked at my throat and he said I could die in my sleep. That's when I got surgery and started to get back in shape."
Waiting for your permission to load the Instagram Media.
Cut to several years later, and Busta has dropped 100 pounds.
"I've actually transformed my body three times. Now it's 'my season' again, I'm getting ready for the tour. I'm trying to lean out, chisel that six-pack up, build the pecs, cap the shoulders, get the traps, triceps -- you know, get your waist small, stomach flat, get your back muscle so you can take the T-shirt off on the stage," he said.
The 12-time Grammy nominee said he's going to be sharing the stage with 50 Cent, so he doesn't "want to be [the] weak link" and has been doing "two-a-day workouts," including weight and circuit training, sauna and cryotherapy.
"It's gonna inspire people when they see you in shape when you walking around here moving and shaking. Me, 50 Cent, Dr. Dre, a lot of artists now, understand the seriousness and significance of self-preservation: a healthy diet regimen, significant water intake, getting your sleep so your body can repair itself when you beat it up and you tear that muscle from the workouts," Busta said. "The most important thing in life is self preservation."
"Mind, body, and spirit: make sure that you're in the healthiest space that you can be in so that you can use your better sense of judgment at all times," he added. "Go to the gym, eat good, sleep, -- get it right cuz it's important. Find that balance mentally and spiritually so that you can find that peace of mind and that happiness to be your best self. Not just for you, but for the people that you love, bro."
When asked what he credits to him now being in a "beautiful space," Busta expressed his gratitude toward his loved ones.
"I've been super blessed to have people that actually love me so much that they refuse to let me die, people you can be honest with when you're comfortable enough that you know they genuinely love you and they will protect you," he said. "Not just professionally but personally, and you can be vulnerable and honest with them and truly ask for some guidance and truly ask for some help."
"Sometimes, bro, you know, especially in this industry, you're not allowed to be that, because you don't know what to trust from what not to trust, who to trust from who not to trust. I'm able to be honest with [my friends and family], even in times of crisis," he told Men's Health. "I don't have to be afraid to ask for help."
Read Busta's full interview with Men's Health, here.