The Pulse Oximeters Market is a crucial player in modern healthcare, offering a simple yet indispensable tool for monitoring oxygen levels in the blood. These compact devices provide real-time data on a patient's oxygen saturation, enabling healthcare professionals to assess respiratory health quickly and accurately. With the heightened importance of oxygen monitoring during the COVID-19 pandemic and the growing emphasis on home healthcare, the pulse oximeter market has experienced rapid growth. Its portability and ease of use make it an essential component in both clinical settings and everyday health management, ensuring better patient care and well-being. The global pulse oximeters market size was $2.1 billion in 2021, and is projected to reach $3.9 billion by 2031, growing at a CAGR of 6.3% from 2022 to 2031.
Request Sample Copy of Report –
www.alliedmarketresearch.com/request-sample/1944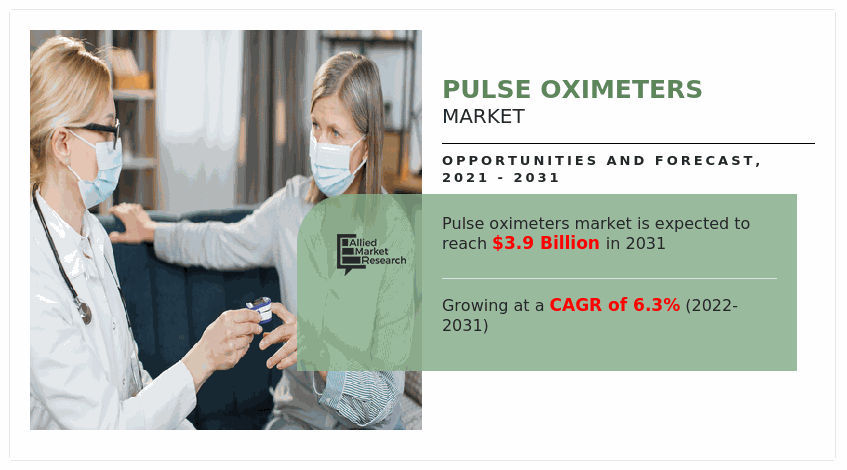 Pulse oximeters are usually small and portable, and they can be attached to a person's fingertip, earlobe, or toe. They work by emitting two different wavelengths of light, typically red and infrared, through the skin and into the blood vessels. Hemoglobin in the blood absorbs some of the light, and the device measures the amount of light that is transmitted through the tissue to calculate the oxygen saturation level.
Major market players covered in the report, such as –
Contec Medical Systems Co. Ltd,
Masimo Corporation,
Meditech Equipment Co. Ltd.,
Medtronic Plc.,
Nonin Medical Inc.,
Omron Corporation,
Koninklijke Philips N.V.,
Promed Technology Co.Ltd,
Smith Group Plc,
Tenko Medical Systems
Buy Now:
www.alliedmarketresearch.com/pulse-oximeter-market/purchase-options
Key Benefits for Stakeholders –
• The report provides quantitative analysis of market segments, current trends, strategies and potential of Pulse Oximeters Market research to identify potential Pulse Oximeters Market opportunities in genetics.
• In-depth analysis of this sector helps identify current market opportunities.
• Market analysis and information related to key drivers, restraints and opportunities are provided. • Porter's Five Forces Analysis identifies the capabilities of buyers and suppliers to enable stakeholders to make profitable business decisions and strengthen the network of buyers.
• The largest countries in each region are listed according to their contribution to the global market.
• Focusing on market players makes benchmarking easier and provides a clear understanding of the current market situation.
• The report includes regional and global Pulse Oximeters Market analysis, key players, market segments, application areas and Market growth strategies.
Pulse oximeters can provide healthcare professionals with valuable information about a patient's oxygenation status, which can help guide treatment decisions. For example, if a patient's oxygen saturation level is too low, they may require supplemental oxygen therapy to improve their breathing and prevent complications.
In addition to healthcare settings, pulse oximeters are also commonly used by athletes and individuals who participate in high-altitude activities, such as mountain climbing or flying. This is because at high altitudes, the air contains less oxygen, which can lead to hypoxia (low oxygen levels in the body) and altitude sickness. Pulse oximeters can be used to monitor oxygen saturation levels and detect early signs of hypoxia.
The Pulse Oximeters Market is expected to witness a significant growth in the coming years. This market has gained interest of the healthcare and medical sectors owing to increased prevalence of hypertension throughout the globe. Furthermore, the global Pulse Oximeters Market is segmented on the basis of product type, end user, and region. leading market players have been introducing various strategies to help enterprises move their on-premise models to on-demand models.
For Purchase Enquiry –
www.alliedmarketresearch.com/purchase-enquiry/1944
Frequently Asked Questions?
Q1. What is the total market value of Pulse Oximeters Market report?
Q2. Which are the top companies holding the market share in Pulse Oximeters Market?
Q3. Which are the largest regions for this Market?
Q4. What is the leading technology of Pulse Oximeters Market?
Q5. What are the major drivers for this specific Market?
Q6. What are the upcoming key trends in the Pulse Oximeters Market report?
???????????????????????????????? ???????????????????????????? ???????? ???????????????????????????????????????? ???????????????????????????????? –
Renal Denervation Market – www.alliedmarketresearch.com/renal-denervation-market
Oncology/Cancer Drugs Market – www.alliedmarketresearch.com/oncology-cancer-drugs-market
Next Generation Sequencing Market – www.alliedmarketresearch.com/next-generation-sequencing-market
Biopsy Devices Market – www.alliedmarketresearch.com/biopsy-devices-market
About Us –
Allied Market Research (AMR) is a full-service market research and business-consulting wing of Allied Analytics LLP based in Portland, Oregon. Allied Market Research provides global enterprises as well as medium and small businesses with unmatched quality of "Market Research Reports" and "Business Intelligence Solutions." AMR has a targeted view to provide business insights and consulting to assist its clients to make strategic business decisions and achieve sustainable growth in their respective market domain.
Pawan Kumar, the CEO of Allied Market Research, is leading the organization toward providing high-quality data and insights. We are in professional corporate relations with various research data tables and confirms utmost accuracy in our market forecasting. Each and every us companies and this helps us in digging out market data that helps us generate accurate y data presented in the reports published by us is extracted through primary interviews with top officials from leading companies of domain concerned. Our secondary data procurement methodology includes deep online and offline research and discussion with knowledgeable professionals and analysts in the industry.