Asthma patients could cut Swansea Bay's carbon footprint by the equivalent of 552 round-the-world car trips – simply by switching inhalers.
As well as bringing environmental benefits, the switch will help patients better manage their conditions – freeing up NHS staff time and resources.
Two members of Swansea Bay's pharmacy team created a project which showed the extent that swapping metered dose inhalers (MDIs) for dry powder inhalers (DPIs), where appropriate, would be good for patients and for the planet.
The project, which has now won a health board sustainability competition, ran over a 10-week period in one Swansea GP surgery.
Pharmacist-led clinics were set up to help improve asthma care, disease control and educate patients on inhaler technique as well as the impact that inhalers have on the environment.
Patients often use their inhaler incorrectly, and these clinics proved crucial in improving their technique to not only receive the correct amount of medicine but also ensure it reaches the right part of the lung.
Pharmacy technician Rebecca Gillman and clinical pharmacist Carys Howell delivered the project.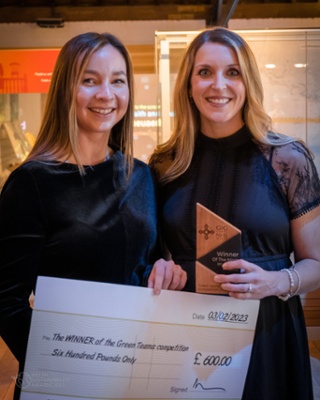 Carys said: "Climate change significantly impacts on our patients' health and can be particularly detrimental to those with respiratory illnesses, which is why we all need to take action and move to prescribing greener inhalers.
"These small changes can have a powerful impact on carbon footprint savings."
It is estimated that MDIs currently contribute 3.5 per cent of the carbon footprint of the NHS, with Swansea Bay having the third highest amount of asthma patients with that prescription in Wales.
PICTURED: Rebecca Gillman (left) and Carys Howell won the health board's Green Team Competition with their project.
MDIs contain a propellant called hydrofluoroalkane (HFA) 134a, which is a potent greenhouse gas. They deliver a specific amount of medication in aerosol form, rather than as a pill or capsule. Even when these inhalers are sent to landfill the HFAs can slowly leak out of the inhalers and contribute to global warming.
In contrast, DPIs and soft mist inhalers (SMIs) do not contain HFA propellants and have a significantly lower carbon footprint than MDIs.
Educating patients on the benefits this switch would have on their health and the environment resulted in a 79 per cent reduction in carbon emissions throughout the 10-week project.
The project follows on from another health board initiative aimed at reducing its carbon footprint, which saw nearly 1,250 inhalers returned after a successful recycling campaign.
Rebecca said: "Both MDIs and DPIs contain the same medicines, therefore as long as a patient can safely use a DPI there will be no difference in their treatment.
"Most DPIs on the market are simpler to use and therefore some patients find this easier. DPIs also usually contain dose counters, meaning patients know when they are running out of medicine. A lot of MDIs on the market do not contain dose counters, meaning patients often discard them when there is still medicine left in them, leading to a lot of waste."
However, not all patients can make the switch.
Carys said: "We only swapped patients after ensuring they had sufficient inspiratory effort.
"If they have poor inspiratory effort, which is something we assessed in clinic using an in-check dial device, then they would have to remain on a MDI. However, there are still MDIs available with lower carbon footprints than others, meaning we can still make positive impacts.
"Patients with very severe respiratory disease may be better suited to an MDI, which should be used through a spacer device for maximum benefit.
"We held follow up reviews, and patients were happy to continue with their environmentally safer inhalers."
The introduction of asthma reviews proved a platform for the project's success.
During these clinics, patients were shown the options they have for their asthma treatment through dummy inhalers, which empowers them in the decision-making process behind their inhaler choice.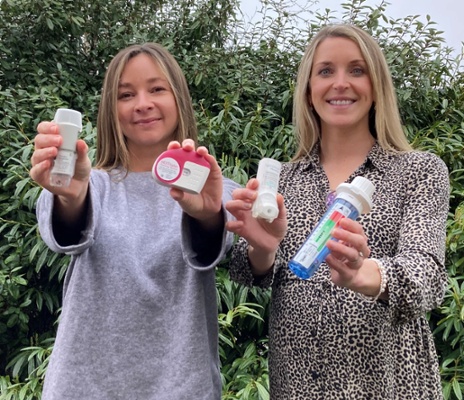 Improving their knowledge on their own asthma management is empowering and it means patients are better equipped with managing their condition. This reduces the need for contacting their GP as patients will be better equipped with knowledge on how to look after themselves and what to do during an exacerbation.
The project also proved successful at the Green Team Competition - a new regional partnership initiative between Swansea Bay and Hywel Dda health boards which encourages projects that reduce the NHS carbon footprint.
PICTURED: Rebecca and Carys show off some of the devices that were utilised as part of their project.
Six Swansea Bay teams reached the final, with the inhaler project coming out on top.
A £600 prize was given to invest further into the project to develop it further.
Carys added: "We are thrilled to have won and showcase the work we are currently undertaking to make inhaler prescribing more sustainable across Swansea Bay UHB.
"This competition provided us with the opportunity and the tools needed to encourage more sustainable prescribing, and improve our patients care - not only for now, but for the future."
Rhian Newton, Pharmacy Lead, Primary Care Prescribing and Medicines Management, said: "Carys and Rebecca have not only had a positive impact on the reduction in carbon footprint from inhaler use but they have ensured that patients are receiving the necessary education to empower them in managing their asthma effectively, whilst benefitting the environment.
"The success of their work has been shared with all GP practices across Swansea Bay to encourage further changes to MDI prescribing, where appropriate. They have initiated a fantastic piece of work.
"We are also grateful to the patients whose engagement with the project has been essential. They have clearly embraced the changes and welcomed the education provided.
"As a pharmacy team we are very proud of these achievements."