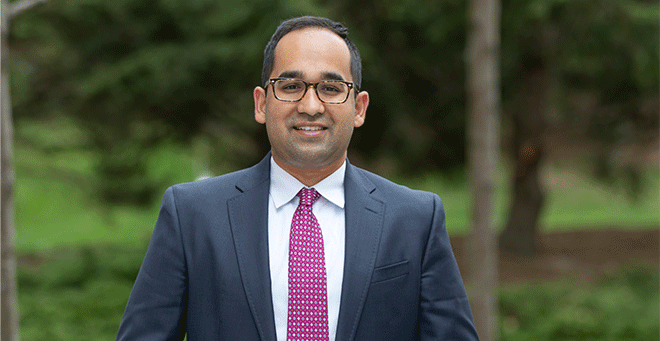 Researchers from UMass Chan Medical School's Program in Digital Medicine are leading an innovative study with virtual health care company Wellinks to improve management of chronic obstructive pulmonary disease (COPD) at home.
The study, Healthy at Home, aims to assess the feasibility of app-based consumer technology and comprehensive virtual disease management to improve quality of life and achieve better health outcomes among people with COPD. According to the Centers for Disease Control and Prevention (CDC), COPD is the third leading cause of death by chronic disease in the United States and the fifth most costly chronic disease.
"The study plan fits into a broader vision of innovation for health care at home. It will enhance our ability to understand what patients are going through in their home environment surrounding social determinants of health and use that information to predict and try to avert urgent care needs such as emergency room visits or hospitalization," said principal investigator Apurv Soni, MD, PhD'21, assistant professor of medicine and co-director of the Program in Digital Medicine. "Partnership with UMass Memorial Health and newly formed Center for Digital Health Solutions is critical for growth of innovative programs like this."
John P. Broach, MD, MPH, MBA, FACEP, associate professor of emergency medicine, and Laurel Caren O'Connor, MD, assistant professor of emergency medicine, are co-principal investigators on the study. Healthy at Home will plug in via the Wellinks study app to the mobile integrated health service paramedic response team set up by Drs. Broach and O'Connor.
O'Connor said COPD patients tend to be very complex with multiple factors affecting their disease progression. When a patient gets admitted to the hospital, the chance of readmission for that person is one in three. COPD patients utilize much more health care services and have nearly double the mortality odds at a given time than a similar person without COPD.
Pulmonary rehabilitation exercise along with care management is among the most effective treatments, but Broach said there is a shortage of respiratory therapists, and the service is underprescribed and underutilized.
Working with the Wellinks disease management model and CareEvolution health data platform, the Healthy at Home program will enroll in the pilot study 100 adults diagnosed with COPD who are part of the UMass Memorial Medicare Accountable Care Organization and at risk of requiring acute care within the next six months.
The study will follow patients over six months, evaluating the impact of components of the program including: mobile integrated health service, a physician-supervised team of paramedics available 24/7 to perform in-home medical care; mobile integrated health dashboard that displays biometric data from wearable sensors, results of patient-reported outcomes and relevant clinical data from the electronic health record; and Wellinks' virtual-first COPD management solution, which combines virtual pulmonary rehabilitation, personalized health coaching, monitoring through connected devices to measure spirometry and pulse oximetry, and an easy-to-use patient app.
The UMass Memorial ACO will work with its partners to scale the intervention model with a larger patient population to increase clinical impact, if the study results demonstrate its effectiveness, according to Thomas Scornavacca, DO, chief medical officer for UMass Memorial Health's Office of Clinical Integration, the program that operates the ACO.
Soni said Healthy at Home differs from other COPD research in a few ways. "One, we're focused on maintenance of health at home prior to ER visits and hospitalizations," he said. "And second, we're increasing our ability to capture and understand data of patients from their home environment to improve our ability to predict what their medical needs are going to be."