New York City Mayor Eric Adams' was roasted for his latest school proposal requiring schools to implement "mindful breathing" exercises all while students are struggling to stay afloat academically. 
Adams said public schools in the Big Apple will be required to enact between two and five-minute breathing exercises each day for students in Kindergarten through 12th grade, so they can cope with daily stress. 
"Two to five minutes. Think about that," Adams said during a press conference. "We're not talking about hours. Two to five minutes is a game changer."
TEST SCORES IN CIVICS, HISTORY DECLINE FOR STUDENTS ACROSS THE UNITED STATES FOLLOWING THE PANDEMIC
But some critics have been quick to scrutinize the move, citing concerns surrounding the lack of academic progress students have endured post-pandemic. 
"I just can't get on board," Kayleigh McEnany, "Outnumbered" co-host, said Wednesday. "I somehow made it through many academic institutions without learning about breathing. I just think this is ridiculous. I think it comes from Mayor Adams having a pet project. Apparently he showed up for the debate, and he was doing his breathing and he was calm, and his opponents looked at him, according to the New York Post and said, 'We can't beat that guy. He's too calm.'" 
"It may work for some. Absolutely. I'm not dismissing that," she continued. "I just don't think it belongs in schools where we're talking about reading and math."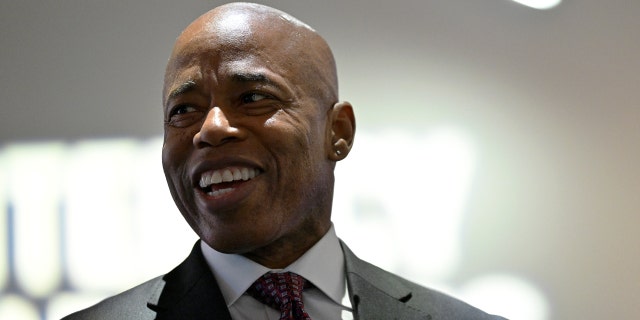 Adams' announcement comes on the heels of the release of yet another dismal national report card, indicating that reading and math scores for 13-year-olds dipped to their lowest rate in decades as students continue to shoulder the burden of COVID-related learning loss. 
Scores by the National Center for Education Statistics – also known as the Nation's Report Card – released Wednesday indicated math scores have reached their lowest rate since 1990 while reading scores dipped to the lowest since 2004, continuing the downward trend since the pandemic began in 2020.
US MATH, READING TEST SCORES PLUNGE FOR STUDENTS ACROSS COUNTRY FOLLOWING COVID-19 PANDEMIC
Data indicated the students tested scored an average of 256 out of 500 in reading and a 271 out of 500 in math, compared to 260 in reading and 280 in math from just three years prior.
"They need more in-class instruction one on one time with the children, particularly in regards to literacy and reading, and that's tied to if a child can't read at proficient level at fourth grade, the incarceration rate goes up, a welfare dependence, a drug use, all of that skyrockets from fourth grade reading level," Fox News contributor Raymond Arroyo said. 
"This is my objection with Mayor Adams. He's trying to use the literacy curriculum. That's where they're going to teach his breathing and mindful breathing practice in the literacy curriculum," he continued. "Do that at P.E.. We have a crisis of literacy in this country and in the New York school system. That's the last place we need it."
The New York Post published a piece criticizing Adams for the move, urging him to focus on a "real crisis" in New York City public schools - chronic absenteeism. 
TEACHERS' UNION HEAD SILENT OVER LATEST US TEST SCORES SHOWING TROUBLING DECLINE IN MATH, READING 
"Absenteeism in New York City has been on the rise since the pandemic — though it's worth noting that our numbers have been worse than the national average since schools were shut down during COVID," the report read. 
It also noted that the absenteeism rates in minority communities is continuing to swell and the impact on academic progress has been profound. 
"An Economic Policy Institute study estimated that missing just one or two days of school was associated with a statistically significant drop on the 2015 math NAEP exam (the "Nation's Report Card")," the report claimed. 
"While it's hard to exactly measure the impacts of absenteeism, New York's recent performance on the most recent NAEP exams certainly suggests our students are falling behind," it continued. 
CLICK HERE TO GET THE FOX NEWS APP
But some supportive of Adams' breathing proposal argue the new rule could potentially have a positive impact on violent trends plaguing the nation's schools. 
FOX Business host Kennedy suggested the implementation could have a positive impact on the national mental health crisis during Wednesday's "Outnumbered."
"Mindful breathing does, in fact rewire and reset your brain. It allows you to sort of set a foundation, so you are able to better comprehend reading and math lessons, and it does calm you down," she said. "So you start the day in a better place, so you're less likely to have a reactive brain because reactive brains tend to react to one another, especially adolescence, and that's when they threaten and commit violence against each other."
"So if it's not going to cost any more money, this is one of the few things that I've actually heard from a public servant that could have a positive benefit in schools," she added. 
Fox News' Taylor Penley and The New York Post contributed to this report.