"Breathe in from the nose and slowly exhale through the nose."
Class is in session inside the MUSC Wellness Center's auditorium as Sundar Balasubramanian, Ph.D., leads a yogic breathing class for participants in Survivors' Fit Club, a group for breast cancer survivors to find community and improve their overall fitness and well-being. Balasubramanian, a world-renowned expert in the field, is an MUSC Hollings Cancer Center researcher, cell biologist, certified yoga therapist and assistant professor in the Department of Radiation Oncology at MUSC.
He knows how important yogic breathing can be for overall health, especially for cancer patients and survivors. The Survivors' Fit Club session is just one of several programs and pilot studies that Balasubramanian is leading, seeking to quantify the benefits of this practice.
"There are a lot of long-term chronic health issues that stem from cancer treatment," he said. "We are looking for ways to improve aspects of survivorship that work in combination with the traditional standard of care. Breathing exercises can alter how we feel emotionally and how certain physiological changes are occurring. For example, breathing exercises can improve blood circulation, which can then help you keep a steady heart rate and create a sense of being energetic and relaxed."
Research is showing a wide range of potential benefits, including:
Boosting the immune system.
Reducing anxiety, pain and depression.
Improving quality of sleep.
Enhancing emotional regulation.
Reducing negative side effects during cancer treatment.
While there are a variety of yogic breathing exercises, the core purpose remains the same – a slow, intentional inhale and exhale from the nose to center the participant and promote mindfulness. Balasubramanian also teaches participants how to incorporate an 'ocean' sound from the throat as yet another breathing exercise.
One of his studies is looking at the impacts of yogic breathing in breast cancer patients. The 12-week study is open to breast cancer patients who have received radiation therapy within the last six months. It will continue recruiting patients through May 2023, Balasubramanian said.
Participants will receive a unique link to access an online yogic breathing app called Kumbi, which translates to "to gather and hold," and complete three 10-minute-long exercises three times a day, five days a week. The telehealth aspect of the study allows breast cancer patients across the country who have recently undergone radiation therapy to join.
"Everyone had to learn how to walk. It's something most of us do every day," he said. "The same applies to breathing exercises. A lot of people say they know about breathing exercises, and some have even done a class on it. But how often are you doing it? Is it daily? How many times a day? Routine is important."
Balasubramanian said participants will complete questionnaires that will measure factors like stress levels, anxiety, sleep and quality of life. He hypothesizes that if you improve those factors, you'll improve the overall health of the patient and improve the quality of her life.
"Participants will be assigned to one of the two mindfulness groups. One will follow one traditional mindfulness exercise, and the other group will focus on yoga breathing exercises," he explained. "Participants will engage with others taking part in the study and can also practice their mindfulness exercises on their own."
Yogic breathing to enhance cancer survivorship

Balasubramanian isn't stopping with breast cancer patients. There are plans for him to work with the South Carolina Cancer Disparities Research Center (SC CADRE), a collaboration between MUSC Hollings Cancer Center and South Carolina State University, to develop newer yogic breathing tools (apps) for patients with breast, prostate and colorectal cancer who are receiving chemotherapy and radiation to study disparities in cancer outcomes.
"We're very excited to have him on board," said Marvella Ford, Ph.D., co-director of SC CADRE.
She noted that Black people, whether with or without cancer, tend to have higher levels of inflammatory biomarkers than white people.
"If you go into a cancer diagnosis already having these high levels of inflammatory biomarkers, it affects the treatment outcomes," she explained. "He's really making a connection between the act of yogic breathing and the levels of these biomarkers by showing that participating in a yogic breathing intervention substantially reduces the levels of these biomarkers and decreases bio-inflammation, which has been linked to improved cancer treatment outcomes."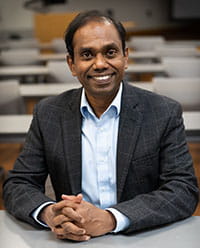 Balasubramanian has also taken the yogic breathing exercises to the American Cancer Society's Hope Lodge in Charleston. The Hope Lodge, across the street from Hollings and the MUSC campus, provides free lodging for cancer patients who are in treatment but live more than 40 miles away from the hospital. There, Balasubramanian offers weekly 20-minute sessions to both patients and caregivers.
In a voluntary, anonymous survey of previous participants at the Hope Lodge, Balasubramanian found that nearly all participants reported the breathing exercises improved their stress levels. The yogic breathing also exceeded participants' expectations in improving their appetites. Overall, 90% reported being very satisfied with the sessions, and 83% said they intended to continue the exercises at home.
In the study of breast cancer patients who have undergone radiation, participants will be asked to provide a total of eight saliva samples. "In our research, we've found that people in a more relaxed state after yogic breathing produce more saliva," he said. "Saliva isn't just digestive fluid. It also contains neurohormones, growth factors and proteins needed for our well-being."
Balasubramanian said research has shown that saliva contains tumor suppressors that could impact how cancer forms and grows. He also said that saliva can be examined for biomarkers that indicate stress.
Balasubramanian said these studies hit close to home, having grown up in India where yoga is a common practice. In 2015, he was asked to share his research and expertise on yogic breathing and overall health during a TEDxCharleston talk. Since then, he's been spreading awareness about the health benefits of yoga breathing.
"Our goal is to use the findings from this study to expand it to all other cancer types at any stage," Balasubramanian said. "Yoga breathing is something everyone can do, regardless of their physical abilities. We hope this provides our cancer patients and survivors another resource to lead a healthier life."
In the future, Balasubramanian said the goal is for the Kumbi app to be commercialized to expand its benefit for all patients.
For more information or to enroll in the breast cancer patients study, click here.