Due to workload and personal life issues, a lot of people suffer anxiety, stress, and anger issues. Several people also feel depressed and couldn't help themselves. For feeling better, one should meditate. I have also seen many good stress management apps to help you get out of depression and beat anxiety. Stress management apps assist individuals in understanding, reducing, and coping with stress effectively. These apps also offer educational resources, articles, and videos to help users understand what's causing stress and how to feel better. Stress management apps provide guided meditation, deep breathing exercises, and relaxation techniques. Some apps also allow users to track their moods and stress levels over time. Users can set goals related to stress reduction and monitor their progress. These apps also provide breathing and relaxation exercises to feel better. I have checked several stress management apps and found a few worth sharing. In this article, I am writing about the best stress management apps for Android and iOS.
Note: Stress management apps can be helpful tools, but they cannot replace professional assistance when needed. If stress becomes overwhelming or persistent, it's advisable to seek support from healthcare professionals or therapists.
Also read:
Best Stress Management Apps
1. Calm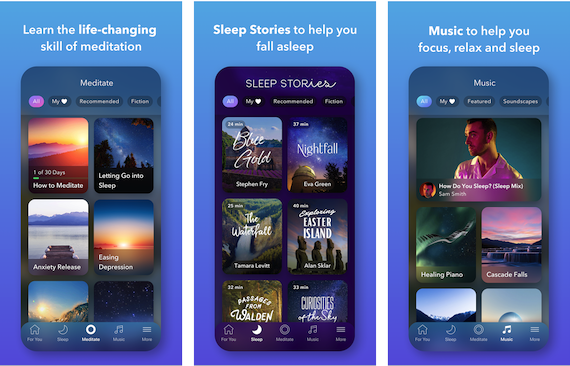 Calm is the best stress management app that helps manage stress, balance moods, sleep better and refocus your attention. The app helps users reduce anxiety, prioritize their self-care, and choose guided meditation sessions. This stress management app comes with a vast library of guided meditations for different purposes including stress reduction. It also offers several 'Sleep Stories' that include soothing narrations designed to help users relax. It also comes with a collection of calming music tracks including nature sounds, and ambient sounds for relaxation, sleep, or meditation.
Users also get guided stretching exercises and gentle movements to help release tension and improved physical health. There is also a community section where users can join groups and share experiences.
2. The Mindfulness App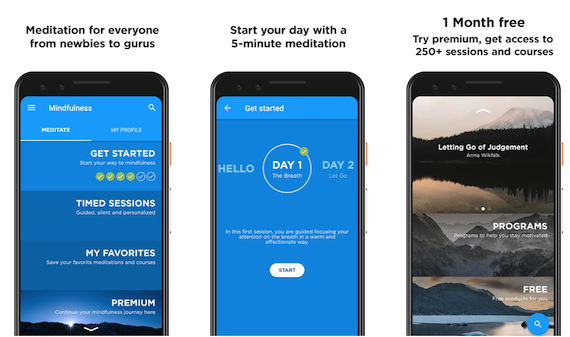 The Mindfulness App is another popular stress management app that has several guided meditations led by experienced instructors. These meditations help you in several cases including stress reduction, body scan, loving-kindness, and mindful eating. The app provides customizable alerts and background sounds to support a focused and peaceful practice. It also offers structured mindfulness courses and programs designed to help users develop a consistent mindfulness practice It also provides statistics and tracking features that allow users to monitor their meditation practice and track their progress over time. This.
The app also comes with several guided sessions that provide soothing guidance and calming techniques to support a restful night's sleep. Users can set personalized reminders to practice mindfulness at specific times of the day. With community, users can connect with others, share insights, and participate in challenges together.
3. Happify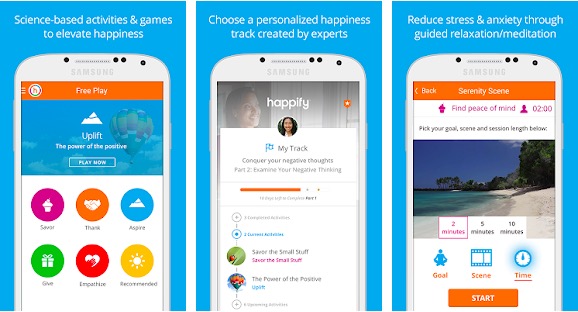 Happify is also similar stress management that aims to help individuals reduce stress, overcome negative thinking patterns, and promote positive emotions. The app focuses on improving emotional well-being and building resilience through science-based activities and games. It has several evidence-based activities and exercises developed by experts. These activities are designed to promote emotional well-being, reduce stress, and build resilience. The app also incorporates interactive games, quizzes, and exercises to boost positive emotions.
This stress management app also includes a collection of guided meditations to help users reduce stress. Users can also track their progress and set reminders to encourage regular usage. Like other stress management apps, it also has a community section where users can connect with others.
4. Talkspace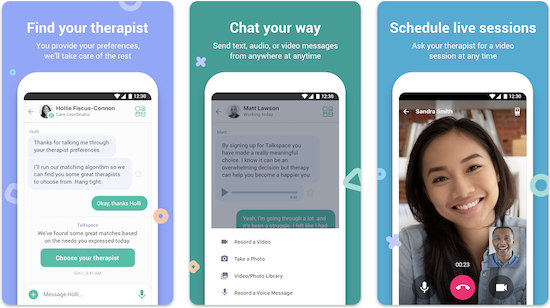 Talkspace is not exactly a stress management app, but an online therapy platform that provides mental health support and therapy services. You can get assistance via text, voice, and video messaging. If you feel depressed and suffer anxiety attacks, you should use this app to get therapy from the comfort of your own home. The app connects users with a licensed therapist who best suits their needs and preferences. Users can discuss their problems and receive guidance. Therapists can help individuals develop coping strategies, gain self-awareness, and build resilience.
The app prioritizes confidentiality and privacy. So, your communication and personal information remain private.
5. Headspace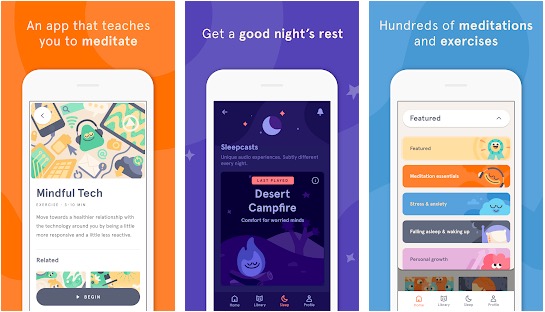 Headspace is also a well-known stress management app. It focuses on mindfulness and meditation via guided meditation sessions, mindfulness exercises, and other options. The app provides several guided meditation sessions led by experienced instructors. You can use these sessions to relax, reduce stress, improve focus, and cultivate mindfulness. There are also several mindfulness exercises to promote calmness and reduce stress in daily life. It also has Sleep Sounds and Sleepcasts that are designed to help users relax and fall asleep more easily.
The app also offers courses that cover various topics such as stress management, anxiety, sleep, and focus. There is also an "SOS" session for the moment when you feel acute stress or anxiety.