---
News and research before you hear about it on CNBC and others. Claim your 1-week free trial to StreetInsider Premium here.
---
TORONTO, May 02, 2023 (GLOBE NEWSWIRE) -- Tomorrow, the Animal Protection Party of Canada will run an ad in The Hill Times reaching out to Liberals gathering for the 2023 Liberal Convention in Ottawa. The ad will raise the issue of the use of pigs for military medical training (called "Live Tissue Training" or LTT) by the Department of National Defence.
"We have reviewed over 3200 pages of material acquired through Access to Information requests," said Liz White, Leader, Animal Protection Party of Canada. "The material raises some very troubling questions about the LTT programme including the treatment in the field of injured soldiers and civilians. We have been reaching out to the Minister of National Defence's office since early January to discuss our findings but have repeatedly been blocked. We ask Liberal members attending the 2023 National Liberal Convention to urge the Minister of National Defence, to meet with us to discuss this important issue," said White.
Background
The Animal Protection Party of Canada (APPC) investigation exposes the cruel, unethical and dangerous use of piglets for "live tissue training" by the Department of National Defence (DND).
On January 6th, the Animal Protection Party of Canada released its findings on live tissue training in Defenceless: Animal-Based Trauma Training in the Canadian Military (www.defenceless.ca). A copy of the report was sent to Minister Anita Anand's office a day before its release. The report is based on over 3,200 pages received in response to Access to Information requests by Animal Alliance of Canada (AAC) to the Department of National Defence (DND) covering a span of 20 years.
Dangerous to soldiers:
The DND's own documents contain the admission that anatomical differences make pigs poor models for training medics to treat human injuries in the field. In fact, the DND acknowledges that using pigs may actually interfere with effective training by producing what it calls "training scars" in trainees who learn, for instance, how to position a breathing tube in a pig, in a way that would be an incorrect placement in a human casualty.
Dr. Robert DeMuth who served as a U.S. Army combat engineer during the first Gulf War and was deployed to Iraq as a physician in 2003 and 2005-2006, writes:
"The devices that can replace animal use and improve military medical training are called simulators — because they simulate human anatomy. The Cut Suit – made by a company with expertise in Hollywood-style special effects — is one of the most advanced simulators.
It is worn by an actor and features internal organs, breakable bones and a heart that pumps warm "blood" through veins and arteries. It's already used in some military training, and those courses are truly immersive — medics work to treat the actor in the Cut Suit as if they are treating a real casualty."
Animal Welfare Issues - Investigation reveals piglets poisoned, irradiated, mutilated and killed for military medical training:
This report reveals that piglets as young as 10 weeks of age are exposed to:
Toxic nerve agents, causing seizures, irregular heartbeats and laboured breathing;
Radiation, implanted under the skin or applied as a liquid, causing deep tissue burns; and
Severe trauma, such as cutting animals' faces, repeated stabbings, limb amputations and disembowelment.
Although the DND claims piglets are anesthetized during training, its own records indicate that many revive, noting in one case that a piglet began "vocalizing loudly" after being stabbed in the face, while another attempted to jump off the table but continued to be used for another two hours, regardless.
Dr. Nicholas Dodman, an anesthesia expert and former head of the Department of Anesthesiology at Tufts Veterinary School in Boston, denounced the anesthetics listed in the DND protocols as "totally wrong and inexcusable" for such invasive procedures.
Most NATO Countries no longer conduct LTT:
77% of NATO members no longer use animals for military medical training. In the United States, the Department of Defense medical school, Uniformed Services University, stopped using animals in 2013 in favour of simulators. As of 2015, all Advanced Trauma Life Support courses across the U.S. military also ended their use of animals. And the U.S. Defense Health Agency (the American equivalent to the Canadian Forces Health Services, which provides the animal-based training in Canada) has deemed live tissue training "outdated and cost prohibitive."
Contact: Liz White at [email protected] or 416-809-4371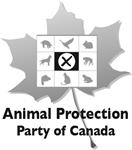 Source: Animal Protection Party of Canada