There's no need for one nervous dog to be afraid of storms anymore, after his owner built him his very own fort, complete with his favorite toys to keep him company inside.
Brinkley Packnett shared a video (@brinkleypacknett) via TikTok on April 4, and it has received 5.1 million views. It shows the moment when she walked into her home to see the fort that her husband had created for their mini goldendoodle, Duke. She explained in the video that the fort was so that Duke "wouldn't be scared during the storms" anymore.
After posting the video, Packnett told Newsweek that the goldendoodle really "is not a fan" of any loud storms. He'll often pace or "hide under beds" while he waits for them to be over.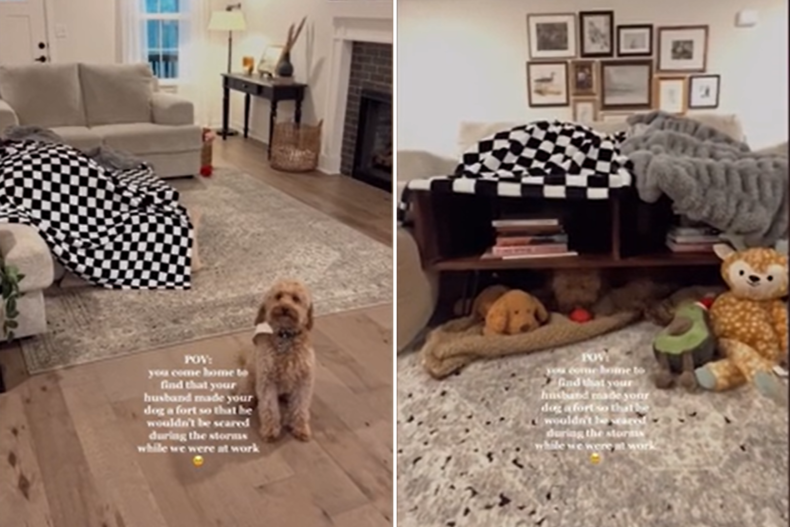 While thunderstorm anxiety is prevalent in both cats and dogs, the latter are much more susceptible to it than felines, according to advice website PetMD. The visible signs of this anxiety are varied, including pacing, panting, trembling, hiding, drooling, incontinence and vocalization.
Unfortunately, there are also many signs of anxiety that might not be visible to the owner, but which the dog will certainly feel. These can include high heart rate, gastrointestinal upset and rapid breathing, brought on by the high stress level the dog is experiencing.
It's difficult for owners to see their dogs being so fearful, so PetMD also offers ways to help them and ease their anxiousness. Creating a calming space for the pet to retreat to is something many owners will try as the dog will feel safe and enclosed in the area. This can be their bed, a crate or, in Duke's case, a fort built especially for him.
There are also plug-in devices or collars that release calming pheromones and can in turn reduce the anxiety the dog is feeling. As many owners might already do, simply comforting the dog is a big help for them. Knowing they have their human by their side for support will ease the burden during a scary time.
Having his very own dog fort has undoubtedly helped Duke to feel safe, judging by his eagerness to show it off to Packnett when she returned home from work.
She said: "I was emotional because it was so caring and thoughtful of my husband to do. Duke was so excited, and I could tell that he felt loved and secure when he went inside and showed me.
"In the past, he would hide under beds when it was stormy. I think this gives him comfort in the same way the bed does, but this was a little more homey for him with all of his blankets and stuffed animals."
The video of Duke's new fort has generated more than more than 847,000 likes. The caption reads: "I'm not crying you are."
Discussing the overwhelming reaction, Packnett told Newsweek that "it blew up overnight and it still gets tons of views, shares and comments each day.
"People love animals and love to see them being loved. Duke is the best and we love him so much."
Among the thousands of comments on the viral video, so many people have praised the creativity of the fort, as well as Duke's lovable reaction to it.
One person wrote that "he looks so proud of his fort."
Another TikTok user commented: "Not sure what's cuter – your husband building the dog fort, or your pup's reaction to it!"
Do you have funny and adorable videos or pictures of your pet you want to share? Send them to [email protected] with some details about your best friend, and they could appear in our Pet of the Week lineup.