Luka Mkheidze (FRA) stands out as the undisputed leader in the category in and for France. The bronze medallist of the Tokyo 2020 Games, continues to win medals, yet we can not say that the course was easy for the one who launched the French team in their collection of Olympic medals in the Japanese capital. After that performance, he injured his knee and was therefore away from the tatami for a few months.
Now though, things are back to normal for Mkheidze. Third at the Portuguese Grand Prix at the start of the season, this time he reached the final of a grand slam, which, even before it began, promised to be his best result at this level, as prior to this he had only won two grand slam bronze medals.
If we are to believe everyone's record, Francisco Garrigos (ESP), is a much more experienced judoka than the Frenchman, since before facing him, he already had 5 grand slam medals, including a title, without talking about his two silver medals at the World Judo Masters.
An interesting impasse between Mkheidze and Garrigos awaited us, to conclude the category. The French judoka was the first to action. With his homemade kata-guruma, he scored a waza-ari that was downgraded to no score after a video review. This strong-man's final went to the last gong with only one shido to Garrigos' name and nothing seemed to give an indication of who might win. However, only a few seconds were enough for Mkheidze to drop under the centre of gravity of his opponent to ticket him for a kata-guruma journey to score waza-ari and take his first gold in a grand slam. This medal sounds like a second breath for the French athlete, who cleary said today that we must count on him. He was right!
Joshua Katz (AUS) could already be happy with his result in Israel, reaching his first WJT final block. However, he still had one match left, against Jorre Verstraeten (BEL), to get to the podium. This was a really tight match with a lot of engagement from both sides, maybe with a tiny advantage to Joshua Katz, but nothing really significant, at least not enough to take a real lead. With only 18 seconds remaining, it was eventually Jorre Verstraeten who scored a waza-ari with an o-uch-gari. 18 seconds were then too short for Katz to come back. A bronze medal went to Verstraeten.
The second match for a bronze medal was between Salih Yildiz (TUR) and Balabay Aghayev (AZE), winner in Paris two weeks ago. The third shido being awarded to Aghayev, shattered his dream of a medal here, with the bronze medal going to Salih Yildiz.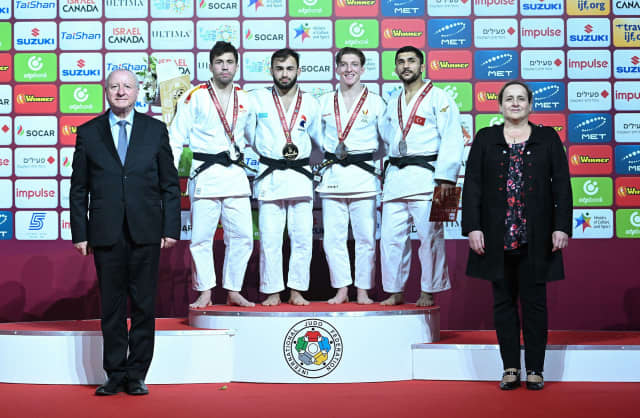 Medal cheques and flowers were presented by Mr Shabtai TSUR, Chairman of the Israeli Sports Betting Board and Mrs Cathy FLEURY, Refereeing Supervisor of the International Judo Federation, World and Olympic Champion
Bronze Medal Fights (-60 kg)