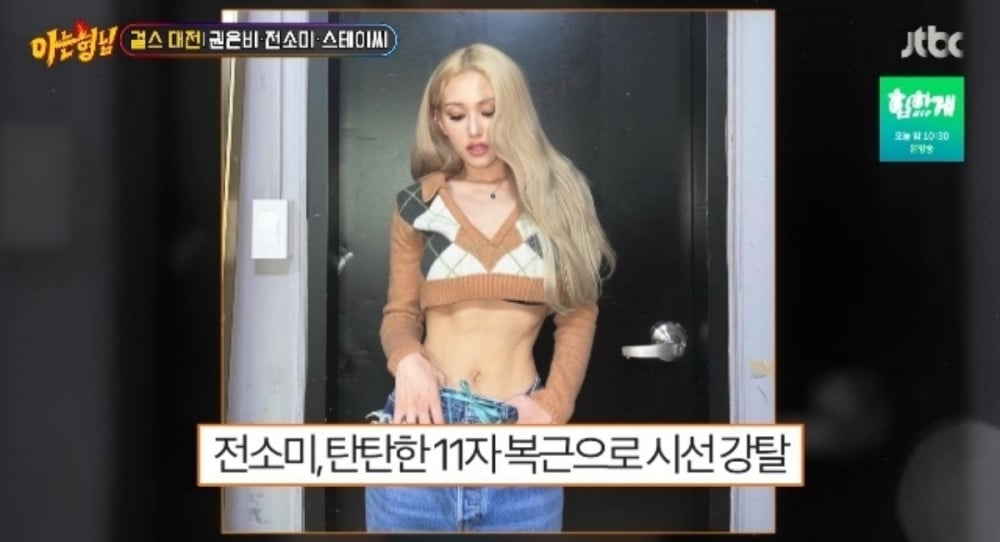 Jeon So Mi has revealed the secret to her '11-line abs.'
On the August 19 KST episode of JTBC's 'Knowing Bros,' Jeon So Mi joined Kwon Eun Bi and STAYC as special guests, where they touched upon a number of topics, including fitness and keeping in shape.
"I'm pretty strong. About three to four times a week, I alternate between pilates and personal training, and I've been doing that for about six years," the idol commented. She then added that she was able to research how to develop 11-line abs with the help of her pilates instructor, finding out that 11-line abs tend to be developed mostly if the person cried a lot when they were a baby as they gained strength in abdominal breathing. In response, Super Junior's Shindong, who appears as one of the show's MCs, joked that he must have been a well-behaved baby.
Later, Shindong's groupmate Kim Hee Chul, who also regularly appears on the show, suggested Jeon So Mi, STAYC's Isa, and Kwon Eun Bi go head-to-head in a planking competition. Isa was the first to drop out, having held a plank position for two minutes, and Jeon So Mi gave up roughly 20 seconds later, making Kwon Eun Bi the official winner. Seeing Kwon Eun Bi's athleticism, Kim Hee Chul joked, "She's not a waterbomb, she's a core bomb," making a playful reference to her trending 'Waterbomb Festival' performances.
Check out the fitness conversation, including the planking competition, starting at 6:45 below!