The Huawei Watch GT Runner is the running-focused version of the Huawei Watch GT 3, with a lighter, sportier design that also promises better GPS accuracy thanks to antennae positioned in the watch's lugs. It aims to be one of the best running watches and one of the best fitness smartwatches, with an attractive design and impressive native sports tracking – with detailed training insights coupled with accurate GPS and heart rate tracking.
I found that the accuracy wasn't always on point when it comes to GPS and heart rate, and the smarts also underwhelm since Huawei is a long way behind rivals like Apple and Samsung on this front. However, the GT Runner is still an impressive watch that will work well for runners who prefer a smartwatch, rather than a dedicated sports watch.
Huawei Watch GT Runner Review: Price And Availability
The Huawei Watch GT Runner is available now in a 46mm size and has an RRP of £259.99. It's more expensive than the GT 3, which costs from £209.99 for a 42mm watch and from £229.99 for a 46mm one.
Buy from Huawei | £259.99
Design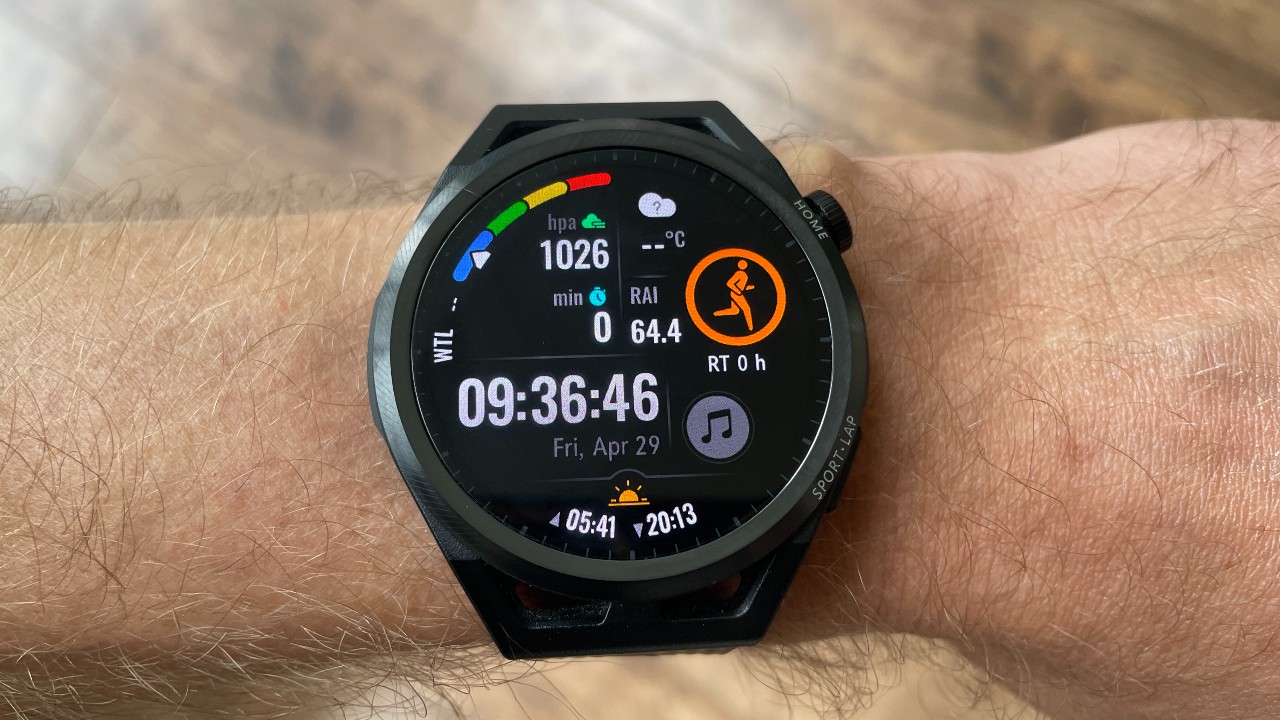 The Huawei Watch GT Runner looks and feels great on the wrist. The watch weighs 38.5g, which is the same as the Garmin Forerunner 245 sports watch, and the slim design sits snugly and comfortably against the skin. It would be ideal if it also came in a 42mm size, like the GT 3, but I have slim wrists and the 46mm still fitted me well.
Like the GT 3, the GT Runner has a 1.43in, 466 x 466 AMOLED touchscreen, and that vibrant display is a major part of the watch's appeal when compared with dedicated sports watches, which generally use relatively dull transflective screens that save battery life. The touchscreen is responsive, with no lag when swiping and tapping your way through the watch's menus.
The GT Runner's screen can be set to always-on during workouts and general use, but with the latter the normal watch screen will be changed to a less-battery-intensive display that shows just the time. There is a series of bright watch face options to choose from in the app, though iPhone users get fewer options here, and many of the faces show an array of activity tracking and fitness stats along with info like the temperature and date.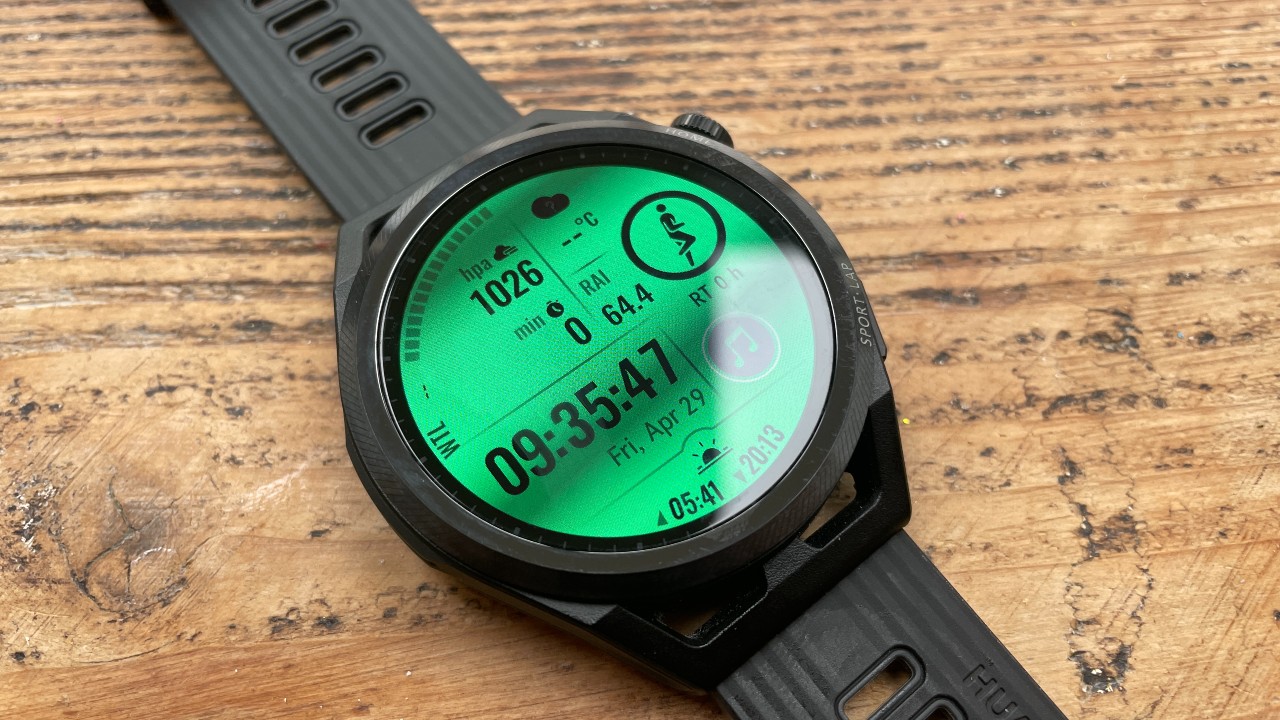 There are two buttons on the watch. The larger top one can also be used as a scrolling wheel. One minor gripe I have is that the larger button is essentially the "back" button that returns you to the watch face. So when you use it to scroll through a menu you then have to press the other button to select something. Almost every time I used the watch I would first click the big button I was already using to scroll and get sent back to the watch face, and that got annoying.
The GT Runner has a 5 ATM waterproof rating, making it waterproof to depths of 50m. It features Huawei's TruSeen 5.0+ optical heart rate monitor and you can pair it to external heart rate monitors like chest straps via Bluetooth. One of the most exciting features for runners is that it offers dual-band GPS that tracks your position using five satellite systems at once (GPS, GLONASS, Galileo, Beidou and QZSS). Multi-band is a feature that has started to appear on top-of-the-range sports watches, such as the Garmin Fenix 7 and Epix 2, and the Coros Vertix 2, and should produce more accurate distance and pace tracking on the run. 
With the GT Runner, Huawei has also tried to increase accuracy by moving the GPS antennae into the lugs of the watch to reduce interference with signals. This is one of the differences from the GT 3, so accurate GPS was what I hoped for. Unfortunately, the GT Runner didn't live up to its promise.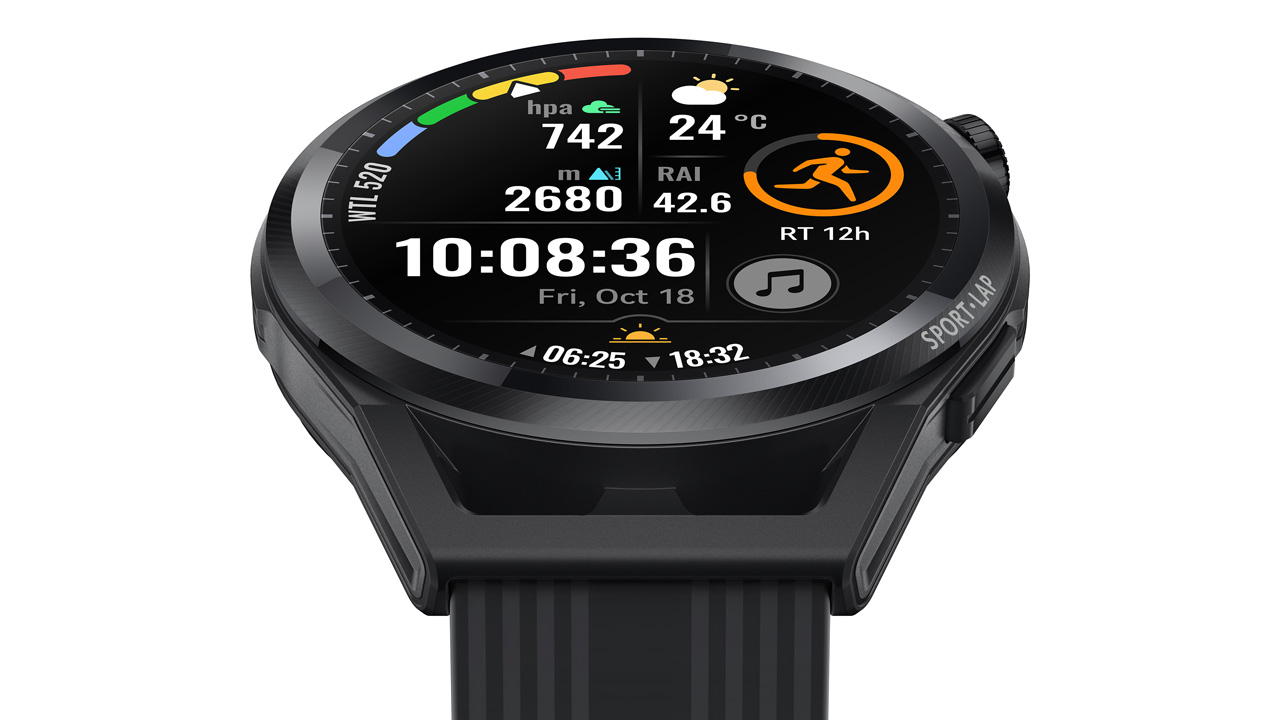 GPS And HR Accuracy
Accuracy is a key selling point of the GT Runner, as shown by Huawei's claims about its heart rate and GPS tracking. Having used it to track more than 150km of running, as well as some cycling, I was left disappointed. 
For the most part you get good GPS tracks from the watch, and on general runs it matched up well to the results I got from the Garmin Epix 2 in multi-band GPS tracking mode. However, there were many occasions when the GT Runner let me down, especially when using it to pace hard workouts.
I use "lap pace" a lot when doing interval workouts to ensure my average pace in a given interval is on target. The Huawei Watch GT Runner offers split pace, which is great and a rarity on sporty smartwatches, but when using this to track workouts I could see that the pacing was well off during my splits, indicating the watch was not tracking distance reliably. It would sometimes be too fast and sometimes too slow, and it tended to get worse when I ran loops.
The GPS performance wasn't disastrous – and I find a lot of dedicated sports watches also struggle during these kind of workouts – but given the fact the watch is packing dual-band GPS that uses five satellite systems at once, I expected it to get close to the standard set by the Garmin Epix 2, and it didn't.
With heart rate accuracy, the GT Runner was OK at tracking easy and steady runs, matching up with a chest strap's readings, but when I did intervals or extended spells at a fast pace it often either missed the heart rate spike or locked on to my cadence. When it did the latter I would get constant warnings about high heart rate, which were annoying. 
You can link the watch to an external heart rate monitor via Bluetooth, which is a welcome feature that many smartwatches do not offer. I would suggest doing this in order to take advantage of the training insights the GT Runner offers.
Running Features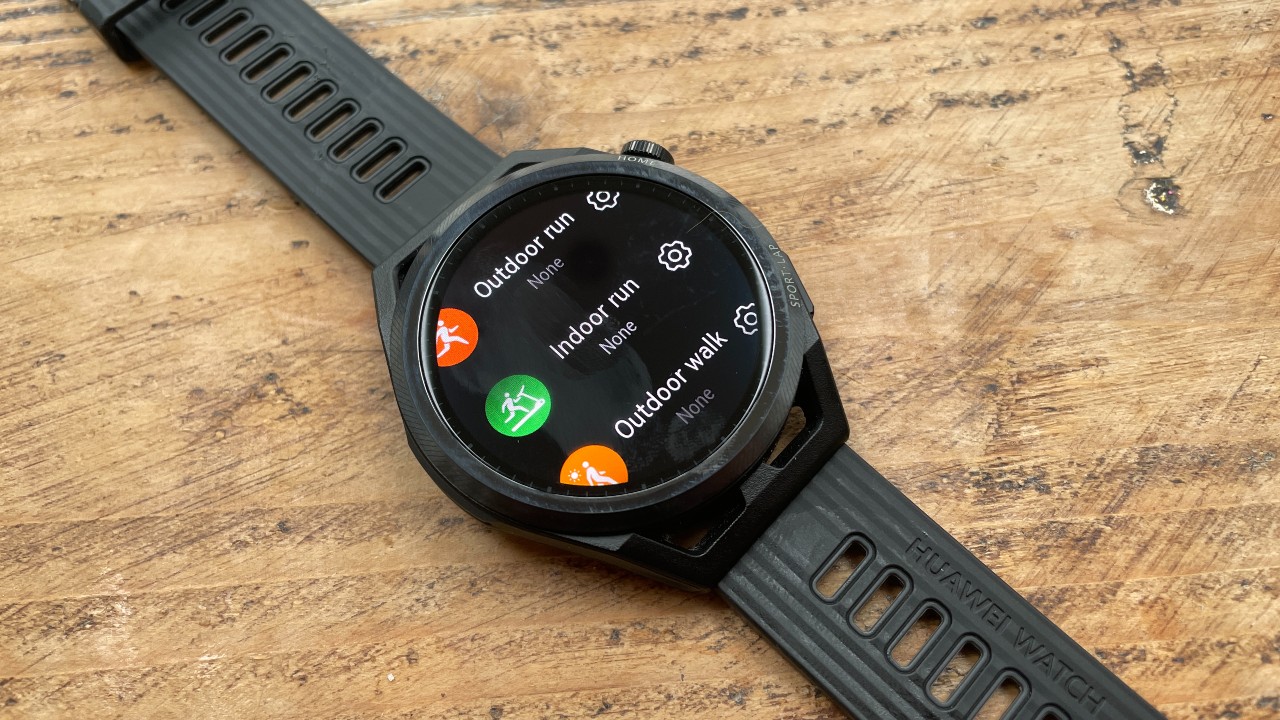 There are three running modes on the GT Runner: outdoor run, indoor run and trail run. You can customise the stats on display for each by holding your finger down on the screen once you've started the activity. The range of stats is not as comprehensive as on a dedicated sports watch, and you can't change the layout of each screen, just the stats on show, but there's more than enough there to satisfy most runners.
You can set up and follow basic interval programmes on the watch or set simple targets, like a certain distance or calories burned goal. There are preset workouts on the watch that you can follow and full training plans in the Huawei Health app for events from 5K to the marathon, plus a beginner 3km plan and a general running plan to keep you fit. 
The plans for the events are impressive. You answer questions at the start covering your current fitness level and a recent race time, the amount of time before your target event and how often you can train, and the software suggests a time range it thinks you can aim for before building your plan. All the workouts in the training plan are sent to the watch so you can see what's coming up each week, and in the app you see a general training report covering your runs and how the plan is going, along with a predicted time for your event.
As an experienced runner who has worked with a coach for several years, the workouts and the plan in general made sense and looked well balanced. They aren't the most complex or personalised of plans, but if you followed them – and were smart about taking rest and missing workouts if needed – I have little doubt you'd get fitter and it would help you do well at a goal event.
I was impressed by the training analysis on the GT Runner, which provides similar insights to what you get from dedicated sports watches from Garmin, Coros and Polar. You are given a VO2 max estimate, plus predicted race times, along with a running ability index rating that ranks you by percentile against your peers. There's also a recovery advisor that rates how refreshed you are out of 100% and advises on what kind of training might be suitable, a total training load measurement, and a training index that helps you balance your fitness against the demands you are placing on your body.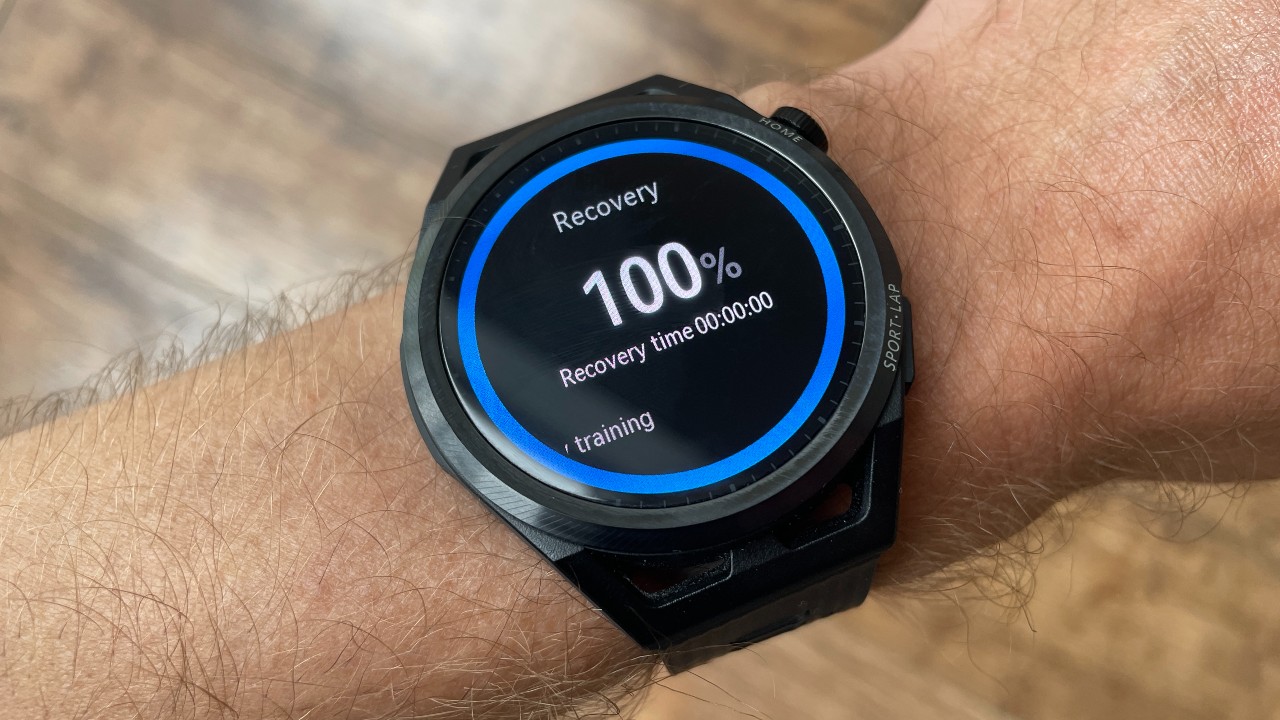 It's a lot of information but it is well presented with colour-coded graphs, and I think it's more or less the right amount of information to give the average runner, although it's not as in-depth as the advice you get from the likes of Polar, Garmin and Coros. There's enough to be useful, but also it's something you can check through quickly every now and again to get a picture of your fitness and the demands you are placing on your body without getting lost in data.
The training advice and plans you get go well beyond what's available from other smartwatches, and even though you could fill in some of the gaps via the more impressive range of apps available on the Apple Watch and Wear OS devices, having it all in one neat package with the GT Runner is appealing.
Activity And Sleep Tracking
Because the GT Runner is pitched at sporty types the daily activity tracking it does is not given as much prominence as on the best fitness trackers but, rest assured, it's still logging all the usual daily stats like steps, active minutes and active hours. You get inactivity alerts if you remain still for too long and can set up the Healthy Living feature in the partner app to give you alerts that help you hit other general lifestyle targets, such as drinking enough water, taking a moment to do breathing exercises or even making sure you log your daily smile. Bit much, that last one.
The GT Runner tracks most of the main types of exercise, including triathlon and open-water swimming modes, but strength or HIIT workouts and things like yoga are simply covered by the general "other" mode.
I compared the sleep tracking on the watch with the stats logged by an Oura Ring 3, which I've found to be a reliable sleep tracker, and overall the Huawei Watch GT Runner tallies up well with the ring. The GT Runner tends to overestimate sleep and often missed short periods in the night when I was awake but not moving much – which the Oura did catch – but overall the watch gave an accurate picture of my sleep each night. 
Huawei does a good job of explaining the sleep metrics tracked within the app so you can understand why different stats matter. Alternatively you can ignore all that and go on the basic sleep score and summary you get each morning.
Smart Features
The Huawei Watch GT Runner runs HarmonyOS and it pairs with Android and iOS devices, but iPhone users miss out on several features compared with those on Android, including the ability to load music onto the watch and sync activities to third-party apps like Strava.
Even if you are using an Android phone, syncing to third-party apps is tricky since you have to use another app called HealthSync, and in general the amount of apps available on the GT Runner is a weak point – Huawei's AppGallery offers fewer apps than the App Store or Google Play. 
If you have a Huawei phone you can download the Petal Maps app for turn-by-turn navigation, and all users can sync GPX route files to follow during runs. These show as a blue line you follow during the run, and there is also a back-to-start feature.
The watch shows notifications clearly and provides weather forecasts, but while the GT Runner has a screen that looks the part, it doesn't match up to the best smartwatches, especially if you're not on a Huawei phone.
Battery Life
A major plus of the GT Runner not running Wear OS is that it has longer battery life than Android smartwatches, which usually only last a day or two. The GT Runner can last up to 14 days on a charge. With heavy use running almost every day – with the screen always-on during workouts – it still lasted a week. 
This is important for those who are thinking about switching from a dedicated sports watch, who won't be forced to take a big hit on battery life. Sports watches in the GT Runner's price range include the Garmin Forerunner 245, which lasted me seven to 10 days with similar use, the Polar Pacer Pro, which lasts five to seven days, and the Coros Pace 2, which lasts 10 to 12 days.
Is The Huawei Watch GT Runner Worth It?
It's rare to find a watch like the GT Runner that offers the combination of a bright AMOLED touchscreen and native run tracking and training analysis of this standard. One alternative is the cheaper Huawei Watch GT 3, though it's heavier and the design is less sporty.
If you're an iPhone user I would opt for an Apple Watch over the GT Runner, whether that's the flagship Series 7 or even the cheaper SE. The wider range of apps and increased compatibility you get make it a more useful watch than the Huawei.
For those on Android I would rate the GT Runner as a better sports tracker than any Wear OS watch I've tested, though you will get more smarts from devices like the Samsung Galaxy Watch range.
The main competition here is the Garmin Venu 2, which works with iOS and Android and brings Garmin's excellent sports tracking to a watch with an AMOLED screen. The Venu 2 is more expensive than the GT Runner, starting from £339.99, while also providing less battery life (around three to four days), and you get better training analysis from the GT Runner. There is more customisation available with Garmin's training platform and I found it easier to use, though that is partly because I have used Garmin watches for many years.