It's been nearly four years since Garmin last released a Vivosmart model – the Vivosmart 4. But the counter resets again today with the new Vivosmart 5, which brings incremental hardware changes to the model – including a button, a larger display, and swappable bands. The hardware changes largely end there. Almost everything else is subtle and minor software tweaks – such as iterating on the sleep algorithm to match Garmin's other newer devices. However, they also removed one notable feature: Stair tracking.
I've been putting the Vivosmart 5 through its paces, trying to figure out how it performs, and perhaps more notably – how it compares to others in the market. As you'll see later in my summary, this is a tricky device that maybe shouldn't have happened. While there are certainly numerous improvements that easily make it better on the whole than the Vivosmart 4, one would also hope that was the case four years later.
As usual, this watch is a media loaner, and it'll go back to Garmin. This review is not sponsored (nor does any company get to preview anything I review), and I don't take any advertiser money from any companies I review. And as regular readers know, if something is crap, I'm gonna tell it brutally like it is – no matter the brand. Once this unit goes back, I'll go out and get my own for any future testing needs. If you found this review useful, you can use the links at the bottom, or consider becoming a DCR Supporter which makes the site ad-free, while also getting access to a mostly weekly video series behind the scenes of the DCR Cave. And of course, it makes you awesome.
With that, let's dig into the newness.
What's New: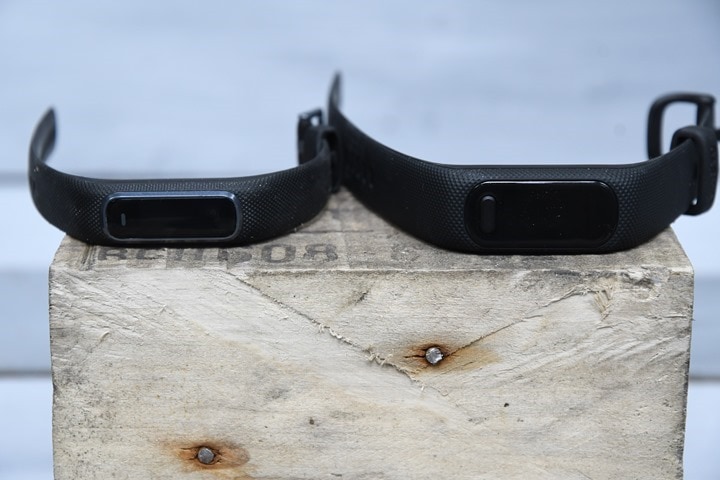 Ok, so diving straight into what's new we've got two piles. Hardware things and software things. In many ways, at first glance from across a table, the only obvious visible differences are really the addition of the button and larger size (above at left the Vivosmart 4, and at right the Vivosmart 5). The other changes you probably wouldn't pick up on unless someone explicitly told you.
In total, here's everything that's different from the Vivosmart 4:
– Added a button (plus existing swipe controls)
– Added swappable bands (previously it was built-in)
– Added "66% larger display" (still monochrome)
– Increased width of band considerably (perhaps 50% larger)
– Increased text size and readability to utilize larger display
– Added New Activity Profiles (Breath Work, HIIT, Pilates, Treadmill, Indoor Rowing)
– Added safety tracking on-device (incident detection, as well as emergency assistance)
– Added on-device sleep score (shows upon wakeup)
– Added Morning Wakeup report
– Added Respiration Rate (breathing rate)
– Added Bluetooth broadcasting of heart rate (from the optical sensor) to apps like Peloton
– Battery life remains same at 7 days (not an always-on display)
– Switched to standard Garmin charger/port used on most of their wearables
– Removed stair tracking (removed barometric altimeter)
Note, to be clear, there's no GPS internal to the band. Instead, it'll use your phone's GPS in what's called 'connected GPS' (assuming your phone is on you). The accuracy of that will vary considerably based both on your phone's GPS accuracy, but also just random luck (more on that later). Nor does this unit include an altimeter like the previous one, so it won't track flights of stairs.
In terms of all the standard Garmin tracking things you had previously on the Vivosmart 4 that are carried are to the Vivosmart 5, they are:
– 24×7 activity tracking including steps/distance/calories
– 24×7 Body Battery tracking (essentially your energy level), including stress tracking
– 24×7 heart rate tracking using the Garmin Elevate optical HR sensor on the back (this is a previous gen sensor)
– 24×7 tracking of respiration rate, and blood oxygen levels (PulseOx in Garmin lingo)
– Sleep tracking (including now showing on-device)
– Intensity minutes tracking (how much elevated HR time you spend, mainly in exercise)
– Workout tracking (both manually started activities and automated tracking of ones)
– Ability to use your phone's GPS for recording GPS workouts, which also transfer to Strava/etc
– View text messages, calendar notifications, and other smartphone notifications on both Android and iOS
One of the things Garmin has been leading with lately is the fact that none of these require a subscription. In the second sentence of their press release they call it out, saying:
"Designed for customers seeking a simpler solution for monitoring their wellbeing, the vívosmart 5 features at-a-glance health stats for Pulse Ox, 24/7 heart rate monitoring, Body BatteryTM energy monitoring, all-day stress tracking and more — no subscription required"
That's notable, as is a specific dig at Fitbit and their premium subscription service. While Fitbit makes much of your core data available for free, there's lots of stuff that's locked behind a paywall. However, I've got an entirely separate post and video for tomorrow that directly compares the Garmin Vivosmart 5 vs Fitbit Charge 5. And it's a messy comparison, to say the least. While Fitbit puts some things behind a paywall, the reality is the Charge 5 blows the Vivosmart 5 out of the water in almost every category. It's not even close. Thus, that subscription piece actually becomes a potential mind-changer, depending on the exact metrics you want. But again, more on that tomorrow in my in-depth comparison.
With that, let's quickly look at what's in the box, and then dive into the basics.
What's in the Box: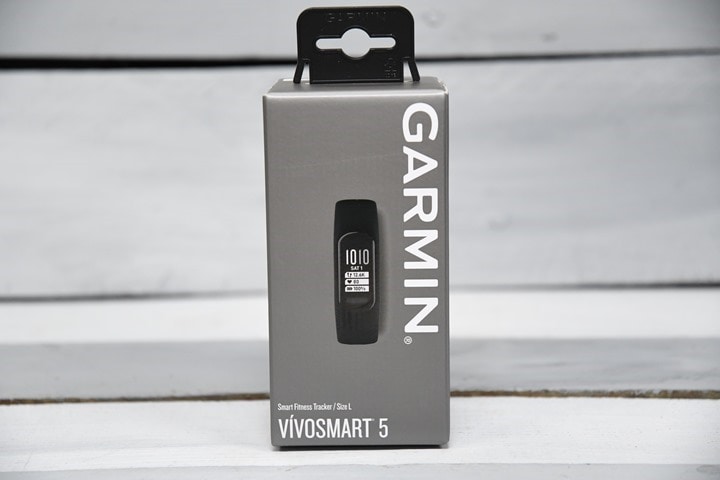 There aren't many frills in the Vivosmart box, inside you'll find the band itself, two small chunks of paper, and the charging cable: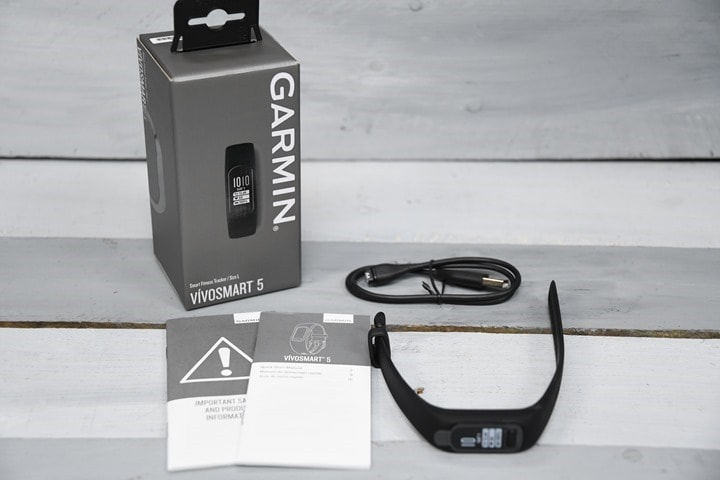 Here's a closer look at the device itself, front and back. You'll notice the slightly raised optical HR sensor bump (which increases accuracy), as well as the updated charging connector – ditching the Vivosmart 4 charging connector for the standard Garmin charging connector used on most other Garmin watches.
Here's that standard-issue Garmin charging cable: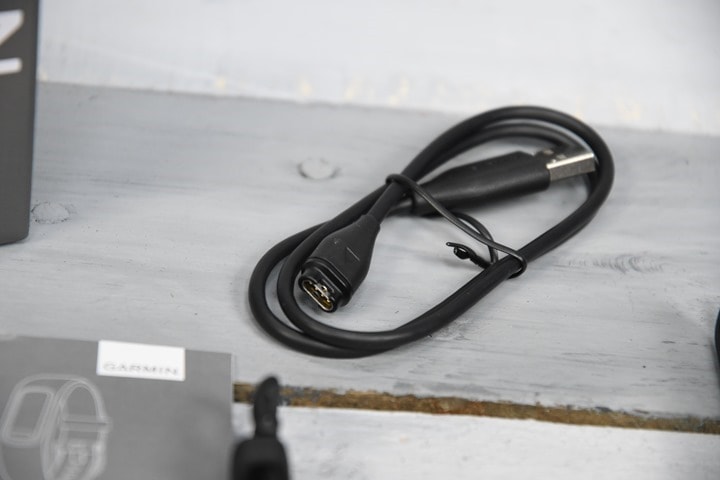 Oh, and the manuals you won't read or use: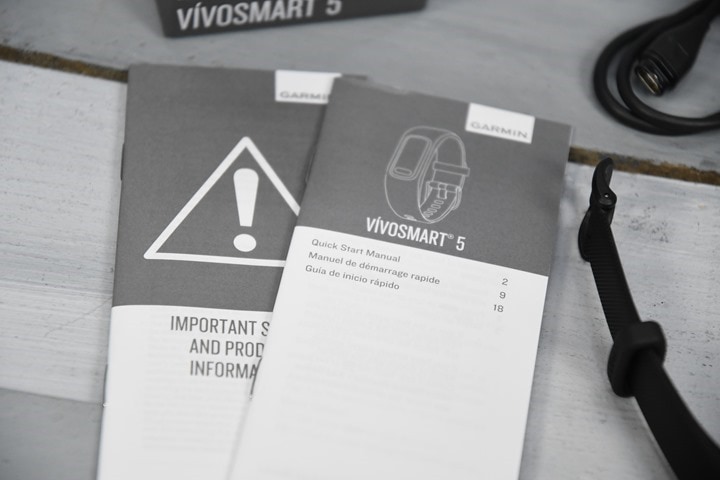 Here's a quick look at the size comparison to the Vivosmart 4, side by side: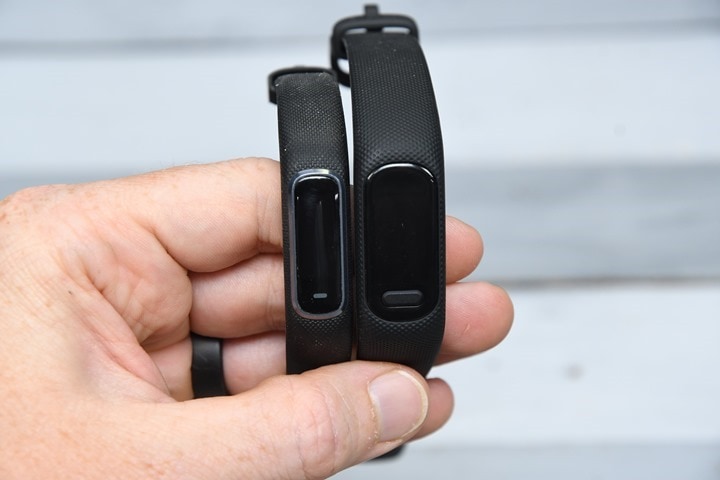 And the back as well, with the slight differences in the much older optical HR sensor package from 2018. The newer Vivosmart 5 though isn't using the latest sensor package from Garmin that's in all other wearables since last spring – likely due to that sensor being wider in diameter, and more for watches.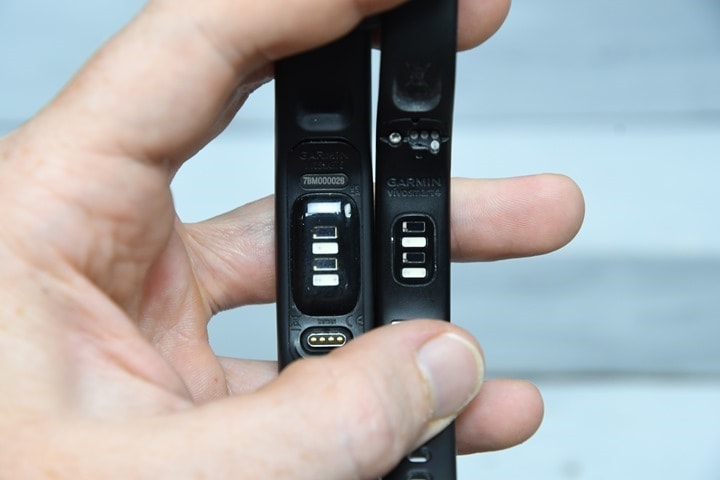 With that, let's get right into things.
The Basics: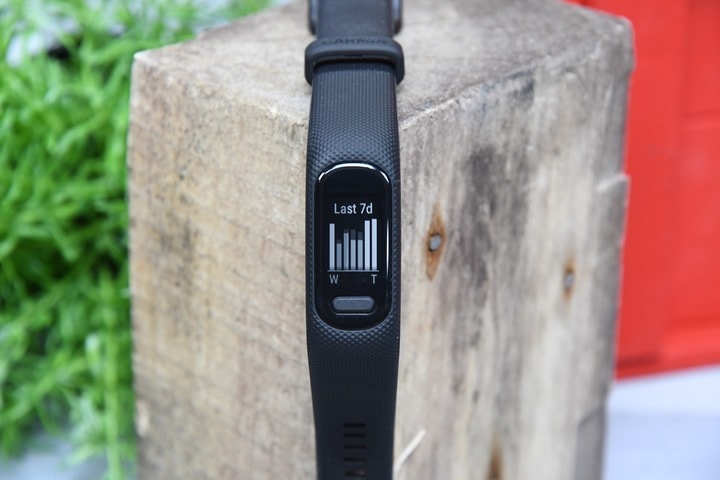 This section is all about the day-to-day usage of the device, so things like activity & sleep tracking, the touchscreen interface, and other bits related to that. Whereas for the sports stuff (like doing a workout), I cover that in the next section.
The Vivosmart 5 uses a blend of its new button alongside the existing touchscreen to navigate the user interface. The button is largely used for confirmation, and can be used in both a short-press (to confirm something), and a long-press (such as to end a workout).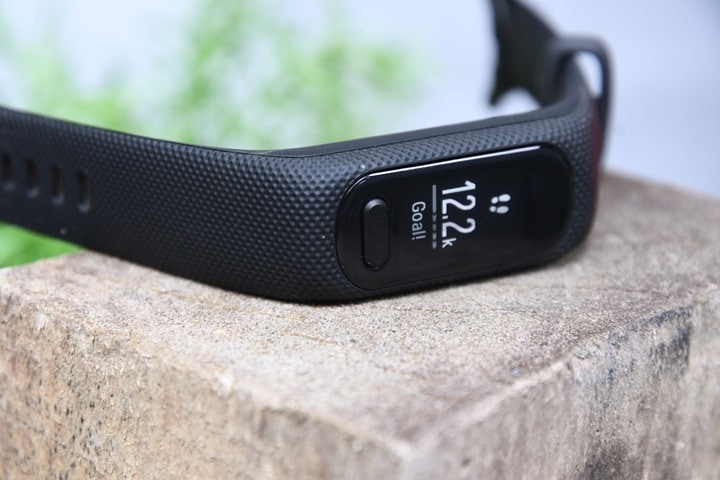 Meanwhile, the screen allows swipes, as well as selecting something by tapping on it. I wouldn't describe the touchscreen as either great or bad. It's solidly…meh. I've had far better, and far worse. This is just acceptable. However, I found it near-impossible when wet.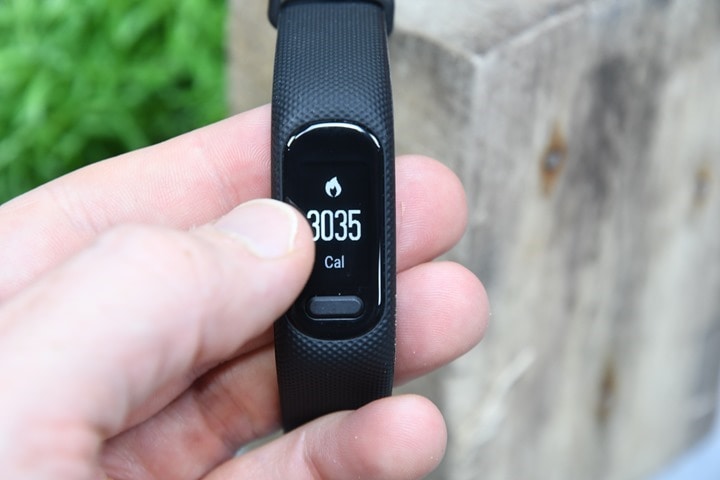 The one thing that helps here though is the larger display. Previously with the smaller touch screen display, it was far more difficult to correctly tap something. Now, for the most part, I manage to tap the right thing.
You've got a default, but changeable, watch face. In my case, I tweaked it already to change the data fields shown on it. It's nowhere near as customizable as Garmin's other watches (and doesn't support Connect IQ watch faces), but you can loosely get it to show the core data that you'd expect. And if you tap the bottom of the watch face (or, at least this specific one), it'll change that portion to show me other stats for the day.
Meanwhile, I can then swipe up/down through the widget roll, which shows me additional stats about core areas like steps, heart rate, stress, blood oxygen levels, breathing rate, and more.
Plus, there's also weather, calendar, and smartphone notifications too. These are all customizable in terms of the ordering and which ones are enabled.
If you tap on any given one, such as the steps, you can see where you stand on the day as well as any weekly goals.
The same is true for all the other data sets. For example, here's the heart rate one – complete with a little HR graph a few hours after a workout I did. Below that it'll list the 7-day resting HR average too.
In the case of heart rate (and many other stats like breathing rate, PulseOx, stress, and more), it's leveraging that optical heart rate sensor on the back, which will show a green LED 24×7, except also showing a red LED when gathering PulseOx information.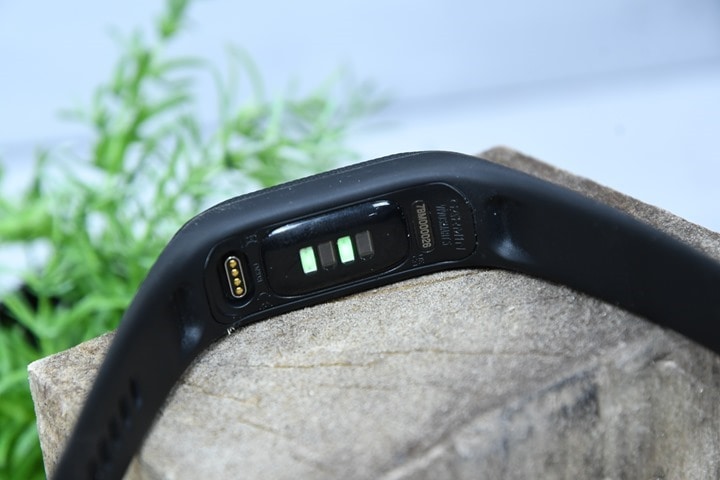 PulseOx is Garmin's blood oxygen tracking feature, which tracks your blood oxygenation levels. On the Vivosmart 5 you can choose to disable it entirely, only make it available while at sleep, or have it on 24×7. It's important to note that this feature is a battery-burning beast (no matter what Garmin watch you use). In general, unless you have a hyper-specific reason you want it enabled (and actually know what to do with the data), I'd disable it (which is the default).
Generally speaking, I get mostly OK results with Garmin's PulseOx technology in terms of accuracy. However, with the Vivosmart 5 I was consistently getting nighttime readings far below what I'd expect (showing in the mid to upper 80's), and also far below other blood oxygen sensors during sleep, which I can largely trust were showing concurrently. I suspect the lower accuracy is due to the smaller footprint compared to the other sensors with a larger footprint.
One of the metrics that the optical HR sensor drives is Garmin's Body Battery. This is as it implies, and roughly tries to track your energy and stress levels. Overall, with years of experience with this in numerous Garmin devices, I'd say it tracks pretty darn well. The idea is that you wake up with a relatively full Body Battery %, based on your sleep quality/score/duration, and then over the course of the day different activities drain that battery (based on intensity/stress/HR/etc…). You can see this on the watch itself: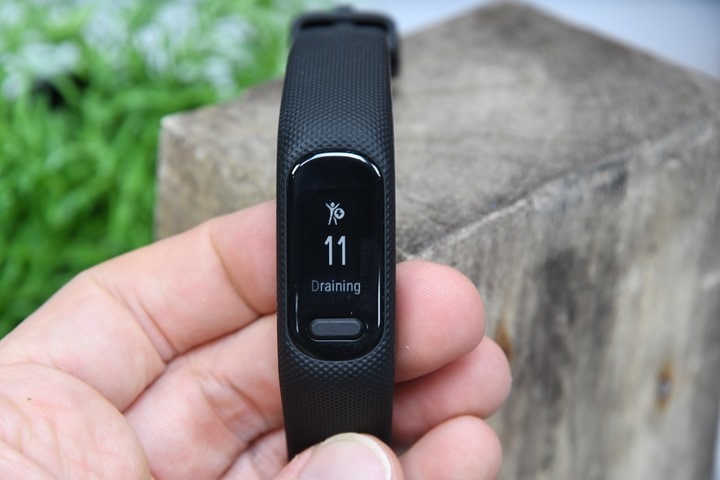 Or also on the app too. And this is where I noticed a quirk that my Body Battery nightly regeneration levels significantly spiked to 100% (or nearly 100%) immediately upon switching to the Vivosmart 5. Whereas previously I was topping out at 70-75% most nights. That more realistic 75% range was based on Garmin changing their Body Battery algorithm about a year ago to be less lenient on crappy/shorter sleep. In this case, I managed to get to 100% one night after just four hours of sleep. That's just not realistic.
However, yesterday morning I did get a firmware update, and that seems to have put the Body Battery back into check a bit. Garmin didn't clarify as to which algorithm this is using.
Next, there's sleep tracking. The Vivosmart 5 will automatically track your sleep in the background, including a sleep score. New to the Vivosmart 5 is showing your sleep score as part of the morning report on the watch itself when you wake up. And it does indeed to this, though it was darn-near impossible to take a picture of. It only briefly shows it when you wake up, and you've gotta be ready for it or it goes away.
However, this is part of the larger morning wake-up screens that are new and shown, including your weather, calendar, and step goals for the day. You can customize what exactly is shown in the settings. Also, it'll apparently wish you happy birthday on the morning of your big day.
Now, if you miss the sleep score in your morning report, you can always access it, and the full sleep details, from the menu too – including the estimated sleep phases.
I don't tend to test the accuracy of sleep phases, since it's a fairly imprecise guesstimate to begin with, and determining accuracy of it's near impossible. Thus, I simply assume it's a swag (at best). Instead, I'm more focused on the actual fall asleep/wakeup times, which this did correctly identify. All of your sleep data is also accessible from the smartphone app too:
Circling back to your other data, everything that's tracked is fully accessible on Garmin Connect Mobile, the smartphone app that you can pair up to the tracker. Alternatively, you can also view it on the web at Garmin Connect. Within the platform you can slice and dice the data a million ways, including both high-level overviews of your day like this:
Or, more specific such as steps or heart rate (or any other stat mentioned here) by day/week/month/etc…
Finally, a few odds and ends. First is that you can swipe from the left to access a 'Find my Phone' option, which will trigger your phone to make hideously loud and horrific sounds. Also, you can enable do-not-disturb here (when you set up the Vivosmart 5, it allows you to set this automatically at certain times of the night).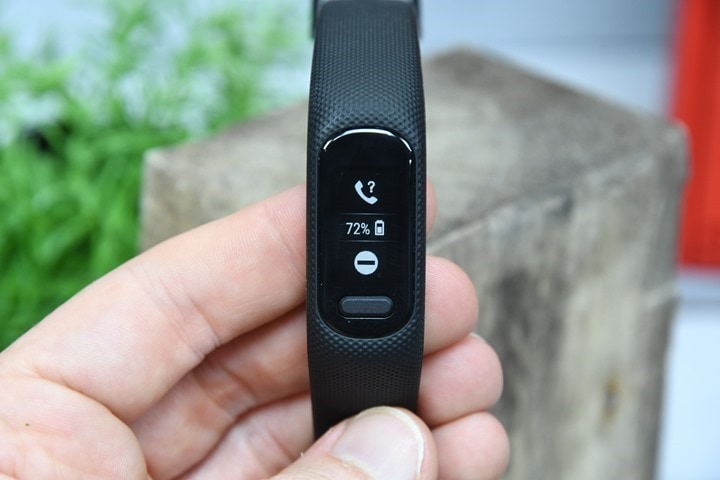 Meanwhile, if you press the main button you can access a timer, stopwatch, and alarms. There's no smart alarms on any Garmin devices, so it's purely static alarms.
Next, there's the smartphone notifications. This will display notifications from your smartphone on your wrist, which you can tap to get more detail (the full message length), or you can clear them. As one might expect, there's not a ton of room here. So you won't want to read some massive drama-filled text on this.
After that, there's the safety and tracking features. The watch can both alert designated friends and family if you fall/crash (aka incident detection), as well as automatically send them a LiveTrack link anytime you go for a GPS workout. Functionality-wise, this is the same feature as found on Garmin's higher-end watches – which Garmin has held a pretty good stance on making these safety features available for all device levels (and free).
As part of that, you can long-hold the button down (like, really long: 5-8 seconds), and it'll quietly trigger an emergency notification to those same designed contacts, alerting them that you're in trouble and sending them a LiveTrack link that'll stay on/connected as long as your cell phone is within range. This provides them your current location until you end it.
Lastly, we've got the battery claims. Garmin says it gets up to 7 days of battery life. That seems about roughly in the ballpark of where I'm trending, but of course, I've also used it more heavily on sports (with both optical HR of course, and connected GPS), so it's a bit tough to tell exactly.
Sport Usage: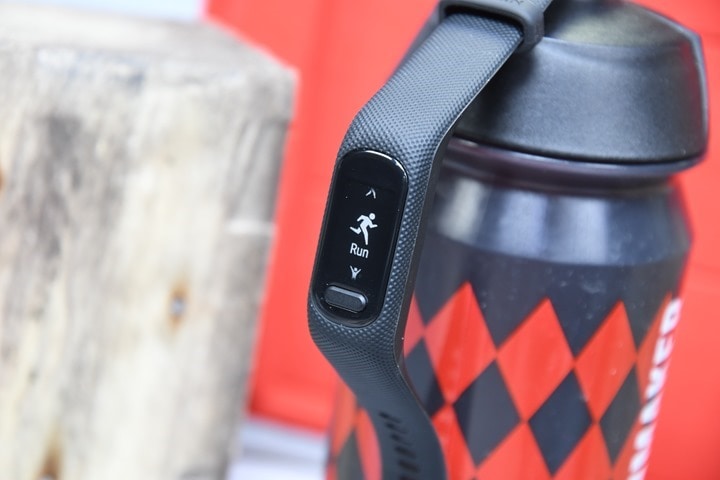 The Vivosmart 5 has a number of sport modes you can configure, which allow timed activities – including GPS tracking with your phone. However, keep in mind that the watch will also automatically create certain activities, such as walking or running, based on a minimum threshold (time) for that activity. You'll see these activities after the fact on the Garmin Connect app, however, they won't include GPS information within them unless you explicitly start a manual activity.
To access the sport/activity modes, press the button to get into the main menu, where you'll then see 'Activities':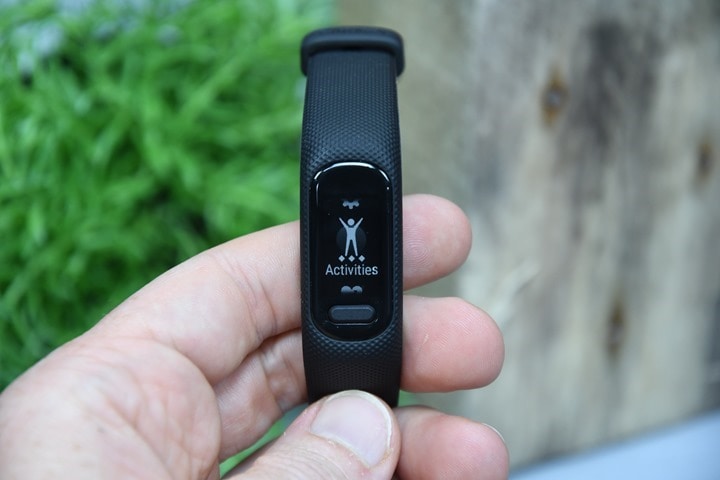 By tapping that it'll show the activity profiles you've saved to the band. You can save up to 10 activity profiles to the band concurrently, which is actually fairly good for a band of this class. Many other bands limit you to fewer profiles concurrently (for no logical reason).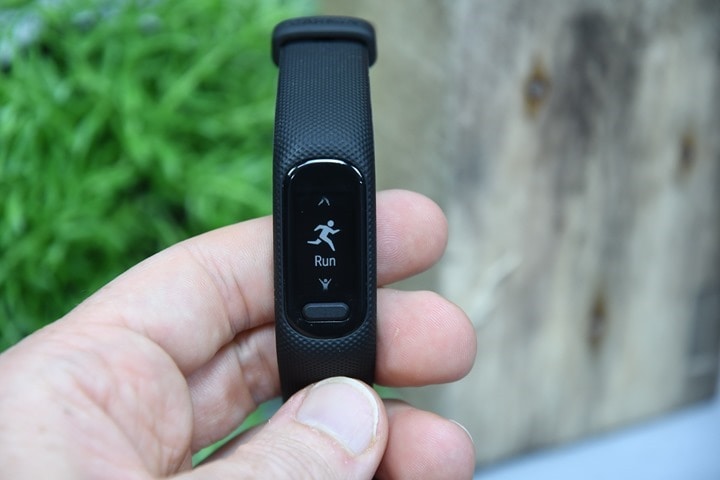 You can see and customize the list of activity profiles on your phone, which the below also handily shows you the full list of activity profiles supported on the Vivosmart 5. That's a far shorter list than most other Garmin watches (in fact, it's the shortest list). But, you can pretty much always use the catch-all 'Other' or 'Cardio'.
Each of these profiles can be customized a little bit, including auto lap, alerts (heart rate, time, distance, calorie), and data fields:
When it comes to the data field configuration, you can essentially change the upper and lower fields, while the static field stays the same at the timer. Meanwhile, you can toggle on a HR gauge, music, and clock screen. Here's a clean look at what you're changing in those three data fields: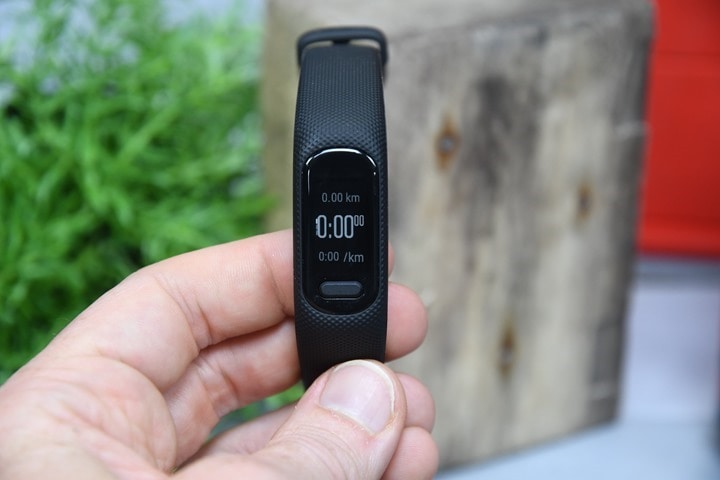 The GPS is toggled on/off on a per sport basis, for sports that make sense outdoors. You'll do this either in the Garmin Connect mobile app itself, or, you can toggle it on the watch when you open the sport profile up: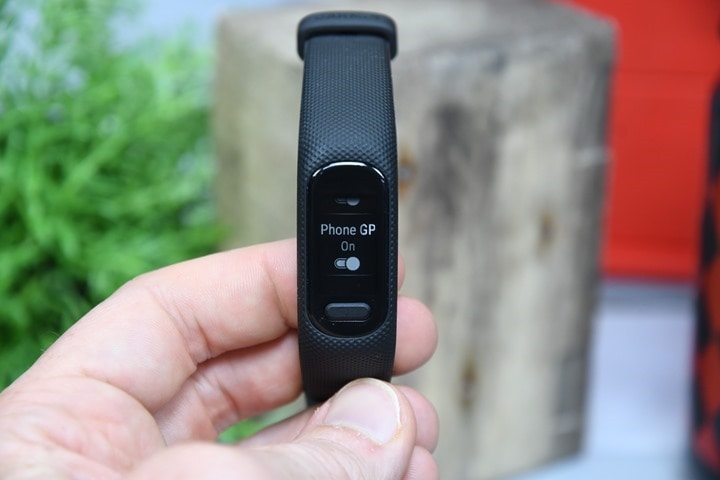 Again, keep in mind this is leveraging your phone's GPS. As such, if your phone isn't nearby, you won't get GPS tracks. For activities like running or walking, you'll still get distance (based on the accelerometer data). Whereas for cycling, without your phone you won't get distance. In terms of battery burn, it wasn't too bad. On a recent 3.5hr ride, it burned about 50% of my iPhone 13 Pro's battery. But I also used my phone for a bunch of other photos and videos, as well as even briefly flying the drone. So the actual hit was certainly less than that.
When you're ready to start your workout, you'll just tap 'Start', and it'll start tracking your workout. Do be sure that if you want GPS, you wait for it to connect to your phone (it'll show a confirmation of that). At this point with the workout started, you'll get all the data fields you've configured (all three of them), on the band. It's darn-near impossible for me to show you that outside (more on why in a second), so here's an indoor workout: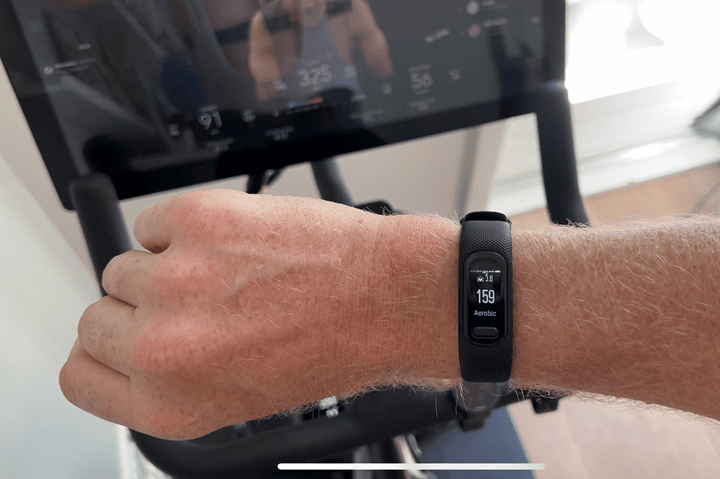 Visibility wise to the human-eye, it's easy indoors. No problem. Outside though…is tricky. The main data field, as well as the HR gauge – zero problems, easily viewable to the human eye. But the two tiny upper/lower fields? Much tougher, especially the upper one if there's any sun. Without sun, it's not too bad. And as far as taking a photo of it outdoors in anything other than sunset? Impossible.
That's because the refresh rate on the screen is basically perfectly timed to the camera, and in brighter conditions, it makes it even more impossible. All I get is blank screens, or stuff like this (again, in reality, it looks clean to the human eye):
However, at dusk or indoors, it's easier to photograph, especially in the summary page that you get at the end of a workout:
Note that because it's not an always-on screen, you'll need to raise your wrist to see the data. And if you hold it up long enough, the screen goes off. There's three settings in the menu to change this between short/medium/long, with short being about 8 seconds. This is somewhat common on battery-tight devices, though the Fitbit Charge 5 does offer an always-on mode (obviously that shortens battery), but it could definitely be used here.
In addition to the short workout summary above, all of the good details are available on the Garmin Connect app (or website), which shows you everything you could want. At this point, it's actually not that different from most of the core metrics any other Garmin watch will give you. Obviously, Garmin's higher-end watches have lots of other fancy metrics, but in terms of things like pace/speed/heart rate/etc, all of that is fully detailed here. You'll even get estimated elevation stats too.
Depending on the workouts you do, you'll also get VO2Max information shown on the unit in the menu, as well as afterwards on Garmin Connect. It automatically calculates this: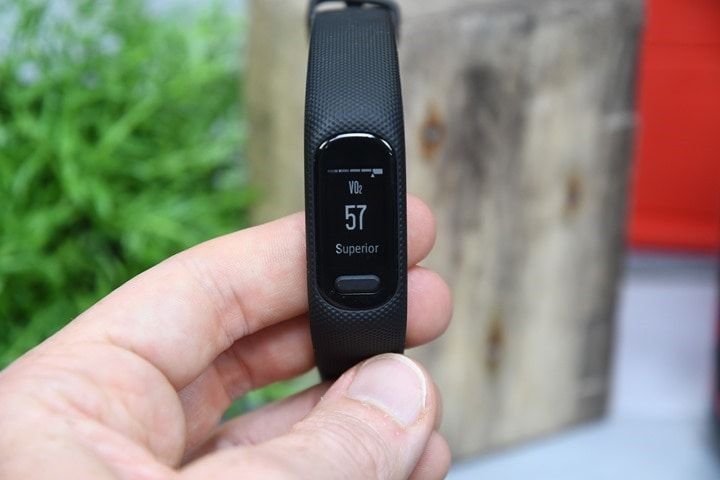 The same goes for Fitness Age, which is calculated based on a variety of factors including your weight: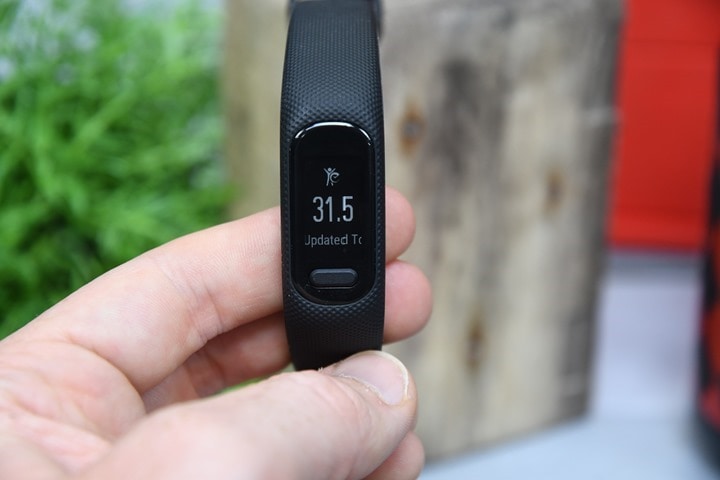 And then further, if you want to broadcast your heart rate using the optical HR sensor so that other apps or devices like Peloton, Zwift, or anything else, can pick it up, you can do so in the menus: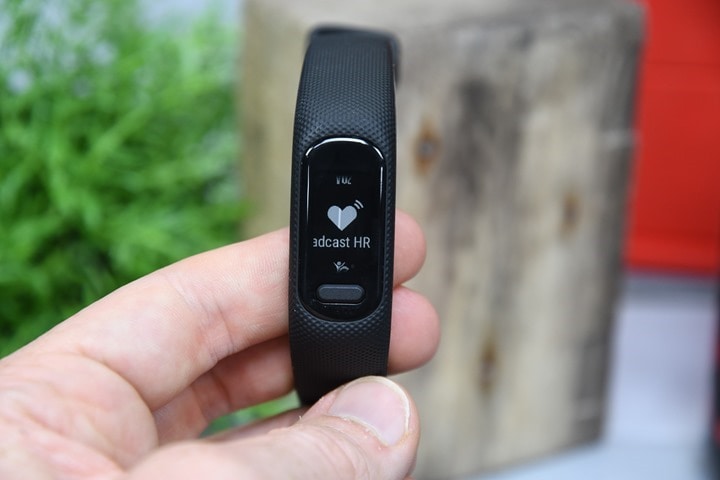 And then it'll show up using either ANT+ or Bluetooth Smart in those apps: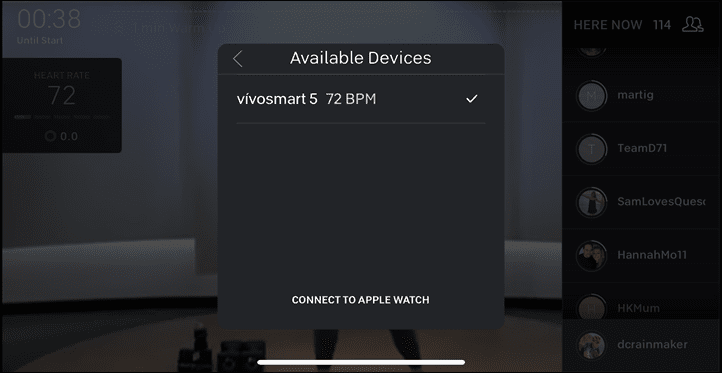 After you're done, you'll go ahead and end the broadcasting in order to save battery life. Note that you can't concurrently broadcast and start an activity like you can on most other Garmin watches.
Arguably, the biggest benefit of the Garmin Vivosmart series over the Fitbit devices is the overall platform that you get from a sports-focus standpoint in Garmin Connect. Meaning that you can analyze your workout data way deeper on the Garmin side than the Fitbit side – despite collecting it with a relatively basic device. So things like trending pace reports, or gear tracking and such are all available as if you purchased a high-end Garmin device. And much of this is even deeper on the web platform.
But that's largely offset by the during-workout experience, for which a Fitbit Charge 5 is immensely better in terms of readability and display ease of use. Note that neither device allows you to connect an external heart rate strap/sensor to it. So you're stuck with what's inside. Which, is a great time to talk about that.
Heart Rate Accuracy: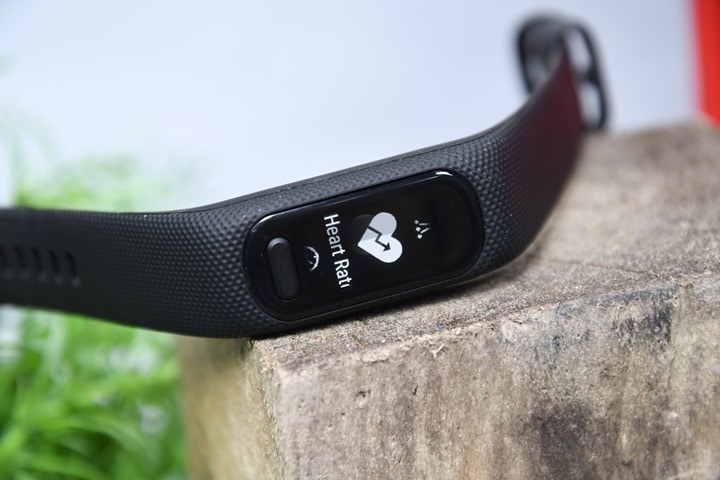 In this section I'm going to look at the accuracy of the optical sensor, as well as the accuracy of the GPS (despite the fact that it depends on your phone's GPS, which I'll explain why in a second).
For all these tests, I've got multiple other recording devices and sensors. As always, no two watches are on the same wrist so as to not interfere with each other. Extra watches are either worn elsewhere on the body (like a running pack) or bike (handlebars), or sometimes hand-carried. Those watches not on the wrist are collecting heart rate data from connected HR sensors/straps.
Let's dive straight into the first set, a relatively easy indoor Peloton workout, with some minor intervals. In this case, I had the Fitbit Charge 5 on the other wrist, as well as wearing a chest strap (Polar H10). Further, I had the Whoop 4.0 on an armband. You can see that the Vivosmart 5, in purple, basically tracked spot-on with the chest strap. No meaningful complaints here on its performance. You do see some slight bobbles on the Fitbit Charge 5 in the final intervals.

Next, we've got a more difficult indoor interval workout, which helps to stress not only my heart, but also the optical HR sensor. You can see here with the same crew of sensors, that it again performed very well, easily capturing virtually every aspect of the workout and interval structure. You also see some challenges with the Fitbit Charge 5 in the final shorter interval bursts.

Next, we'll head outside for a relatively easy run with a few minor sprints tossed in there. In this case, I've still got the Fitbit Charge 5 on the other wrist, but I've taken with me a Polar Pacer Pro & Garmin Descent GPS watch, to track GPS compared to my phone's GPS for the Garmin Vivosmart 5 & Fitbit Charge 5. First though, here's the heart rate plot:

Again, almost zero issues with the Vivosmart 5 (in blue) compared to the reference chest strap. Only once did it diverge slightly after a sprint, to not recover as quickly as the others.
On the GPS front, it used my phone's GPS – which in theory means it and the Fitbit will be the same (since both used the same source). In reality, at the same ending point the Vivosmart 5 measured 130m longer (on 7,200m) than the Fitbit Charge 5, of which both phone-based wearables were also another 150-200m longer than the watches. Still, that's a relatively small amount in most cases – and as you can see, the GPS tracks were virtually identical.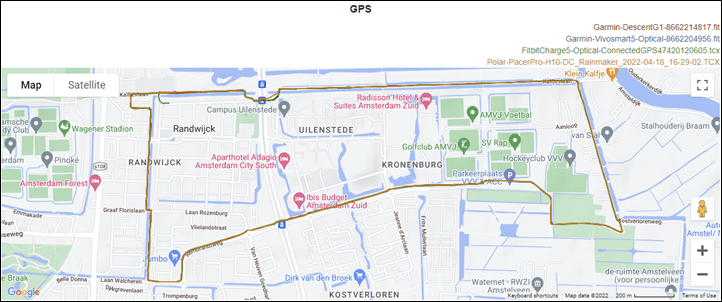 (Note in the above image, the Charge 5 got stopped a few seconds later, but the exact finishing numbers above are using the accumulated distance chart in the DCR Analyzer from the same point when I stopped running.)
Next, we've got another run, this time with some short intervals to work the heart rate sensor. As you can see, while the Fitbit Charge 5 really struggled in terms of HR accuracy, the Garmin Vivosmart 5 was basically spot-on almost the entire time, with only some relatively minor issues upon recovery (transitioning from running to walking), and being latent.

Meanwhile, the GPS tracks were all fully acceptable and essentially the same: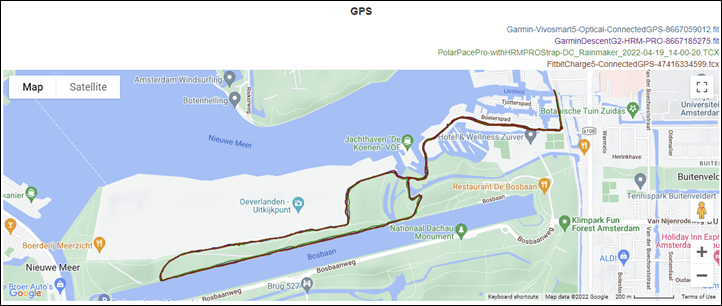 And then lastly, here's a 3.5hr long ride I did. The heart rate on this is definitely more wobbly from both the Garmin & Fitbit, but that's also the norm with wrist-based optical HR sensors as you place pressure on your wrists.

Unfortunately, the bigger issue here was GPS, for both Garmin and Fitbit. Certainly, you can glance at this and see that there are major chunks that the Garmin Vivosmart 5 skips on my ride (with my phone simply in my back pocket – even on the same side of my body as the wrist I was wearing it).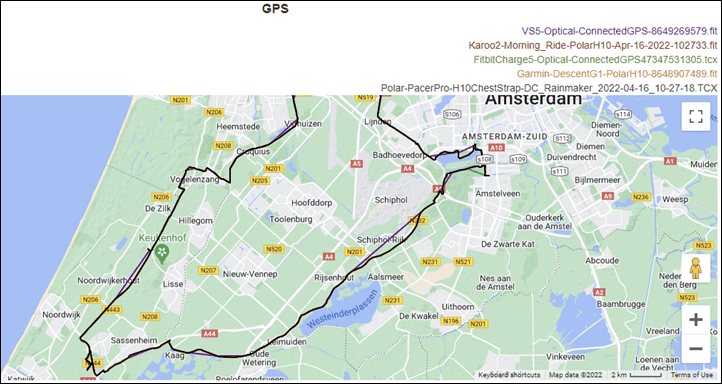 Yet somehow, inexplicably, Garmin's Vivosmart 5 total distance was 109KM, whereas the actual distance was 87KM (as recorded on a Garmin Descent G1, a Hammerhead Karoo 2, and a Polar Pacer Pro). So despite skipping sections, the Vivosmart 5 added 20 kilometers.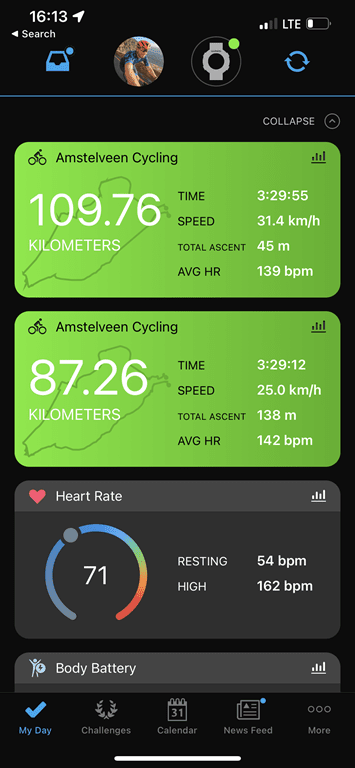 But, that failure is all in context, since the Fitbit Charge 5 decided to stop recording distance after a mere 0.7KM, never to recover (it was using my phone's GPS).
In any case, overall the Vivosmart 5's optical HR sensor during workouts is largely spot-on, with only minor issues (save cycling, which is less accurate). For the GPS side using my phone's connected GPS, the total distance and GPS tracks were in the correct ballpark for running. But both Garmin and Fitbit struggled with cycling, likely due to connectivity issues to my phone in my jersey pocket (a very normal place to put it).
(Note: All of the charts in these accuracy sections were created using the DCR Analyzer tool.  It allows you to compare power meters/trainers, heart rate, cadence, speed/pace, GPS tracks, and plenty more. You can use it as well for your own gadget comparisons, more details here.)
Final Thoughts: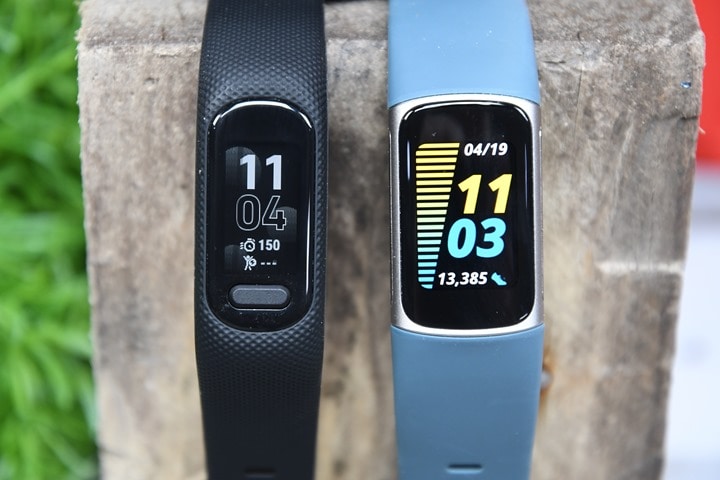 This has been a whirlwind year for Garmin, with one massive fitness/outdoor/wellness product launch after another. Many of them pushing the bounds of their respective categories, as well as technology. From the first product of the year, the Venu 2 Plus with Garmin's first voice-connected wearable, to the new Epix AMOLED, to the Instinct 2 series, and then of course others like the Tactix. And that's only half the products, and it's also only April. Virtually all of them highly successful, either in sales or simply being a well-designed product.
Unfortunately, the Vivosmart 5 is a rare miss for a company that's been on a streak for a while.
In many ways, the Vivosmart and Vivofit series have always struggled to find their way, both within Garmin and at large. The pricing on this simply doesn't match the market realities. With the AMOLED-based, always-on-display Fitbit Charge 5 with ECG and GPS also priced at $149, it's not even close. In almost every scenario, it does things better than Garmin's Vivosmart 5. And not just a little better – but a lot better. Which is saying something, because frankly speaking, I slaughtered that device in my in-depth review due to a poorly designed GPS antenna (forcing you to choose between good GPS or good HR – not both). However, at least it had GPS. Whereas the Vivosmart 5 depends on your phone's GPS. So if I simply depended on my phone's GPS for the Fitbit Charge 5, then the problematic built-in GPS on the Charge 5 become a wash.
And in that context, it's as if the Fitbit Charge 5 sings the Annie song "Anything you can do I can do better!", over and over again. From the display to the notifications, to the watch faces (or the ease of usability, to the more diverse band selection, to the ECG functionality or Fitbit Pay (contactless payment) features). And of course the price, because while the Fitbit Charge is officially $149 (retail), the reality is that almost 70% of the days between launch and now, it's been on sale for $129 (as it is today, as usual). About the only bright spot for Garmin here is the optical HR sensor is definitely better than Fitbit's, during workouts specifically (and that you can broadcast it to other apps, which Fitbit doesn't do). For the rest of the day, you won't notice the difference.
And certainly, one would be remiss if I skipped over Garmin's 'thou shall not pay to access your own data' aspect. However, for my upcoming comparison to the Fitbit Charge 5, I actually didn't have the Fitbit Premium subscription on my account. Thus, even in that context, the core data you'll want is largely accessible and the same. It's the fancier Fitbit 'guidance' type stuff you don't get if you don't pay for Fitbit Premium, but you don't get that from Garmin either at this price point/device anyway.
Still, I get Garmin's challenges here. The activity band market continues to wane, both for Garmin and others. For a company like Fitbit however, they can still convert millions of existing long-term Fitbit band users to a new unit. Thus it's worthwhile to invest in that form factor. Whereas Garmin appears to have made the accounting calculus that it's just not worth investing in anything more than a basic rebranding as a new model. And frankly, if I was in Garmin's shoes – I might make the same decision based on the current market realities. Or more likely, I'd simply have put my resources elsewhere.
With that, thanks for reading!