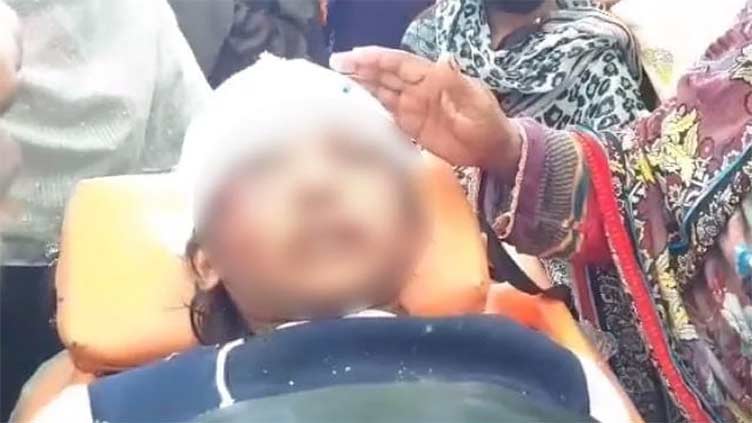 Pakistan
Rizwana, 14, is under treatment in the intensive care unit (ICU) of the hospital since July 24
LAHORE (Dunya News) – Doctors at the Lahore General Hospital (LGH) described the condition of a teenage maid, who was tortured allegedly by the wife of a judge, as serious and next 48 hours crucial for her life.
Rizwana, 14, is under treatment in the intensive care unit (ICU) of the hospital since July 24.
LGH Chief Executive Prof Al-fareed Zafar declared the next 48 hours highly crucial for Rizwana saying that a special board treating her fears that she may need the ventilator support.
He said that the girl's mother had suspected that Rizwana had been poisoned by her employer(s) during domestic violence in Islamabad.
Her blood sample has been sent for laboratory test after her complained, Dr Zafar added.
Rizwana, a resident of Sargodha, was shifted to the LGH in critical condition on July 24.
Dr Zafar said an emergency meeting of the board was called when the duty doctors informed him about the deteriorating condition of the girl.
According to the board, her wounds were severely infected. Bronchoscopy examination revealed that one of her lungs was infected and the other has blood clots due to which breathing was difficult for her. That was why oxygen saturation level in her blood was falling.
He said that the girl has an infection in her blood which has spread throughout the body. Her platelets have increased from 12,000 to 24,000 and the haemoglobin is 7 which was dangerously low.
Dr Zafar said Rizwana has been diagnosed with sepsis and she was a suspected Covid patient and her samples had been sent for diagnosis of Covid.
It may be recalled that Rizwana was allegedly subjected to brutal torture by the wife of civil judge Asim Hafeez, deputed in Islamabad for stealing gold jewellery.
Her family said that the girl was working as a servant at the civil judge's house in Islamabad for six months and she was not paid her salary.

 
' ;
var i = Math.floor(r_text.length * Math.random());
document.write(r_text[i]);