Google has announced that it will soon open all the health data contained on the Fitbit dashboard to all users free of charge. No subscription will be required.
Do you have a Fitbit smartwatch or a Google Pixel Watch? You will soon be able to benefit more widely from your health data without spending a penny. In a statement soberly titled " New ways to help people live healthier ", Google announced this week that it would extend to all users access to the data grouped on the Health Metrics Dashboard of Fitbit, its subsidiary. This free and extended access will concern all users, whether they have a subscription or not, underlines Android Central.
By opening more users full access to their health data, Google hopes to encourage their consultation and promote a better understanding of certain monitoring, including that of stress or sleep.
A novelty of public utility
This novelty will also allow more users to monitor their health indicators over long periods. Until now, certain measurements such as respiratory rate or resting heart rate were limited to monitoring for only one week.
Finally, it will be possible to see at a glance which health data has changed from its baseline, notes Android Central. A good way to quickly know if, for example, there is something to worry about, especially since personalized monitoring functions (activity ranges, trends, typical values, etc.) will also be available.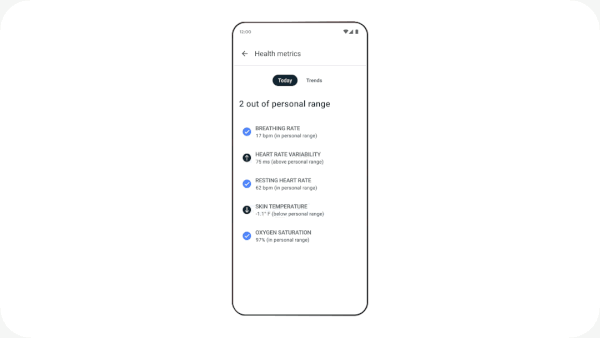 Source: Google
Here are some of the other data that you will soon be able to consult more widely and above all for free:
Your respiratory rate: this corresponds to the number of breathing cycles (inspiration / expiration) per minute;
Your heart rate variability (HRV): this measurement corresponds to the variation in time between each beat of your heart;
Skin temperature: this is the variation in skin temperature, taken at the wrist and during sleep. It's not your actual body temperature, but it gives an idea;
Your oxygen saturation (SpO2): this measurement assesses the amount of oxygen in the blood (available only with devices with a compatible sensor);
Your resting heart rate (RHR): This measurement represents the number of beats your heart beats per minute when you are still and well rested.
As Google suggests, the consultation of these different data should not give rise to self-diagnosis. If you don't feel well, obviously see a doctor… even if nothing conclusive appears on your Fitbit health data.
---
Do you use Google News (News in France)? You can follow your favorite media. Follow Frandroid on Google News (and Numerama).