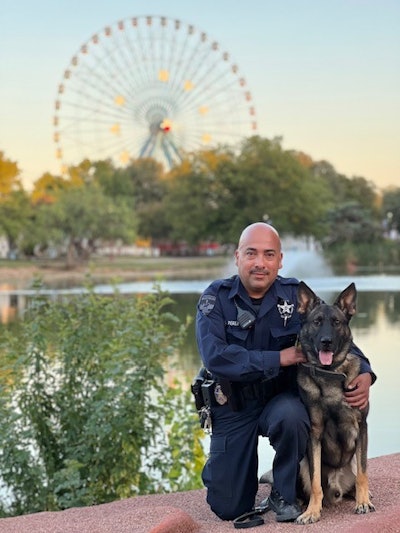 The National Law Enforcement Officers Memorial Fund (NLEOMF) has named Senior Corporal Sergio Perez of the Dallas Police Department as the Officer of the Month for February 2023. He was selected for saving a small child experiencing a medical emergency.
On the morning of Jan. 10, 2023, Senior Corporal Perez at a McDonald's in Dallas County. As he was waiting in the drive thru-line, a mother approached him frantically asking for medical help for her small child. Perez did not hesitate to provide assistance, and discovered the child was completely unresponsive and not breathing. Using his CPR training, he was able to quickly restore the child's breathing. He stayed with the child and mother and continued to monitor vital signs until medical personnel arrived to assist further.
Officers from the department were able to meet with the mother and child the following day. The child was healthy and the mother was understandably thankful and grateful for Senior Corporal Perez's lifesaving intervention.
 "The actions of Senior Corporal Perez serve to exemplify the thousands of often unnoticed good deeds done by law enforcement professionals every day in this country," said Marcia Ferranto, CEO of the National Law Enforcement Officers Memorial Fund. "We are incredibly proud to honor Senior Corporal Sergio Perez as our Officer of the Month for February 2023." 
 The Officer of the Month Award Program is sponsored by the Police Unity Tour and recognizes federal, state, and local officers who distinguish themselves through exemplary law enforcement service and devotion to duty.