In the United States, one person dies every 33 seconds from cardiovascular disease, according to the Centers for Disease Control and Prevention. That's around 1 in 5 of all U.S. deaths.
Heart disease is cited by the health body as being a "leading cause of death for men, women and people of most racial and ethnic groups in the United States," but it's relatively easy to strengthen and train a heart to good health, or to prevent an array of heart problems in the first place.
In fact, you only need to commit to 150 minutes of exercise per week to be in with a strong chance of warding off serious heart-related issues. That's only 1 hour and a half of exercise per week.
Newsweek spoke with two leading cardiologists to understand why.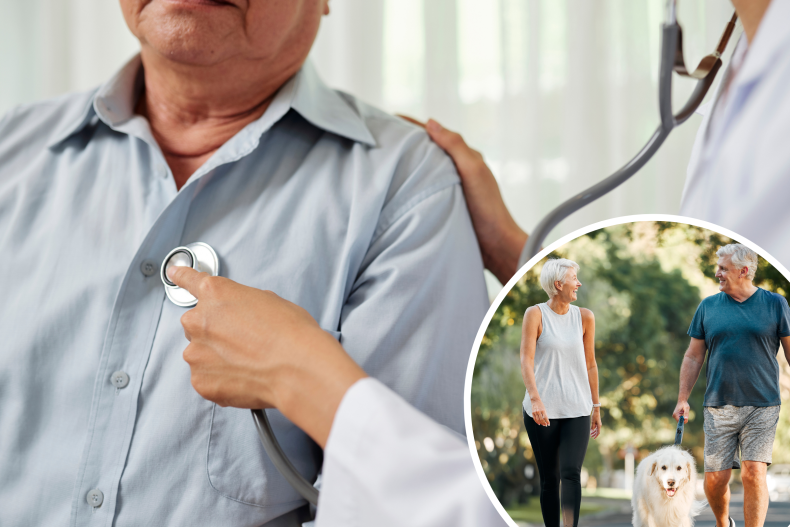 You Need to Commit to 150 Minutes of Exercise Per Week
"Physical activity can improve your heart health and lower your risk of cardiovascular conditions like hypertension," Sushant Khaire, a Memphis-based cardiologist, told Newsweek.
Khaire, who works at Methodist Le Bonheur Healthcare, which manages a group of clinics and hospitals within the city, says that prioritizing 150 minutes of exercise per week can prevent the onset of cardiovascular disease by training your blood and circulatory system to be more efficient in the long-term.
"According to the American College of Cardiology, adults need per week at least 150 minutes of moderate-intensity exercise, up to 150 minutes of vigorous-intensity exercise, or a combination of moderate and vigorous-intensity aerobic activity," Khaire said.
Moderate intensity refers to an activity that gets your heart rate pumping and causes you to break a sweat. Vigorous activities such as hiking, biking and swimming would provide even greater heart benefits due to its rise in pace and intensity. Two or more days a week of muscle-strengthening activities is also recommended, according to Khaire.
The cardiologist recommends that pregnant women who are looking to strengthen their hearts also follow these guidelines but with the added input of an expert in order to establish a suitable exercise routine that won't harm their pregnancy.
His advice for elderly people aiming to ward off heart disease is largely the same, but he throws balance training into the mix as both a fun and simple way to incorporate exercise into the day.
Kimberly Campbell, a cardiology consultant based in Philadelphia, seconds Khaire and reiterates that just 150 hours of moderate-intensity exercise or 75 minutes of vigorous aerobic activity is all that is needed per week to ward off cardiovascular conditions.
"Regarding cardiovascular disease prevention, I always tell my own patients that 150 minutes of moderate-intensity aerobic exercise is all that is needed per week. This is actually recommended by the American Heart Association," Campbell told Newsweek.
"I also advise patients to gauge their level of exercise based upon their breathing, which is often easier to monitor than their heart rate and requires no additional equipment," she added.
Campbell said that a patient can pinpoint when they've reached a moderate-intensity aerobic level of exercise when their respiratory rate increases while they're still able to have a conversation.
"They should develop a light sweat after about 10 minutes. In contrast, vigorous activity will result in deep and rapid breathing, and they will only be able to say a few words without pausing," Campbell said.
"While strength training has benefits for musculoskeletal health, it is the aerobic activity that is most beneficial for the cardiovascular system," she added.
This aerobic or heart rate-raising activity can constitute 30 minutes of walking at a brisk pace, riding a bike, water aerobics or even pilates.
Over time and with a build-up of regular activity, people should feel better and more able to take on additional exercise or different forms of exercise. If not, they should consider talking to a doctor for a wellness checkup.
Is there a health issue that's worrying you? Let us know via [email protected]. We can ask experts for advice, and your story could be featured on Newsweek.