The sport of surfing is regarded widely for its commendable surfing prompts. But, at the same time surfing is infamous for taking its athletes down into the infinity of the ocean. For instance, in 1994, legendary big-wave surfer, Mark Foo fell prey to the ocean and drowned in its expanse. Likewise, in 2010, the American big-wave surfer, Shane Dorian was about to lose his life in a harrowing wipeout, but fortunately, was rescued. And, owing to his close call with death, Dorian devised a tool that aids in surfing safety.
ADVERTISEMENT
Article continues below this ad
The Mavericks wave is one of the most ferocious waves that one can surf. To surf Mavericks, one needs to undergo a rigorous training regime. This includes breathing exercises since it is difficult to hold one's breath in, for a long time under a big wave. But now, the world of surfing has an aid that provides safety to big-wave surfers. And for that, all brownie points go to the 50-year-old surfer, Shane Dorian, who invented the safety jacket following his own terrifying encounter. Let's uncover the story behind Dorian's invention.
Shane Dorian's near-death wipeout inspired him to invent a surfing safety aid
ADVERTISEMENT
Article continues below this ad
In an interview with Men's Journal, the 50-year-old, Hawaiian surfer shared every nook and cranny of his vicious encounter with death while surfing Mavericks in California. Recalling the episode, Dorian stated, "That wipeout is still the heaviest surf experience I have had".
Shane further added details to the incident by saying, "I was already beginning to run out of air when the second wave hit me". The surfer thought he was definitely "going to drown". However, he was rescued as he resurfaced from the depths.
DIVE DEEPER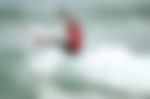 His escape from the clutches of the ocean inspired him to invent an inflatable life jacket in order to improve surfing safety. Evidently, he didn't want anyone else to suffer the same way that he did. 
How does Dorian's life Jacket work?
ADVERTISEMENT
Article continues below this ad
Shane designed the surfing suits by keeping in mind a general idea of aircraft life jackets. Dorian's wetsuit contains a CO2 cartridge that helps a surfer to blow air in the jacket underwater. This helps surfers to easily come back to the surface.
ADVERTISEMENT
Article continues below this ad
Shane's life-threatening incident might have shaken him to the core but his positive outlook towards his adversity proved to be a boon for the world of surfing. Interestingly, Dorian has surfed more dangerous waves after the Mavericks, including the Billabong Pipeline wave. What do you think about his winning drive? Give us your thoughts in the comment section below.
Watch This Story: Kelly Slater's IG following Shows He Still Follows Supermodel Ex Girlfriend Gisele Bundchen As Well As Former Hubby Tom Brady