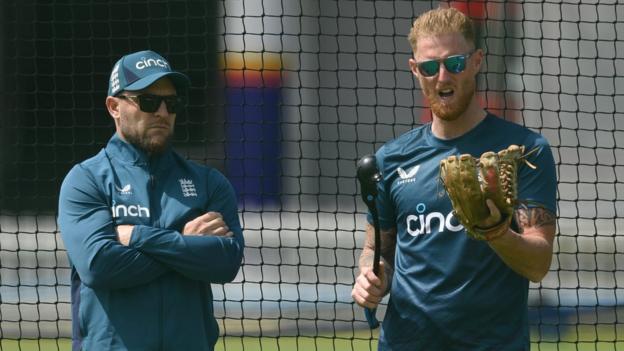 Venue:
Lord's
Dates:
1-4 June
Coverage:
Live text commentary and in-play video clips on the BBC Sport website & app, plus BBC Test Match Special on BBC Sounds and BBC Radio 5 Sports Extra. Daily Today at the Test highlights on BBC Two and BBC iPlayer from 19:00 BST.
England's match against Ireland kicks off an Ashes summer that is incredibly important for Test cricket.
The Test format is increasingly being squeezed, but another chapter in the ultimate contest is a real opportunity for everyone to be reminded exactly what it is all about. An Ashes series that is every bit as compelling and thrilling as we think it might be can breathe some life into the longest form of the game.
The collective sense of anticipation we are all feeling for the battle between England and Australia is higher than at any point since the famous series of 2005, when Michael Vaughan's side regained the urn in an epic contest.
The excitement comes from the way England have been playing over the past year under Ben Stokes and Brendon McCullum, not only winning 10 of their past 12 Tests, but doing so in such buccaneering style.
It has brought high rewards but also comes with high risks, and this Australia team will be the best team that Stokes' England have come up against. That brings a sense of trepidation.
We have the two-week build-up of England's four-day Test against Ireland at Lord's followed by the World Test Championship final between Australia and India at The Oval. These two matches will give us a better picture of where the two teams are at.
Last time England played Ireland in a Test, they were given a real scare in being bowled out for 85 before recovering to win.
This time, against an Irish side who are placing more importance on their upcoming World Cup qualifying tournament, Stokes' men should be looking to put them away with ruthless efficiency to set a marker for what's to come.
Australia could arrive at Edgbaston on 16 June buoyed by their crowning as the best Test team in the world. Similarly, they could be trying to pick themselves up from the disappointment of a final defeat.
Amid all the unknowns of how the series will unfold, what we know for certain is that Australia have not won the Ashes in this country for 22 years - a remarkable statistic when you consider how dominant they were from 1989 to 2001.
That shows what a big ask it is for the visiting team to win an Ashes series, albeit if the tourists will start with an advantage when it comes to retaining the urn because they are the holders.
The first Test will be so important. Australia don't really rate Bazball and think they will blow England away. If they get hammered in the first Test, how will they respond?
Similarly, if England try to get after the Australians and it doesn't work, they won't change their approach - they will probably go even harder.
If Australia leave Birmingham knowing England are serious challengers, having to rethink their plans, then that really sets up the summer. If England recklessly give away the first Test, it could be tough to turn around.
Whereas there are lots of questions to be answered in one of this summer's Ashes series, there is a degree of certainty about another. We know that Heather Knight's England will start as massive underdogs as they look to regain the urn for the first time since 2015, even if the all-conquering Australians are without influential captain Meg Lanning.
Australia barely lose a game. They are world champions in the 50-over and 20-over formats, and won Commonwealth gold last summer when England fell apart in the semi-finals.
I like the multi-format style of the series, with points on offer for the one-off Test, three one-day internationals and three T20s. This year, for the first time in the UK, the women's Test will be five days, meaning more chance of a result, therefore more likely that one team opens up a big lead. That really raises the stakes.
There is a huge, unprecedented platform for the Women's Ashes this summer. Already more than 70,000 tickets have been sold, a record for a women's international season in this country. Venues like Lord's, Edgbaston, The Oval and Trent Bridge are all being used.
This comes on the back of the England women's rugby union team winning the Six Nations in front of a record crowd at Twickenham, and the Lionesses doing marvellous things for women's football in this country, both through success on the pitch and the number of eyes they are attracting to the game.
There is a massive opportunity for the women's cricket team to do the same thing, but they face formidable opponents in Australia. If England can somehow pull off a series win, it would be a remarkable achievement.
It seems a long way off now, but the end of the summer will see England's men building up to their defence of the 50-over World Cup, won so memorably at Lord's in 2019.
Though Jos Buttler's team were also crowned T20 world champions last year, it has been a strange time for the 50-over side, who have seen lots of their series crammed in as games were rescheduled from the Covid era.
They have won only one of their past five series - against Bangladesh in March - but have rarely had their first-choice team available. That should change when they take on New Zealand and Ireland in September in preparation for the World Cup in India in October and November.
There are some unanswered questions. Might Jofra Archer come into consideration - England haven't completely ruled him out of the World Cup despite the stress fracture in his elbow. Can Stokes be coaxed out of one-day retirement? That feels unlikely, but why wouldn't he want to be at the World Cup?
For now, all the focus is on Test cricket at the beginning of a six-month period that contains two Ashes series, a World Test Championship final and a World Cup.
What more could a cricket fan want? Let's hope it lives up the hype.
Jonathan Agnew was talking to BBC Sport's chief cricket writer Stephan Shemilt