Luis Diaz "will be in the squad" at Leeds on Monday evening, bringing a six-month and 31-game absence to a close.
The 26-year-old has been forced to be a spectator for much of the season after a knee injury in October and a further setback in December.
It has seen Diaz miss Liverpool's last 31 games, robbing the Reds of an electric option in attack and the Colombian the opportunity to build on his impressive start to life at Anfield.
His wait, though, is to be over on Monday with Jurgen Klopp confirming that he is "now training completely normal" and will be part of the matchday squad.
"Yeah, he's 100 percent ready in training so that's it now," Klopp told reporters on Friday. "He is now completely normal in training, and we have to reintegrate him.
"He will be in the squad, if nothing happens Luis will be in the squad and from there we go. That's it."
While Klopp's demeanour made the delight at having his No. 23 back obvious, there was just the same undertone of managing expectation after more than 187 days on the sidelines.
"Luis, he developed massively [while sidelined]. In that time his English is getting better, so he is really settled.
"He was here every day, how it is with injured players and especially long-term injured players, they are even more at the training ground than all the others, so every day together with therapists and stuff like this.
"He really matured again, he is much more comfortable than he was in the beginning with everything in a new country, so that's really good and it will help him as well.
"So, we are really happy to have him back.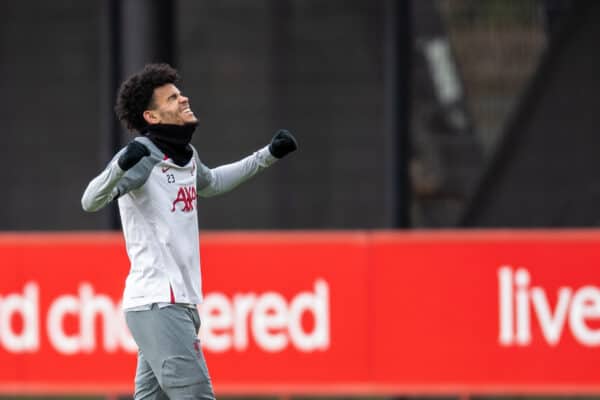 "He is like a breath of fresh air every day he is in training," Klopp continued.
"He loves it out there, I said in the beginning when he came that he cannot train without a smile on his face and that's something really special and that's exactly how he acts now.
"But he was out for a long time, it was not his season so far.
"Last week we played against Arsenal, the game before against Arsenal, the away game, was the game he got injured so a long time ago.
"Then one session in Dubai, out again, and now being back – it's really a long time.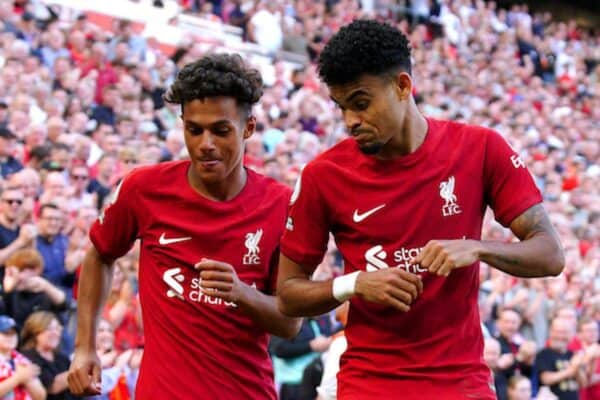 "But it's absolutely fine, he didn't lose his skills, that's good. But how I said, we have to see how step by step we can bring him back into the team."
With Liverpool not short on options in attack, the onus will not be on Diaz to shoulder responsibility and Klopp is clearly mindful of just that.
Klopp, like many of us, will just be delighted to have Diaz back on the pitch and ready to adjust to the demands before being involved for a full pre-season.