In India, Arcturus has been associated with pink eye and cases are spreading in Canada, but this time we're more likely to get a 'wavelet'
Get the latest from Sharon Kirkey straight to your inbox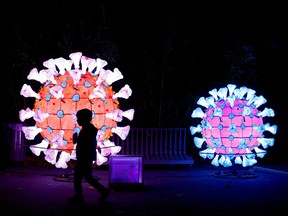 Article content
It tends to produce more fevers and cause itchy, watery eyes, making it hard to tell: is it COVID or just pollen? But "Arcturus," the variant of interest that's caused a surge of COVID-19 in India, isn't otherwise "particularly wild and shocking," said Jesse Shapiro, a genomic evolutionary biologist at McGill University.
Article content
The World Health Organization Friday formally put an end to COVID-19's designation as a world health emergency. The pandemic has been on a downward trend for more than a year. Deaths, hospitalizations, ICU admissions, all are declining, and there's high population-level immunity from vaccinations, infections, and both. "With great hope, I declare COVID-19 over as a global health emergency," WHO director general, Dr. Tedros Adhanom Ghebreyesus said.
As The New York Times noted, "in practical terms, the decision changes little." Like Canada, most countries have long dropped public health restrictions.
But while it no longer presents the same dangers, the pandemic isn't over, and SARS-CoV-2 is still evolving.
Article content
Arcturus, formally known as XBB.1.16, is already elbowing aside older strains. It's spreading rapidly in Ontario, and is likely in most other provinces, but at lower levels, Shapiro said.
Shapiro spoke with the National Post's Sharon Kirkey about what you need to know about Arcturus.
Where did Arcturus come from?
Arcturus is a descendant of Omicron. It's recombinant, a blending or mash-up of two different BA.2 strains.
"It is an Omicron," Shapiro said. It has all the same major Omicron mutations, with a few more of interest thrown in that are thought to help it evade immunity.
On social media, it was nicknamed Arcturus, after a red giant star in the Northern Hemisphere.
Is Arcturus more contagious?
Some research suggests it could be more infectious, and slightly more immune evasive, than previous iterations of the virus.
Article content
"If you've been infected before, it's able to escape some of those antibodies and immune cells that you've developed," Shapiro said.
"But it's not like something we saw with Omicron," which was a whole other beast. Alpha, then Delta, then Omicron rapidly displaced each other. Omicron burst forth with 50 mutations that had been evolving quietly somewhere, Shapiro said — in a chronically infected person, or animal.
Omicron reinfected everyone all at once, "producing this really big wave.
"I think that becomes less and less likely as there is more immunity in the population," Shapiro said.
Is Arcturus making people sicker?
So far, not notably so, Shapiro said, though it takes time to accumulate the data from patient outcomes.
Article content
In India, Arcturus has been associated with conjunctivitis, or pink eye, a common condition that causes redness and inflammation of the conjunctiva, the thin layer of tissue that covers the eye.
Symptoms include itchiness and watery eyes, and — if it's caused by an allergy — a sticky coating on the eyelashes.
Conjunctivitis has been reported with COVID cases before, and health officials have said it's too soon to know with certainty if XBB.1.16 is truly associated with higher rates of pink eye in already active allergy seasons.
Arcturus has typical symptoms of COVID, like fever, cough and shortness of breath.
"Each variant is a little bit different in its presentations, but there's no clear evidence that it's particularly more virulent or causing worse outcomes," Shapiro said.
Article content
"The best advice for people is to get vaccinated. Getting a boost is still very important for people who are eligible for one, who are five or six months out of their last booster" and who are in an eligible age bracket, or category.
Immunity from vaccination begins to wane five or six months out, "which will make people vulnerable to pretty much any variant," Shapiro said.
"A vaccine boost will help protect you, is the short answer."
What's the current state of the COVID-19 pandemic?
The global emergency may be declared over, but it doesn't remove the possibility of another "big surprise," Shapiro said, another big burst of evolution, like we saw with Omicron.
SARS-CoV-2 is evolving, which is what to expect from any virus or pathogen. "Nothing really stays still," Shapiro said. "There are new mutations, or new combinations of mutations that are popping up." Arcturus could out-compete "Kraken," XBB.1.5. Nature reported this week that mini-waves, or wavelets, are the future. New variants are expected to bring on new cases, but instead of "explosive, hospital-filling" waves, we'll see fewer, less deadly wavelets of mostly mild infections.
Is Canada in a wavelet now?
Wastewater data suggest there may be a bit of an uptick, Shapiro said. Nationally, "case numbers are pretty stable, but they're probably an under-count."
Arcturus has the potential to trigger a mini-wave. "But signs of that are not totally clear yet," he said.
National Post