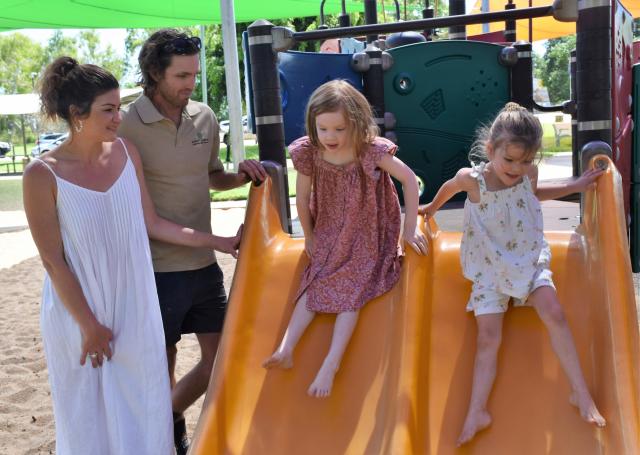 by Khrysti Balanay
Three years ago, a Rockhampton family's world was turned upside down after their youngest daughter Mila was diagnosed with cystic fibrosis, and now they are pushing for life-changing medication to be made available.
Mila Sewell, 4, was admitted to the hospital with lung failure as a one-year-old when her condition was discovered.
Although Mila has a strong zest for life, her parents, Jaimee and Mitchell Sewell said they have had to make family adjustments.
"Every day without fail, we complete physiotherapy to clear her lungs and airways," Mrs Sewell said.
"She takes a handful of medications, including tablets, just to eat.
"It's not helping anything. It's just maintaining her current health.
"Mila made it, and we are so grateful, but then comes the grieving process. The life she was supposed to have and the life we thought we would have as a family."
In Australia, one in 2500 babies is born with cystic fibrosis, and there is currently no cure.
Trikafta helps improve chloride and water flow in patients with a certain genetic defect and helps improve lung function and breathing.
In April 2022, Former Minister for Health and Aged Care Greg Hunt announced that Trikafta would be available on the Pharmaceutical Benefits Scheme (PBS) for Australians with cystic fibrosis aged 12 years and older.
A spokesperson for the current Minister for Health and Aged Care Mark Butler, said Trikafta was recommended by the Pharmaceutical Benefits Advisory Committee in November to be added to the PBS for treating children aged six to 11 years.
"The Albanese Government will work with the sponsor, Vertex, to move as quickly as possible to make Trikafta available for this age group," they said.
Without PBS, the cost to access Trikafta is over $250,000 annually, leaving the treatment out of reach for many families.
"Trikafta would change our entire outlook on her life," Mrs Sewell said.
"She will very much have cystic fibrosis and the other aspects that come with that but to be blunt, it will mean she will grow old.
"There have even been cases where it has lessened the effect of the illness.
"There would be no reason she can't carry on with the rest of her peers her age."
With eight years to go until Mila is eligible to receive Trikafta under current PBS regulations, Mrs Sewell said time is not a luxury they have when dealing with the progressive life-threatening disease.
"The progression starts from the moment they are born. It's not something that starts later in life," she said.
"Early intervention is what helps these kids to avoid irreversible damage.
"We've always known this has been in the pipeline from the moment she was diagnosed.
"It has been our holding hope ever since she was diagnosed that this would be what makes Mila's life different from adults with cystic fibrosis."
Member for Capricornia Michelle Landry has called on the Federal Government to green-light funding for the medication that will be life-changing for kids like Mila.
"I have written a letter to the Federal Health Minister asking to get moving and have Trikafta bought forward on the PBS," Ms Landry said.
"At this stage, kids over 12 can get it, and it was approved for kids between six and 11 to have access, but it hasn't been put on the PBS yet.
"The sooner we can do this, the sooner we can halt the life-threatening lung exacerbations associated with cystic fibrosis.
"This is people's lives at risk, and I don't know why it hasn't been approved already.
"Let's get this moving."