NEW YORK - An air quality alert remains in effect Saturday evening. It ends Sunday, but the smoky haze from Canadian wildfires could be an on-going feature this summer.
Right now, there are 500 active wildfires burning in Canada. The smoke they're sending down south isn't as bad as it was last month, but you can still see a layer of haze blanketing the horizon. And get used to it, as forecaster warn this could be a tough season for people with breathing conditions. 
 
The hundreds of wildfires burning throughout Canada will keep burning, according to experts, throughout the summer until the first snowfall of winter, leading Accuweather forecasters to coin this the summer of smoke and haze for much of the Midwest and Northeast.
People suffering from asthma and respiratory disease are being encouraged to dust off those N-95 masks and keep them handy as smoky haze is expected to descend on the horizon, clearing out only temporarily with rain and wind pattern changes until settling back in the skies again and lowering the air quality to dangerous levels.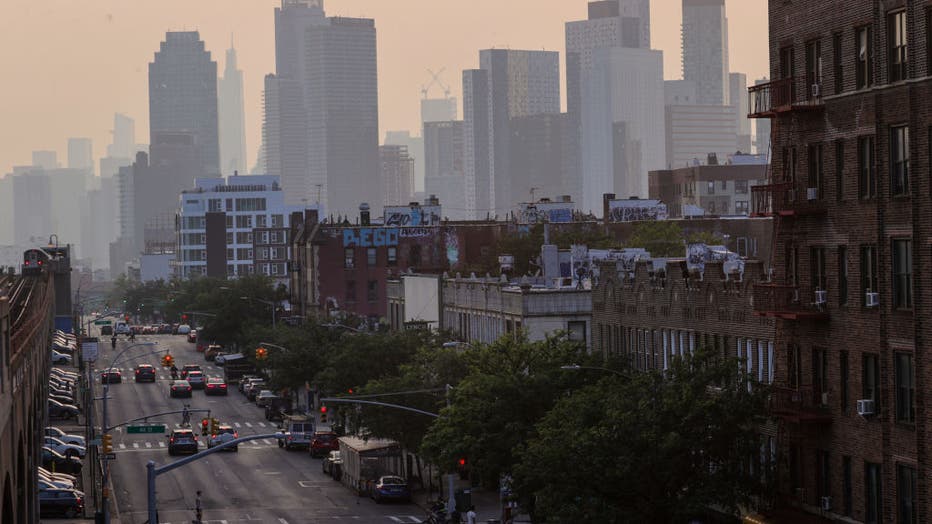 A view of the city as smoke from wildfires in Canada shrouds sky on June 30, in New York City. Canadian wildfires smoke creating a dangerous haze as the air quality index reaches 160 in New York City. People warned to avoid outdoor physical activitie
Low air quality can lead to serious health effects. The U.S. Centers for Disease Control and Prevention warning people to watch out of symptoms of breathing in the smoke: headache, chest pain, coughing, sneezing, eye irritation, trouble breathing and fatigue. 
In New York, to keep people safe, the Public Theater canceled Hamlet in Central Park, the Essex County Fireworks Spectacular was rescheduled, and the New Jersey Symphony's outdoor concert was moved inside. 
The air quality alert is expected to end by Sunday morning. But it's best to buckle up for a tough to breathe in smoky summer season. 
Right now, wildfire smoke is not expected to affect the Macy's Fireworks show on Tuesday. It is scheduled to go on, rain, shine or smoke.