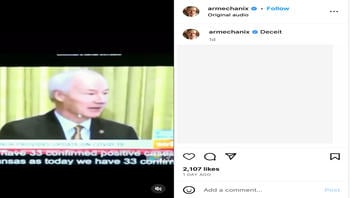 Does a string of edited-together U.S. news clips with the words "33 COVID cases" in one form or another in each prove that COVID-19 and the pandemic were fabricated or orchestrated? No, that's not true: The cherry-picked soundbites -- all appearing to be from early days of the pandemic -- reveal no particular conspiracy or that the virus doesn't exist. In fact, Lead Stories was able to find numerous stories for each of several numbers of COVID cases, since public agencies and the news media were tracking the spread by reporting the number of new cases each day or week.
A professor of infectious diseases at Vanderbilt University Medical Center told Lead Stories that COVID hasn't been a myth.
The implied claim appeared in a post and video on Instagram published on April 5, 2023. The 75-second clip features 10 different government officials or news anchors providing COVID updates with the number 33. Their comments, in order, include:
'At this hour, we (California) have 33 confirmed positive tests for the virus.'
'Yesterday we (New York) had 22 cases, today we have 33 cases, so it's gone up by 11.'
'Today we have 33 confirmed postiive cases in Arkansas.'
'As of today, we have 33 confirmed cases with Boston residents.'
'As of this afternoon, we have 33 Pennsylvanians who have tested positive for COVID-19.'
'As of this morning, there were 33 confirmed cases in North Carolina.'
'There are now 33 confirmed cases of the coronavirus in Michigan.'
'More cases of the coronavirus were confirmed today in San Luis Obispo county (California), bringing the total number now to 33.'
'Right now Georgia is reporting a total of 99 cases in 19 counties, that's 33 new cases from just yesterday.'
'There are now 33 cases in Louisiana.'
Following the 10 clips, the video cuts to a man laughing and then scratching his head. He says:
Right from the f-----g beginning.
This is what the post looked like on Instagram at the time of writing: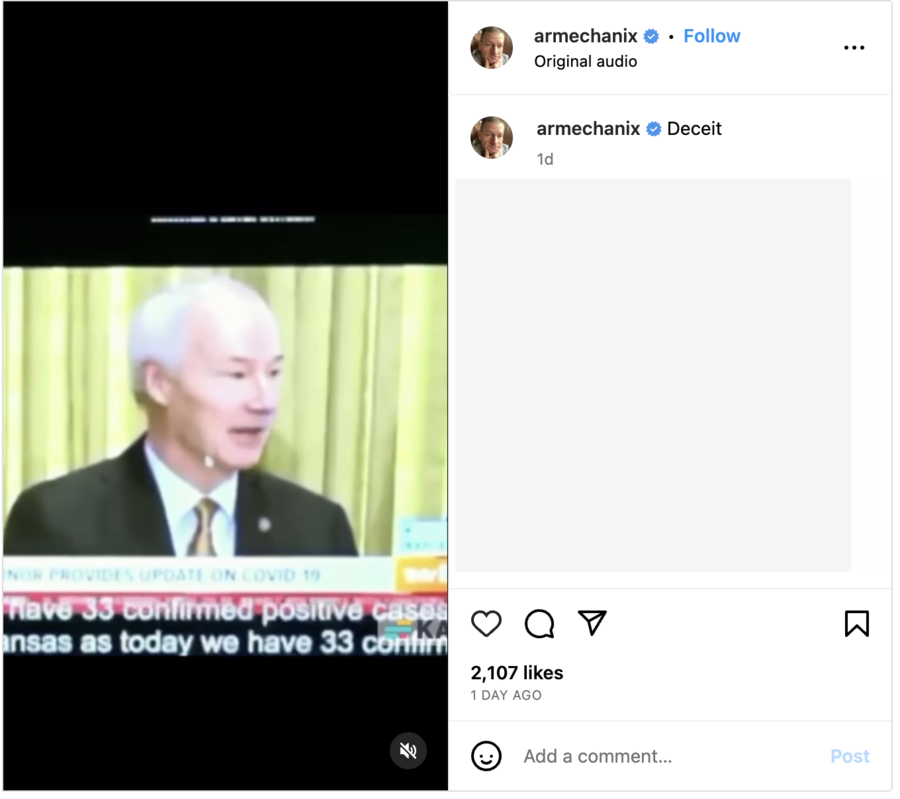 (Source: Instagram screenshot taken on Thu Apr 6 15:47 2023 UTC)
A similar montage of clips was also posted to YouTube on August 19, 2020. The full video appears below:
The implied claim in the Instagram and YouTube posts suggests COVID-19 and the pandemic are some sort of hoax or conspiracy.
Dr. William Schaffner, a professor of infectious diseases at Vanderbilt University Medical Center, told Lead Stories in an April 6, 2023, phone interview that he doesn't think "33 is some mystical number." He continued:
These were clearly clips from the earliest days when we were counting each and every case and that 33 cropped up numerous times in numerous jurisdictions must be an extraordinary coincidence, is all I can say.
Lead Stories asked Schaffner if the pandemic has been one big hoax. He said his experiences tell him otherwise:
COVID certainly has not been a myth, right? Anyone who thinks that has not been in the intensive care unit at the Vanderbilt University Medical Center. I can tell you that.
The COVID Data Tracker on the Centers for Disease Control and Prevention website shows nearly 105 million cases of the virus in the United States since the beginning of the pandemic. More than 1.12 million people have died from COVID.
In the phone interview, the Vanderbilt University Medical Center doctor said, "I have no explanation [for] why 33 cropped up on all of these video news reports":
But to speak to the larger issue of whether COVID is a conspiracy -- and I'm not being facetious here -- it must be an extraordinary worldwide conspiracy ...

The notion that COVID is nonexistent and is just the product of some strange conspiracy involving thousands of thousands of people around the world is something that is such a strange and remote concept, it's almost difficult to say anything about it that is coherent because it is so unbelievable.
Numbers occuring in sequence as they do, and local news focusing on the spread of COVID as it did, it's not difficult to reproduce a similar montage of identical numbers of cases for other numbers. Below is just the first page of results from a Google search for "81 cases" and COVID.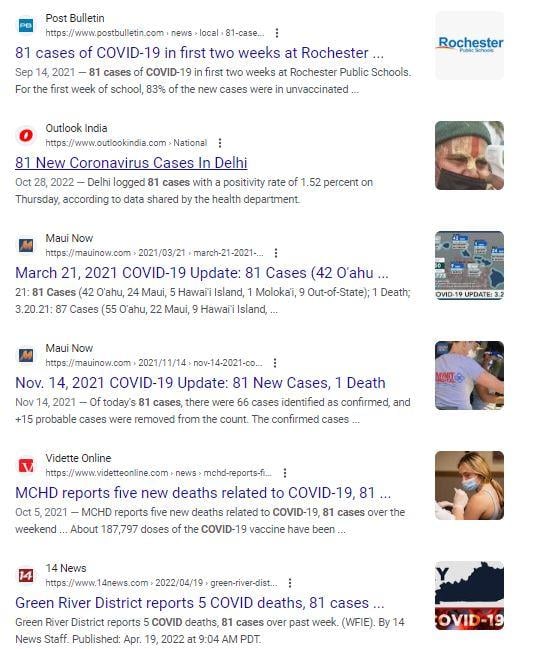 (Source: Google.com screenshot taken Thu Apr 6 at 23:18 UTC 2023)
Similarly, here is the first page of results from a Google search for "355 cases" and "COVID".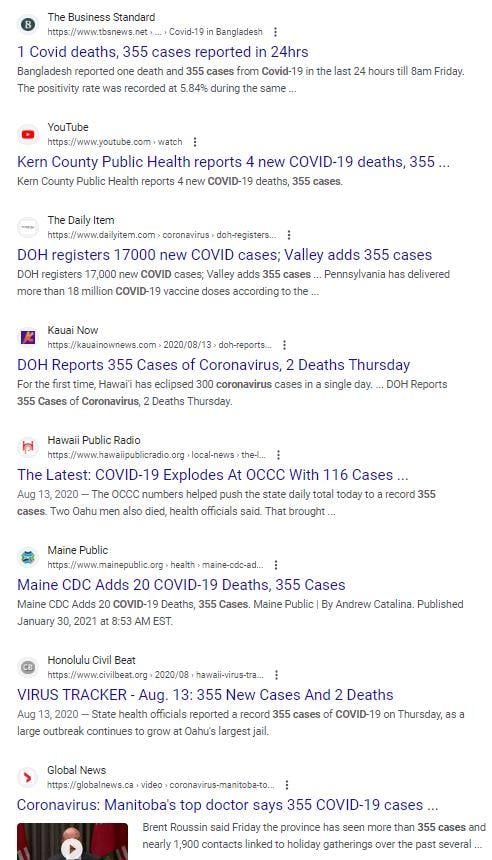 (Source: Google.com screenshot taken Thu Apr 6 at 25:22 UTC 2023)
Additional fact checks related to COVID-19 can be found here.