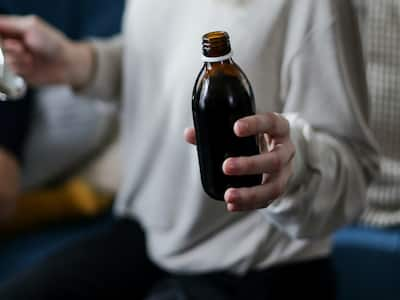 Researchers have found it tough to differentiate whether cough severity reduces due to drug ingredients or the placebo effect that might be in play.
Whenever a bad cough kicks in, the first thing we do is look on the shelves for those colourful cough syrups. But do they really work is a question that often disturbs scientists and researchers? These cough syrups do have the necessary ingredients required to clear a stubborn cough but in clinical trials, their performance is often unsatisfactory. As per studies, a strong placebo effect is in play while one is seeking treatment for a cough.
Colds and flu initiate the production of a thick wet phlegm-like cough. There are other conditions like acid reflux, asthma and others that can cause mucus formation. The cough syrups do have ingredients that claim to cure cough-related symptoms like blocking the cough reflex, expectorants making mucus thinner, decongestants reducing inflammation of the respiratory tract and having anti-allergic properties. However, when practically tested, these cough syrups fall short of performing well.
How do cough syrups work?
Cough is a distressing symptom of colds and flu. Doctors have less choice but to offer cough syrups for relief. However, the efficacy of these medicines has often been questioned. As per studies, a strong placebo effect works in the treatment of cough. The placebo effect in the treatment means that medicine seems to reduce symptoms despite lacking active properties. Though it might appear to be a medical intervention but in reality, it isn't.
The placebo effect has its root in a person's belief system or expectations. If a person has a prior expectation of something, it can change how the body might perceive it. If we believe that cough syrup can reduce the symptom, it might actually do so. The effect has been known to cause some releases of neurotransmitters or hormones which could change the way our mind and body perceive symptoms like cold or pain.
As per studies, cough is so susceptible to the placebo effect with one review reporting that up to 85 per cent of their efficacy is based on this effect and not achieved as a result of the active ingredients it is made of. When patients are given any cough medicine, they usually feel better and the severity of their cough is reduced but it is difficult to differentiate whether the desired effect is reached due to the pharmacological effects of the medicine or due to the strong placebo effect in play.
As per a study, the taste of cough syrups is often associated with relief and this might change the way our brain perceives the medicine.
Both a gift and an obstacle
The placebo effect in cough therapy is both a gift and a problem to those working on treatments for cough. It is a gift because it is able to fasten the recovery of people without actually working on them effectively but it is also a problem to researchers as with such a large placebo effect it is difficult to demonstrate that any new cough medicine is superior to placebo treatment in cough clinical trials.
Total Wellness is now just a click away.
Follow us on