Since September 2020, the Independent Panel has systematically, rigorously and comprehensively examined why COVID-19 became a global health and socio-economic crisis. 
In May 2021, the Independent Panel presented its findings and recommendations for action to curb the COVID-19 pandemic and to ensure that any future infectious disease outbreak does not become another catastrophic pandemic.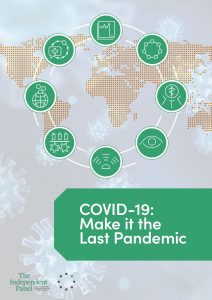 1. The main report presents the Panel's findings and recommendations.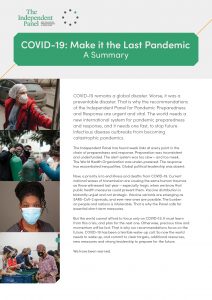 2. Summary of the main report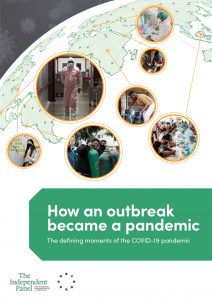 3. The companion evidence-based narrative describes 13 defining moments which have shaped the course of the pandemic. 
4. Background documents represent the Panel's in-depth research including an authoritative chronology of the early response. Additional background papers will be posted in the month of May 2021.
Videos: presentation and press conference
Co-chairs' Presentation of Findings and Recommendations
Co-Chairs the Rt Hon. Helen Clark and HE Ellen Johnson Sirleaf present the Panel's findings and recommendations which are published in the Main Report, COVID-19: Make it the Last Pandemic
Main Report Launch: Press Conference
Press conference following the launch of the Independent Panel's Main Report, COVID-19: Make it the Last Pandemic