Editor's note: This is a live account of COVID-19 updates from Monday, April 11, as the day unfolded. It is no longer being updated. Click here to see all the most recent news about the pandemic, and click here to find additional resources.
In the United States, more than 23 million people (430,000 in Washington) are estimated to have post-acute COVID symptoms, according to the American Academy of Physical Medicine and Rehabilitation, which uses COVID data from Johns Hopkins University.
The estimate assumes 30% of survivors suffer from long COVID, a proportion based on a University of Washington study published in February 2021 that followed up with 177 COVID patients up to nine months after infection. A new, nationwide study, funded by the National Institutes of Health, is underway, with a plan to follow thousands of COVID patients over four years.
We're updating this page with the latest news about the COVID-19 pandemic and its effects on the Seattle area, the U.S. and the world. Click here to see the rest of our coronavirus coverage and here to see how we track the daily spread across Washington.
Navigating the pandemic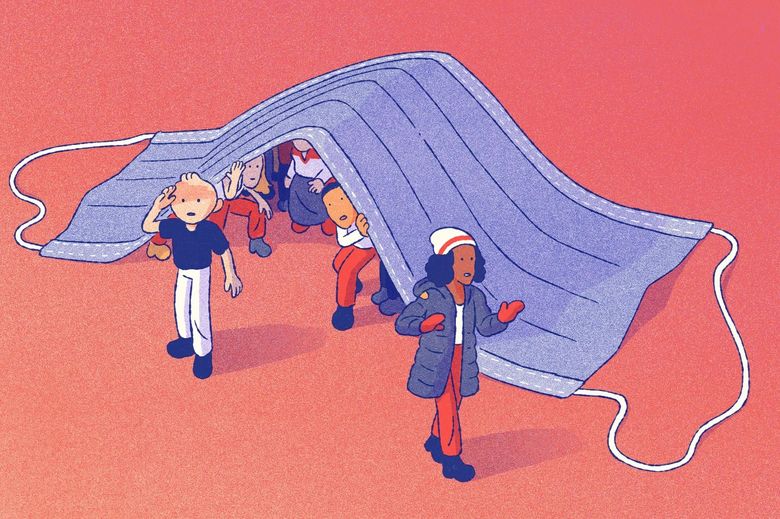 CVS, feds reach agreement on vaccine portal accessibility
CVS Pharmacy has reached a settlement with federal prosecutors that will ensure the company's online vaccination scheduling portal remains fully accessible to people with disabilities, officials said Monday.
The U.S. attorney's office in Rhode Island alleged the company, which operates nearly 10,000 retail pharmacies nationwide, was in violation of the Americans with Disabilities Act because the portal was not accessible to people who use screen reader software designed for the visually impaired, and to those who have difficulty using a mouse.
For example, a federal investigation found that the types of vaccine appointments offered, including COVID-19, influenza and pneumonia, were not read to screen reader users, prosecutors said.
Also, on the page where users can schedule an appointment time, screen reader users were told that all available times were checked, even though the user had not made a selection, prosecutors said.
—The Associated Press
Germany may have to junk 3 million COVID shots by late June
Germany's health ministry said Monday that the country may have to discard 3 million doses of expired COVID-19 vaccine by the end of June.
Ministry spokesman Hanno Kautz told reporters in Berlin that "not many doses" have been destroyed so far, though he couldn't give an exact figure.
"There is certainly a danger of vaccine being discarded," Kautz said. However, he added that it recently emerged that the BioNTech-Pfizer vaccine can be stored for longer than previously thought, so German officials now believe that 3 million doses may have to be discarded or destroyed by the end of June — down from a previous estimate of 10 million.
Germany's vaccination program has slowed considerably, with an average of only 33,000 shots administered per day over the past week — compared with over 1 million at times when the country's booster campaign was in full swing in December.
Some 76% of the population has been fully vaccinated and 59% also have received a booster. 
—The Associated Press
New York City Mayor Eric Adams tests positive for COVID-19
New York City Mayor Eric Adams tested positive for COVID-19 on Sunday, his 100th day in office, according to a spokesperson.
The first-term Democrat woke up with a raspy voice Sunday and took a PCR test that came back positive, spokesperson Fabien Levy said in a statement. Earlier Sunday, Levy had tweeted that Adams had taken a rapid test that came back negative but took the additional test out of an abundance of caution.
Adams has no other symptoms but has canceled all public events for the week and will be taking antiviral medications and working remotely, Levy said.
New York City has been experiencing a steady resurgence in virus cases over the past month. It's now averaging around 1,800 new cases per day — not counting the many home tests that go unreported to health officials. That's triple the number in early March, when the city began relaxing masking and vaccination rules.
—The Associated Press
Vaccinations Rise After Several Weeks of Steady Decline
For most of this year, the rolling average for the number of COVID-19 vaccinations administered each day in the U.S. has been trending downward. But that changed recently.
For eight consecutive days ending Friday, the last day for which data is available, the average number of vaccinations administered more than doubled to 485,505 a day Friday from 214,405 a day March 30, according to data from the Centers for Disease Control and Prevention.
The bulk of the recent vaccinations were booster doses, data shows.
While there is no certain explanation for the noticeable jump in shots, the daily increases came after federal regulators authorized second booster shots of the Pfizer and Moderna vaccines late last month for everyone 50 and older who had received their first booster shots at least four months earlier.
—Eduardo Medina, The New York Times
My COVID home test is negative, but could I still have the coronavirus?
What does a negative result on a home COVID-19 test really mean?
That's the question that has confounded many people who have reached for a home test because they have a sore throat, cough or runny nose. After swabbing their nose and waiting an anxious 15 minutes, the result is negative.
While there's relief in getting a negative result, there's also uncertainty. Am I really free of COVID? Or did the test just not detect it? Should I test again? Can I spend time with other people?
The confusion is justified, say testing and public health experts. It stems from a lack of understanding about how the tests work. Rapid home antigen tests look for pieces of viral proteins from a swab of your nose, and they are designed to identify whether you have an infectious level of the virus. But a negative test is not a guarantee you don't have COVID.
The harder your immune system is working to tamp down the virus, particularly an immune system supercharged by vaccine antibodies, the more likely you are to get an early negative result on a rapid test, even if you're infected.
"It may be that the virus in your body is having a tug of war with your immune system," said Dr. Michael Mina, chief science officer for eMed, a company that helps rapid test users get treatment from home. "If you test negative and you have symptoms, don't assume you're negative. Assume that the virus has not had an opportunity to grow up yet. The symptoms might mean your immune system is just triggering a very early warning."
—Tara Parker-Pope The New York Times
Philadelphia to restore indoor mask mandate amid case surge
Philadelphia is reinstating its indoor mask mandate after reporting a sharp increase in coronavirus infections, the city's top health official announced Monday.
Confirmed COVID-19 cases have risen more than 50% in 10 days, the threshold at which the city's guidelines call for people to wear masks indoors, said Dr. Cheryl Bettigole, the health commissioner.
Philadelphia is the first major U.S. city to go back to requiring masks since cases declined at the beginning of the year.
The city is reporting more than 140 cases per day, a fraction of what it saw at the height of the omicron surge, and hospitalizations remain low. But Bettigole said the recent increase in infections indicates the city might be at the beginning of a new wave, and city officials are seeking to stay ahead of it by requiring indoor masking.
—The Associated Press
With COVID mission over, Pentagon plans for next pandemic
A COVID-19 patient was in respiratory distress. The Army nurse knew she had to act quickly.
It was the peak of this year's omicron surge and an Army medical team was helping in a Michigan hospital. Regular patient beds were full. So was the intensive care. But the nurse heard of an open spot in an overflow treatment area, so she and another team member raced the gurney across the hospital to claim the space first.
That nurse's mission was to get urgent care for her patient. Now, the U.S. military mission is to use the experiences of Cobleigh's team and other units pressed into service against the coronavirus pandemic to prepare for the next crisis threatening a large population, whatever its nature.
Their experiences, said Gen. Glen VanHerck, will help shape the size and staffing of the military's medical response so the Pentagon can provide the right types and numbers of forces needed for another pandemic, global crisis or conflict.
One of the key lessons learned was the value of small military teams over mass movements of personnel and facilities in a crisis like the one wrought by COVID-19.
—Lolita C. Baldor, The Associated Press
Why this coastal county in New Jersey has the state's highest COVID-19 death rate
Ocean County, a coastal region in central New Jersey, is home to some of the state's most exclusive waterfront communities and its fastest-growing town, Lakewood.
A Republican bastion in a state controlled by Democrats, the county is largely suburban, encompassing more land than all but one other county in New Jersey.
Now, as the United States begins to chart a path through a third year of the pandemic, Ocean County also illustrates a stubborn public health challenge: A large share of its residents have not been vaccinated against the coronavirus, and its COVID-19 death rate is the highest in the state.
The county has recorded 459 virus-related deaths for every 100,000 residents, state data show. This outpaces fatality levels in every other county in New Jersey, an affluent, well-educated and densely populated state still struggling to limit its virus death rate. New Jersey has the fifth-highest fatality rate from COVID-19 in the United States, behind Mississippi, Arizona, Alabama and West Virginia.
Explanations for the high number of deaths in Ocean County include the large percentage of residents older than 85 and low vaccination rates among people 65 and younger, a factor that some studies show is most closely tied to partisan politics.
The county also has a large and growing Orthodox Jewish population, who were hit hard during the first wave of the pandemic and whose vaccination rates are far lower than statewide averages, reflecting similar trends in Orthodox Jewish neighborhoods in New York.
—Tracey Tully and Shlomo Schorr, The New York Times
At least 67 guests test positive for COVID after Washington, D.C., gala
The number of attendees who have tested positive for COVID after last weekend's Gridiron dinner has risen to 67, organizers say, including Agriculture Secretary Tom Vilsack, who became the third member of Biden's Cabinet in attendance who was infected.
The new figures, released Saturday evening by the organizers of the dinner, do not include the many staff members at the Renaissance Hotel in Washington who worked the event. Renaissance officials did not respond to repeated requests for information about the health status of workers or how many were assigned to the event.
Organizers said the annual white-tie marquee dinner, held in person on April 2 after a two-year hiatus, attracted 630 guests this year.
The latest tally means more than 10% of guests in attendance have tested positive in the aftermath of the event. Most of the employees who worked the dinner wore masks, but most of the attendees did not.
Vilsack disclosed via social media Saturday that he tested positive, saying "thankfully my symptoms are mild." Commerce Secretary Gina M. Raimondo and Attorney General Merrick Garland also have announced positive tests in recent days.
—Annie Linskey, The Washington Post
Living with COVID: Experts divided on UK plan as cases soar
For many in the U.K., the pandemic may as well be over.
Mask requirements have been dropped. Free mass testing is a thing of the past. And for the first time since spring 2020, people can go abroad for holidays without ordering tests or filling out lengthy forms.
That sense of freedom is widespread even as infections soared in Britain in March, driven by the milder but more transmissible omicron BA.2 variant that's rapidly spreading around Europe, the U.S. and elsewhere.
The situation in the U.K. may portend what lies ahead for other countries as they ease coronavirus restrictions.
France and Germany have seen similar spikes in infections in recent weeks, and the number of hospitalizations in the U.K. and France has again climbed — though the number of deaths per day remains well below levels seen earlier in the pandemic.
—Sylvia Hui, The Associated Press
Guangzhou closes to most arrivals as China's outbreak grows
The manufacturing hub of Guangzhou closed itself to most arrivals Monday as China battles a major COVID-19 surge in its big eastern cities.
Shanghai has taken the brunt of the rise, with another 26,087 cases announced on Monday, only 914 of which showed symptoms. The city of 26 million is under a tight lockdown, with many residents confined to their homes for up to three weeks and concerns growing over the effect on the economy of China's largest city.
The financial hub has seen international events canceled because of the crackdown, and local football club Shanghai Port has been forced to withdraw from the Asian Champions League because travel restrictions prevented it from attending games in Thailand.
No such lockdown has yet been announced for Guangzhou, a metropolis of 18 million northwest of Hong Kong that is home to many top companies and China's busiest airport. Just 27 cases were reported in the city on Monday.
However, primary and middle schools have been switched to online after an initial 23 local infections were detected last week. An exhibition center was being converted into a makeshift hospital after authorities said earlier they would begin citywide mass testing.
Only citizens with a "definite need" to leave Guangzhou can do so, and only if they test negative for the virus within 48 hours of departure, city
COVID could be surging in the US right now and we might not even know it
The rise of COVID cases in some regions of the U.S., just as testing efforts wane, has raised the specter that the next major wave of the virus may be difficult to detect. In fact, the country could be in the midst of a surge right now and we might not even know it.
Testing and viral sequencing are critical to responding quickly to new outbreaks of COVID. And yet, as the country tries to move on from the pandemic, demand for lab-based testing has declined and federal funding priorities have shifted. The change has forced some testing centers to shutter while others have hiked up prices in response to the end of government-subsidized testing programs. People are increasingly relying on at-home rapid tests if they decide to test at all. But those results are rarely reported, giving public health officials little insight into how widespread the virus truly is.
"There's always more spread than we can detect," said Abraar Karan, an infectious disease physician at Stanford University. "That's true even more so now than earlier in the pandemic."
Despite groundbreaking scientific advances like vaccines and antivirals, public health experts say the U.S.'s COVID defenses appear to be getting weaker as time goes on, not stronger.
—Madison Muller Bloomberg News
Long COVID grips some Washingtonians and perplexes scientists; new research underway
It's been more than two years since Jarrett Banwart tested positive for the coronavirus, but the 59-year-old has yet to feel back to normal.
Banwart was in excellent health before he got sick in March 2020. An avid cyclist, he used to bike 40 to 50 miles several times a week. He hiked and did yoga and Pilates. He worked a lot, a finance job at a Seattle-based dairy company.
Then came breathing difficulties, body aches, a dry cough and a fever.
Four months later, something else — mainly frequent "brain fog" and severe fatigue — set in, making it hard to exercise, sleep or even work a full day.
Now Banwart, one of the millions of people who've developed long-term COVID-19 symptoms, often called "long COVID," has had to confront a troubling question: "Am I going to get better?"
—Elise Takahama

Seattle Times staff & news services