Emma's story is an example of the continuing crisis in pediatric health care, as children are waiting too long for outpatient treatments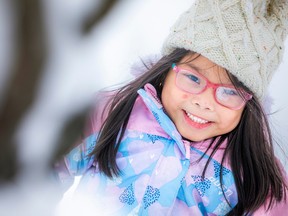 Article content
Stephanie Manipol started to cry when she talked about the wait to get an assessment for her young daughter in the midst of a pediatric healthcare crisis.
Article content
"My gut was telling me something was really wrong," she said. "But I thought, maybe I am overreacting."
Article content
She wasn't overreacting.
By the time her six-year-old daughter Emma got into CHEO's in-demand sleep lab in December after months of worsening breathing problems at night, the little girl's health was in jeopardy. Not only was Emma struggling to breathe in her sleep, but her oxygen saturation levels were dangerously low — in the 40s. Healthy oxygen saturation levels are in the upper 90s.
Emma was transferred directly from the sleep lab to the hospital's pediatric intensive care unit where she stayed for two weeks. She now uses a bilevel positive airway pressure (BiPap) machine to support her breathing at night and is scheduled for surgery to remove her tonsils and adenoids.
Article content
Manipol tries not to think about what might have happened if the wait had been any longer.
Emma's story is an example of the continuing crisis in pediatric health care, beyond last fall's viral surge that overwhelmed CHEO and other children's hospitals.
The crisis is not just in emergency departments and intensive care units. Children in need of testing, assessment, treatment or surgery as outpatients are also waiting too long for care, say children's health officials. The results can be disruptive and even dangerous.
Record numbers of children became seriously ill from respiratory syncytial virus (RSV), influenza and COVID-19 last fall, which brought attention to issues pediatric health officials have been warning about for years with calls to "right-size" the underfunded system.
Article content
"Everyone in the system knew things were heading that way. But it wasn't until we were shipping patients all over the province that people said 'This isn't right'," said Tammy DeGiovanni, senior vice president of clinical services and chief nurse executive at CHEO.
Funding for children's health care in Ontario has not kept up with population growth, or needs. The COVID-19 pandemic and respiratory virus surge made that clear. During the worst of the surge in November, children were being airlifted around the province for treatment and adult hospitals were caring for youth who would normally be treated at pediatric hospitals.
The provincial government responded to the immediate crisis with additional permanent funding, more than doubling critical care beds at CHEO, along with other investments.
Article content
But more needs to be done to right-size children's health care, say officials.
Outpatients don't get as much attention, said DeGiovanni, but thousands of them are waiting longer than clinically acceptable for treatment, surgeries and appointments.
At CHEO, almost 37,000 outpatients are waiting, and the list is growing. That includes patients waiting for a first appointment with a specialist after being referred by their family doctor. Almost two-thirds are waiting longer than is clinically acceptable. Patients are also waiting too long for a return appointment with a specialist. And others are waiting for surgery.
Children's health advocates say there needs to be a $400 million investment in Ontario just to catch up. Funding also needs to increase on an ongoing basis.
Article content
Historically, children's health has been somewhat of an afterthought in Canada, said Niya Chari, senior adviser of research and policy with Children's Healthcare Canada. "There has often been a focus on fixing adult problems and getting to children later."
The advocacy organization Children's Healthcare Canada wants to see federal health transfer dollars to the provinces specifically earmarked for children's health to fix historic underfunding.
DeGiovanni said every wait has a different impact on a child and their family, but it can be devastating. Children are triaged by severity, something that is not always easy to do because their conditions can deteriorate as they wait.
"This is what our clinicians worry about," said DeGiovanni. "They worry about the kids that are on the wait list that are deteriorating. It might not look urgent at first, but it becomes urgent."
Article content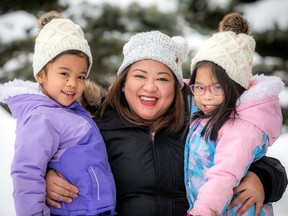 That was Manipol's fear.
As the mother of twin girls who were born more than three months early, Manipol is used to assessing and dealing with potentially serious health challenges. Both girls spent months in the hospital after birth, but little Emma had to stay for a full year. Her twin sister Athena went home to her parents and older brother Julian after three months.
"(Emma) got all the health issues," said her mother. As a very young child, she had to be intubated more than once because of breathing problems related to her underdeveloped lungs.
Once she turned two, though, Emma's health began to stabilize and improve, which is why her mother was on high alert when things appeared to change in 2021.
When Emma began snoring at night, Manipol was worried. After consulting with doctors, Emma was referred to the sleep clinic in the spring of 2021. Doctors thought the snoring was related to a vocal cord issue and recommended keeping an eye on the situation.
Article content
But last summer, things got worse.
Emma began struggling to breathe at night, gasping for air and even stopping breathing. Manipol often stayed awake to watch her daughter and Emma was constantly exhausted.
Manipol began advocating for another sleep study, trusting her gut feeling that something was seriously wrong, even showing videos of Emma sleeping to health professionals. By then, the hospital's sleep lab — the only one in the city that serves children — was temporarily closed due to the respiratory crisis.
The lab at CHEO is the only one in the hospital's large catchment area, said Sherri Katz, who is division chief of pediatric respirology at CHEO and head of the lab. There are significantly more options for adults, including sleep labs in clinics outside of hospitals. Part of the reason for the difference is that children's sleep labs require a higher level of staffing and more staff than adult labs, but receive the same funding from the province.
Article content
Katz said CHEO has increased the number of sleep studies it does over the years to keep up with growing demand. Even so, some children are waiting up to two years and the numbers of children requiring hospitalization for severe sleep apnea is increasing.
"Pediatric sleep resources have been very undersized for many years and it is compounded over time," said Katz. "We are seeing that reflected in the increased number of children who have severe conditions by the time they are assessed and reaching us, and many more are waiting."
Last December, Emma was finally able to have the study, which revealed the extent of her sleep apnea. Manipol was told that it wasn't safe for Emma to sleep at home until she had proper equipment to support her breathing.
Article content
Manipol was relieved, but shaken.
Her daughter is no longer too exhausted to get out of bed in the morning.
"She is more playful, more joyful. She is a completely different kid than she was before."
But Manipol wishes her assessment and treatment had come more quickly.
"It was a long wait. I had to advocate many times. I was really concerned about Emma," she said. "If this could have been done sooner, maybe she wouldn't have been in that position."