While cognitive effects were temporary, the lead researcher of the UBC and UVic study is concerned about possible long-term effects on the brain.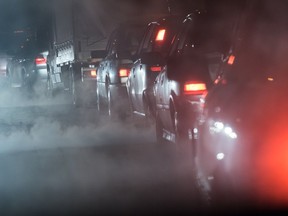 Article content
Just a couple of hours of breathing in fumes from vehicle exhaust while you're stuck in traffic can temporarily impair brain function, a study by UBC and University of Victoria researchers has shown.
Article content
While previous studies made a connection between air pollution and cognitive abilities, the UBC-UVic study is the first to confirm the connection in a controlled laboratory setting.
Article content
"This study is the first of its kind in the world and provides fresh evidence supporting a connection between air pollution and cognition," said Dr. Chris Carlsten, the study's senior author.
Carlsten, head of UBC's respiratory medicine division and Canada Research Chair in occupational and environmental lung disease at the Point Grey campus, said the effects can be loosely compared to mild alcohol consumption.
"It is a very temporary change," he said. "We roughly compare it, and by roughly I mean not to be taken as any kind of precise comparison, but we roughly put it on the order of magnitude of mild alcohol use, just to put it in perspective."
Article content
Pretty much everyone is going to be exposed to such amounts of pollution in their lifetime, he said, whether it's inhaling smoke from a forest fire or visiting a congested city.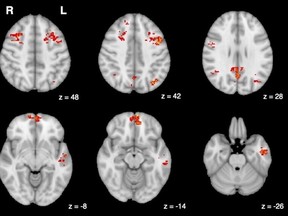 The scientists measured the brain's default mode network, a set of interconnected regions of the brain that are important for memory and internal thought, using fMRI, or functional magnetic resonance imaging.
"The default mode network is one of the most commonly studied networks in the human brain," said Jodie Gawryluk, a UVic psychology professor and a study author. "It represents a bunch of different brain regions that really work together and become active together when we're in a state of wakeful reflection."
That could mean daydreaming, reflecting on their day, thinking of nothing in particular, she said. This network comes alive during this time and is measured by fMRI. Then measurements are compared after exposure to traffic pollution and the results showed that interfered with the network.
Article content
"We know that altered functional connectivity in the default mode network has been associated with reduced cognitive performance and symptoms of depression, so it's concerning to see traffic pollution interrupting these same networks," Gawryluk said. "More research is needed to fully understand the functional impacts of these changes, but it's possible that they may impair people's thinking or ability to work."
While the changes to participants' brains were temporary, Carlsten cautioned continuous exposure could lead to long-lasting effects.
"People may want to think twice the next time they're stuck in traffic with the windows rolled down," he said. "It's important to ensure that your car's air filter is in good working order, and if you're walking or biking down a busy street, consider diverting to a less busy route."
Article content
The study looked only at the cognitive impacts of traffic-derived pollution, but Carlsten cautioned that other products of combustion are likely a concern, too.
"Air pollution is now recognized as the largest environmental threat to human health and we are increasingly seeing the impacts across all major organ systems," he said. "I expect we would see similar impacts on the brain from exposure to other air pollutants like forest-fire smoke.
"With the increasing incidence of neurocognitive disorders, it's an important consideration for public health officials and policymakers."
The study took place at UBC's air-pollution exposure lab inside Vancouver General Hospital, which has a state-of-the-art exposure booth that can mimic what it is like to breathe a variety of air pollutants.
Article content
In the study, designed to keep the 25 volunteers who partook safe, researchers used freshly generated exhaust that was diluted and aged to reflect real-world conditions, Carlsten said.
---
Support our journalism: Our in-depth journalism is possible thanks to the support of our subscribers. For just $3.50 per week, you can get unlimited, ad-lite access to The Vancouver Sun, The Province, National Post and 13 other Canadian news sites. Support us by subscribing today: The Vancouver Sun | The Province.
For more health news and content around diseases, conditions, wellness, healthy living, drugs, treatments and more, head to Healthing.ca – a member of the Postmedia Network.