03 Jul 2023by Charlotte Cullinan
Greek-owned MK Hotel Collection has opened the 60-suite wellness retreat Pnoe Breathing Life in Crete.
---

Charlotte Cullinan
Content writer
---

Charlotte Cullinan
Content writer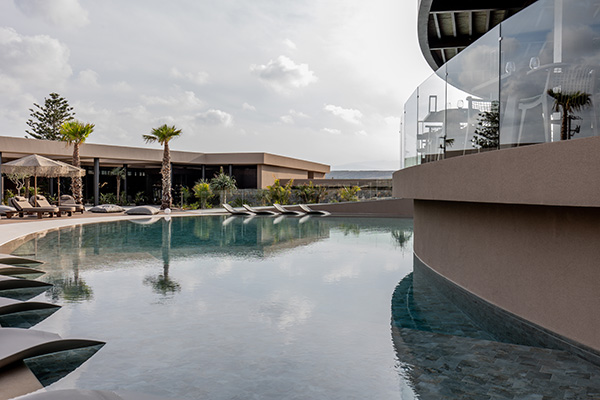 The pool area at Pnoe Breathing Life
Pnoe translates as the breath of life in Greek, and a spokesperson said the property "has been created as a calming, design-savvy environment in which to enjoy the best Cretan dining experiences alongside island adventures and exceptional wellbeing programmes."
Pnoe is located just outside the historic city of Heraklion on the north coast of Crete, offering 60 suites, all with private pools. They feature subdued colour palettes and materials such as wood and stone, much of which was locally sourced, and all furniture and metal structures were handmade by local craftspeople. 
The property is located in a former hotel built in 1968, which has been renovated and expanded. A large open pergola welcomes guests into the hotel, overlooking the swimming pool. 
Dining options include fine dining at Thymises restaurant, which serves Cretan cuisine, while fresh sushi, snacks and smoothies are available throughout the day next to the central pool. The Uranos Rooftop Bar serves a range of cocktails.  
The property offers a range of wellness programmes, including hyperbaric oxygen therapy, Zerobody dry flotation systems and breathwork therapy, alongside a state-of-the-art fitness facility and professional personal trainers. A wet area offers Himalayan salt stones, a wood fired sauna and ice fall. Pnoe also has an onsite beauty salon.
Prices start from €415 per room per night, including breakfast.

Previous Article

Oetker Collection makes Italian debut with new Hotel La Palma

Next Article

How rearranging your home workspace can improve your performance and wellbeing