Normally, if presented with a pile of ice cubes floating in clear liquid, it's my gin and tonic. However, one cold Sunday in October I found myself stepping into an ice bath on a terrace in Merl in the name of boosting my wellbeing and sharpening my focus.
The 'Wim Hof method' of cold therapy, breathing and meditation began with improving the performances of elite athletes but has fast been adopted by financial institutions in Luxembourg who see the value of the psychological stability and clear mindedness that regular cold therapy can bring to their leadership teams.
"It's about going beyond vague mission statements [on wellbeing] to concrete actions," said

Stephan Tilquin, partner and talent leader at consultancy Deloitte Luxembourg.
Corporate wellbeing in Luxembourg
Investing in staff performance is nothing new for Luxembourg's finanzplatz. External trainings, team away days and benefits directed at health have long been a feature of banks and financial institutions globally.
There is also a growing recognition of mental health. "In Luxembourg, our employee wellbeing approach in a 'structured format' began 10 years ago, with the first burnout prevention sessions and the creation of an 'alert network' as first point of contact for employees," said

Bárbara Daroca, head of corporate services at ING.
However, since the pandemic, the variety of wellness options on offer in Luxembourg has blossomed.
"The courses offered have multiplied, ranging from physical wellbeing, like yoga, sophrology, and sports, through mental wellbeing to personal wellbeing, such as exploring parenting, ageing, diversity, equality and inclusion," said Daroca.
Some of these take advantage of the natural landscape of Luxembourg. Karen Decker, who runs Luxembourg Besch Coaching (forest bathing), takes clients into the forest to find clarity of thought and to avoid burnout. She counts individuals and corporates among her clients.
"Sometimes I've had groups of 35 men and I could see that some were really sceptical," said Decker.
However, the physical benefits of forest bathing are grounded in science. Studies also show that a session can significantly prevent symptoms and diseases linked to chronic stress such as autonomous nervous system disorders and cardiovascular diseases.
And for corporate clients, it's often the cognitive and emotional side that it is surprising.
"It's difficult for men to let go and to allow themselves to feel something. With forest bathing, whether you want it or not, you will be in touch with your inner feelings," said Decker.
One of her corporate clients now holds their monthly meeting after spending some time in the woods.
"First they spend some time forest bathing then they have their meeting in the office. They rang me up afterwards and said they had never had such a good meeting with so much input from everybody before."
The changing demands of leadership
Like it or not, corporations are making different demands of their leaders now than they were made ten, even five years ago. Everyone from CEO downwards is expected to demonstrate greater empathy and emotional intelligence.
"Today's work environment requires leaders to be more authentic, empathetic and adaptive," said Giorgio Bruins, once responsible for the digital team at bank ING and now one of the only Wim Hof-certified instructors in Luxembourg.
Yet these very qualities can be more challenging for leaders to adapt than the very real target-oriented demands of their jobs.
"Leaders do need commitment, courage and confidence to be effective human leaders; however, human resources's typical approaches do not address the barriers that are holding leaders back. These obstacles include their own (very human) emotions of doubt, fear and uncertainty."
The Wim Hof method was devised by its namesake in the Netherlands as a way of influencing the automatic nervous system to keep body and mind in its optimal natural state.
"The scientific community started by studying Wim Hof himself in 2011, because it did not make sense that this man was able to withstand the cold temperatures he was subjecting himself to," explained Bruins. "The Radboud University study in 2011 showed that Wim was able to voluntarily influence his autonomic nervous system - something which until then was thought to be impossible." The findings quite literally rewrote biology textbooks and piqued scientists' curiosity, said Bruins.
For corporate leaders, practicing the Wim Hof Method's three pillars; breathing, meditation and cold therapy, boosts immunity, reduces inflammation, heightens focus and sharpens creativity.
"Many researchers have taken an interest in the potential benefits of the Wim Hof Method. Today, Wim and his team continue to work with research institutions and various promising studies are currently underway."
What happened at ING
Bruins was a convert, but it had little overlap with his professional life running the digital team at ING Luxembourg. The pandemic, however, changed this.
"Every day, I was leading a group of interested staff at ING in the Wim Hof breathing technique over Zoom," said Bruins. "After the lockdown we all went in an ice bath. That gave the team a huge boost. They all accepted being vulnerable in the face of something difficult and that boosted trust in each other."
Daroca was supportive. "In Luxembourg, one of the most appreciated formats in ING are the peer-to-peer sessions: employees share a passion, hobby or, in some cases, secondary activity they have with interested employees. It was in this format that Giorgio Bruins ran breathing technique classes (Wim Hof protocol) in 2019 and 2020."
The technique has proved popular not just within teams but for managers and directors too. The 'Ice for Leaders' programme, run by Wim Hof-certified instructors Bruins and his wife, former human resources expert Severine Daniel, is a four-hour training that teaches leaders how to influence their nervous systems.
"Cold therapy and breathing influences the nervous system, helping leaders understand their triggers and choose more effective responses," said Bruins. "It helps them experience their innate capabilities to stay stable and inspire confidence in chaos."
Bruins and Daniel are now Luxembourg's only Wim Hof-certified instructors, and they provide corporate training through their company B-You.
Like Decker, they take full advantage of Luxembourg's natural benefits. "We take people out into nature, into Luxembourg's lakes, rivers and waterfalls on our five-week training programmes."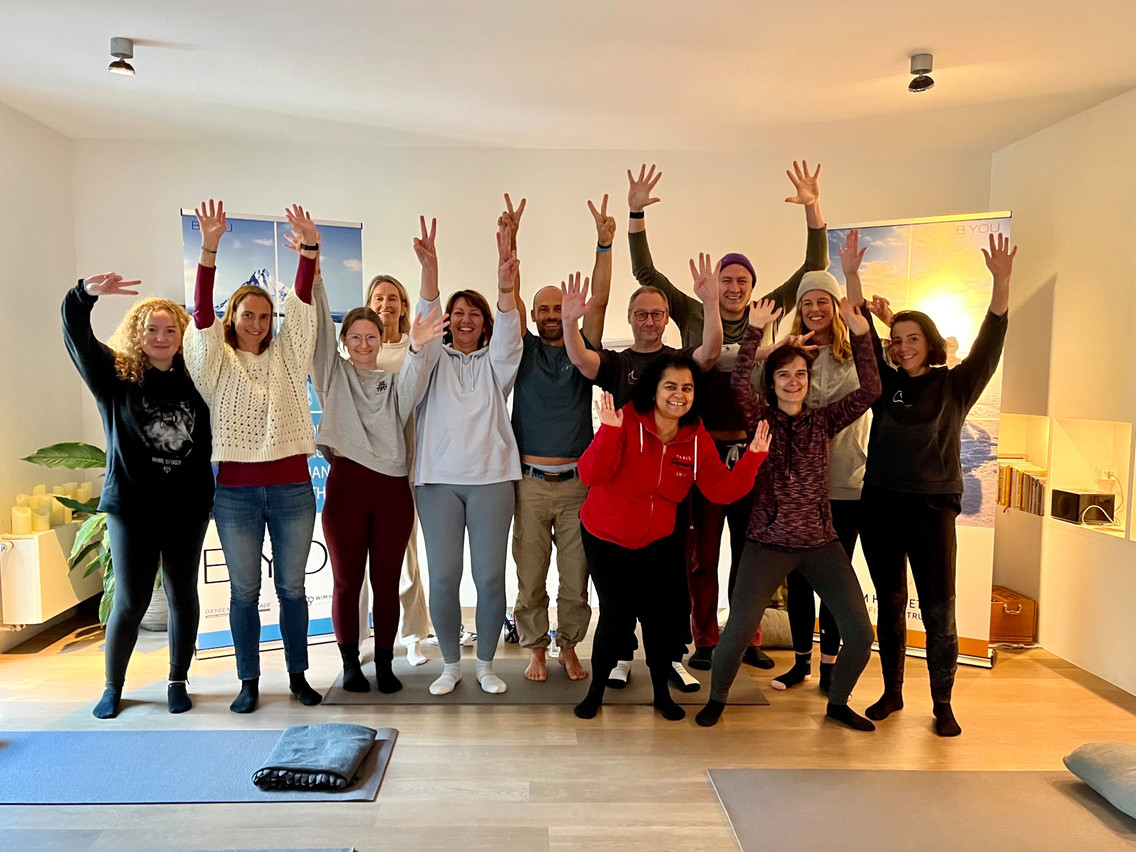 Increased demands on HR
I must admit, I was not overly enthusiastic about stepping into a bath of ice. But after breathing through the skin burn and the numbness in my arms and legs, something odd happened. Warmth. I found myself smiling as I enjoyed a huge endorphin rush. That smile stayed on my face for hours after and a deeper sense of psychological stability remained with me for a week, and I've continued to practice cold therapy since.
This kind of long-term habit building is what makes the Wim Hof Method attractive to employers, said Bruins.
"Most [wellbeing] initiatives are one-shot and stay on the surface. In order to have impact, more concrete training needs to take place. Teaching people techniques by experiencing these techniques on a regular basis."
Cultivating resilience in an organisation is crucial to its survival, said Laurent Lebatteux, who worked for 20 years in human resources and now practices shiatsu and reiki in Luxembourg.
"I see interest [in shiatsu and reiki] from financial institutions. Companies in which the staff turnover is low see the average age of the employee go up, equating to more sickness and more back problems," said Lebatteux.
The service is no less crucial in financial organisations with a high turnover of staff. "When candidates are being chased [by recruiters] from one job to the other, the company must be the best. The new generation of employees want to see wellbeing plans. And its financial services have the money to provide this."
Like many other businesses globally, Luxembourg is facing a talent shortage. And unfortunately, high salaries are no longer enough to attract the best people. A great company culture, flexible working and empathetic leadership is just as important.
"The events of the past two years showed us that current leadership skills can use an upgrade. Cold therapy gives more energy, better focus and concentration and helps one stay stable and clear minded when faced with pressure," said Bruins.
This article was published for the Paperjam+Delano Finance newsletter, the weekly source for financial news in Luxembourg. Subscribe using this link.