NHS physiotherapists have said that high workloads and severe shortages are causing staff to break down in tears on the wards as thousands go on strike for the first time ever.
One striking physio said a team of 18 people was at times down to just six while caring for patients across 17 wards and another said they saw nine colleagues cry at work in a week due to stress.
Up to 4,200 members of the Chartered Society of Physiotherapy (CSP) from 30 trusts and foundation trusts around the country are on strike from 12.01am until 23.59pm on Thursday over pay and staff retention.
At a picket line outside Queen's Medical Centre (QMC) in Nottingham, Greg Stretton, a 41-year-old team leader for the respiratory medicine physiotherapist service at the Nottingham University Hospitals NHS Trust, which runs the QMC and Nottingham City Hospital, carried a sign saying "Constant Staffing Problems".
He said: "People are just genuinely burnt out and my team has noticed the impact of that.
"We were having people in our office cry on a daily basis, just from being at work and the stresses of being at work amid untenable pressures, patient demands and service demands.
"It almost felt like a choice of who you let down, as a team leader it was a choice of do you let down the patients by saying we need to focus on ourselves, or do we let down staff by saying our patients need us? We just don't have the capacity to do everything."
Mr Stretton's team should have 18 staff but usually has around 14, and it has at times dropped to as low as six despite workloads remaining high as physiotherapists deal with the aftermath of Covid and a backlog of cancer patients.
Hayley Kidger, a senior oncology physio in Mr Stretton's team, claimed that at times a third of patients who had been referred to her team could not be seen due to staffing pressures.
While she is comfortable financially, she knew other members of staff who had had to use food banks and said "we just want to be valued".
She said: "Why would you come here and put your heart and soul on the line to save someone's life and hold their hand when they're dying when you can get paid more to run a Tesco?"
Physios are the latest group to walk out over pay and other issues, following nurses, ambulance workers, fire crews, rail staff and postal workers.
Jim Fahie, assistant director of employment relations at the CSP, said: "Our members didn't want to have to strike today, but they simply can't afford to accept the current pay offer as it stands.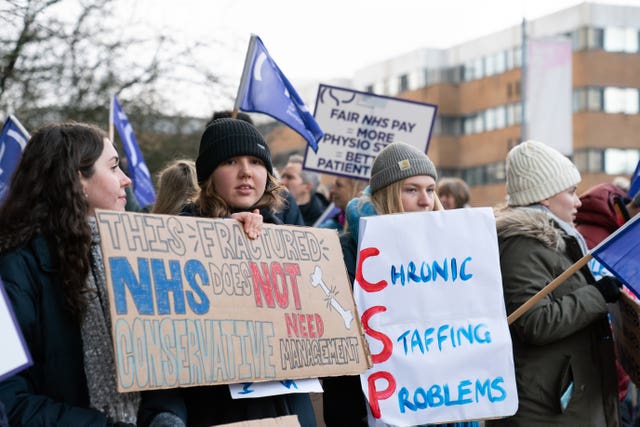 "Right now, physiotherapy staff in the NHS are overstretched, underpaid and unable to provide the full level of care that patients urgently need.
"If the Government doesn't come back with a fair pay offer, then the NHS risks losing more and more valuable members of staff – and that will only make the current crisis in the NHS worse."
Physios will continue to provide emergency life-saving care on Thursday, including intensive care and respiratory on-call services, according to the CSP.
The Nottingham University Hospitals NHS Trust, which runs the QMC and Nottingham City Hospital, said some patients at both sites could be affected, but that patients should attend scheduled appointments unless told otherwise.
A spokesperson said: "Our focus is to maintain patient safety and our teams are working hard to ensure that we prioritise those patients needing emergency treatment.
"If you have an outpatient appointment you should attend as planned – unless we have contacted you to reschedule. Any appointments that need to be rescheduled will be done as a priority."
The trust added that any patients being treated in hospital will be informed of changes by staff on the wards.
Anyone in need of emergency care or with life-threatening injuries should still attend hospital or call 999, the trust said.