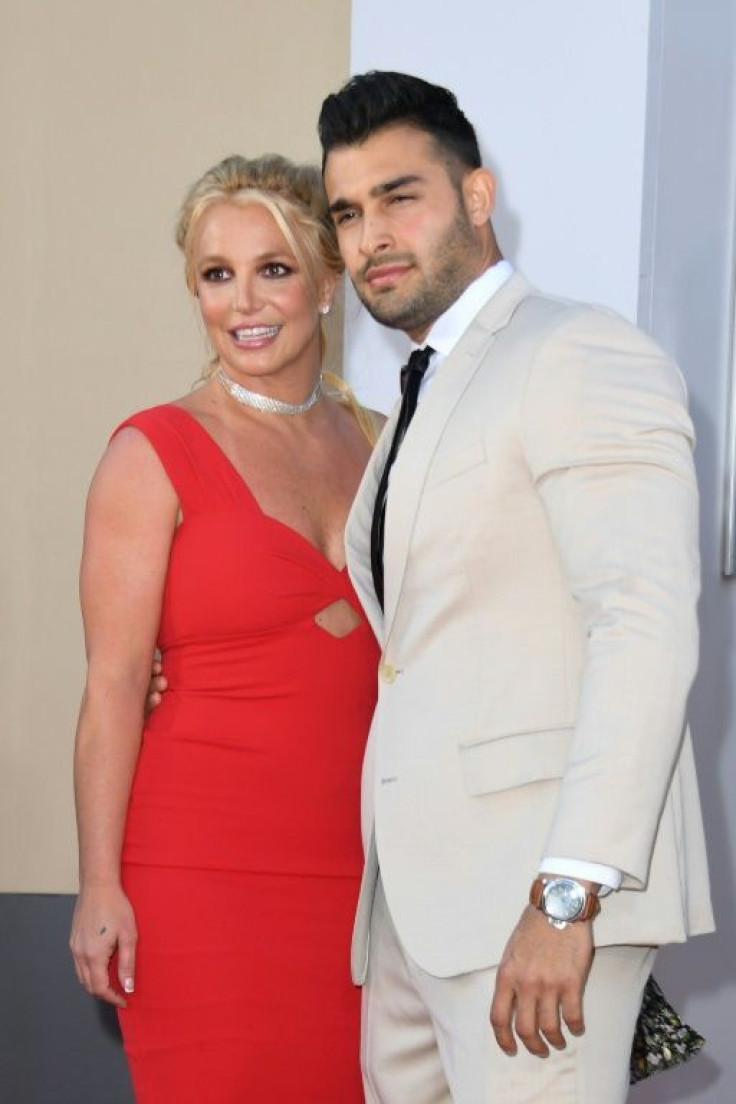 KEY POINTS
Britney Spears said on Instagram that she hasn't had "real consciousness" in three years
The "Toxic" singer shared that she didn't do much talking during her June wedding to Sam Asghari
Spears previously revealed that she had a panic attack shortly before walking down the aisle
Britney Spears is getting candid about her mental state during her wedding to Sam Asghari.
The pop superstar, 40, admitted in a post on Instagram that she wasn't fully "present" when she and the 28-year-old actor tied the knot in her home in California on June 9.
"Wow I got married this year," the singer wrote Wednesday, Page Six reported. "Not sure I was honestly that PRESENT because I haven't had real consciousness in 3 years."
Spears continued, "There was a lot of talking and SPEAKING at the party!!! Not for me, unfortunately, because when you can't breathe, your body can't relax enough to speak!!!"
The "Toxic" singer clarified that she can breathe clearly "now" without elaborating on the circumstances.
"It's been a while for me!!! I CAN NOW ... I just hope my family breathes well today!!!" she added.
A day before posting the note, Spears took a swipe at her parents Lynne Spears and Jamie Spears, who put her in a conservatorship that lasted 13 years before it was terminated in November 2021.
"It's funny [that] the same two people who gave me life are the same exact 2 people who took it away," the singer wrote via Instagram. "But guess what!!! [sic] I'm alive and I'm breathing again!!! ... Now that I'm breathing ... I have time ... it's different!!! I like it!!!"
Following her June wedding, which was attended by a number of celebrities including Madonna, Paris Hilton, Drew Barrymore and Donatella Versace, the "Baby One More Time" hitmaker revealed that she had a panic attack shortly before walking down the aisle.
"I was so nervous all morning, but then at 2:00 pm it really hit me...WE'RE GETTING MARRIED!!!" she wrote on Instagram earlier this year. "I had a panic attack and then got it together."
None of Spears' family members were invited to her nuptials. However, her mom left her a comment on Instagram congratulating her on her wedding.
"You look radiant and so happy!" Lynne wrote. "Your wedding is the 'Dream' wedding! And having it at your home makes it so sentimental and special! I am soooo happy for you! I love you!"
An anonymous source told Page Six that Lynne tried to reach out to her daughter before her conservatorship was terminated. However, Spears declined to meet her mother.
In a since-deleted post on Instagram, Spears slammed her mother, claiming that it was Lynne who gave her dad Jamie "the idea" to place her under a conservatorship.
"My dad may have started the conservatorship 13 years ago ... but what people don't know is that my mom is the one who gave him the idea!!!! I will never get those years back," Spears wrote last year, according to a screenshot obtained by Page Six.
The singer continued, "She secretly ruined my life ... and yes I will call her and [business manager] Lou Taylor out on it. So take your whole 'I have NO IDEA what's going on' attitude and go f–k yourself!!!! You know exactly what you did."