During a livestream on April 28, 2023, Kick content creator Adin Ross shared his thoughts on Andrew Tate's claims that he had been "poisoned." For context, the latter took to Twitter on April 27 to state that his face was swollen, his blood pressure was "through the roof," and that he was having difficulty breathing. Tate suspected that his body was reacting to some kind of poisonous substance.
While watching a YouTube video about Andrew Tate's health, Adin Ross wondered what was going on in the world and asked his audience about it. He claimed that "something bad" was happening every day and remarked:
"Like, what's going on with the world, man? Chat, what's going on in the world right now, bro? Like, chat, is it me, or every day there's something new, bro? Something's bad happening every single day, bro! Like, every day there's something bad! I just don't understand it, bro! Like, why can't everyone just f**k off and let people live? Just, come on, bro!"
---
Adin Ross says he is "freaking out" after his "best friend" Andrew Tate claims to have been poisoned
At the 50-minute mark of his broadcast, Adin Ross came across the news of Andrew Tate claiming that he was poisoned. After suggesting that something bad happened every day, the Florida native inquired from his audience whether they thought people were "trying to f**k" with the former professional kickboxer:
"What do you guys think, chat? Do you guys think that they're trying to f**k with Andrew? Think about it. If he only had coffee and water. That's scary, bro!"
A few moments later, the indefinitely banned Twitch streamer expressed his displeasure with the video narrator's accent:
"Why is he talking like that, though? Why is the narrator speaking like that? Why is it like (the streamer mimics the accent)... like, come on, bro! This is serious as f**k! Oh, my god!"
Timestamp: 00:50:05
Viewers hit back and alleged that Adin Ross was being "racist." He responded that he was freaking out about his best friend:
"It's not about being racist, chat. I'm talking about his accent. I'm talking about the way he's ending his sentences. I'm not hating, dumba**! I'm just scared. This is scary as f**k! All right? I'm seeing Andrew Tate literally poisoned, and then I see my best friend just f**king... like, bro! Just tell s**t's happening, bro! Damn, sorry! I'm just freaking out, bro!"
The 22-year-old claimed that Andrew Tate had done "more for this generation" and asked his community who they thought was a "better role model" than him:
"Andrew Tate has done more for this generation than anybody, and it's facts, bro! In a positive way and it's facts! Like, he's genuinely made people more confident. All you guys saying, 'Cap,' who's the better role model than Andrew Tate to look up to? That's on the internet. Who? Exactly!"
---
Fans react to Adin Ross' clip
Adin Ross' discussion about Andrew Tate's health went viral, with the three-minute clip receiving over 134k views and 820 comments in less than four hours. Here's what fans had to say: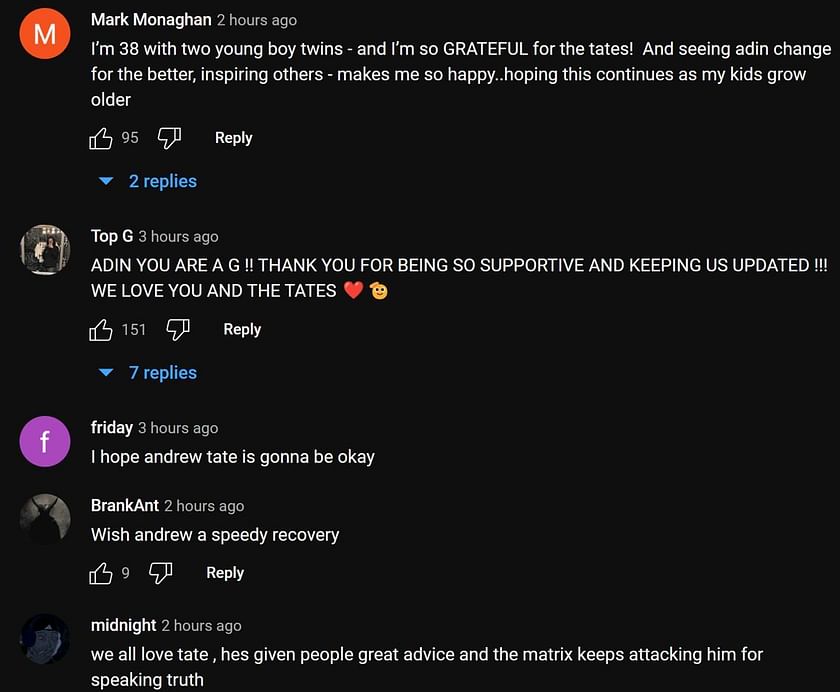 ---
Adin Ross is an outspoken supporter of Andrew Tate and was also one of the five people granted visitation rights while the latter was imprisoned in Romania.
Edited by Siddharth Satish