The hospitalization of a man who was previously one of Russian President Vladimir Putin's closest allies has sparked unfounded speculation that he was poisoned.
Anatoly Chubais was hospitalized on Sunday in a Western European country with symptoms of a rare neurological disorder, causing numbness in his hands and legs, his wife Avodtya Smirnova told Russian journalist Ksenia Sobchak.
The 67-year-old Putin ally had resigned as a top Kremlin adviser after Russia launched its invasion of Ukraine on February 24. Chubais left Russia in March without stating a reason, but it is widely believed to be due to his opposition to the war.
Chubais told Sobchak that he had been diagnosed with Guillain-Barré syndrome, a rare condition where the body attacks its nerves and in a minority of cases can cause life-threating problems, such as blood clots or severe breathing difficulty.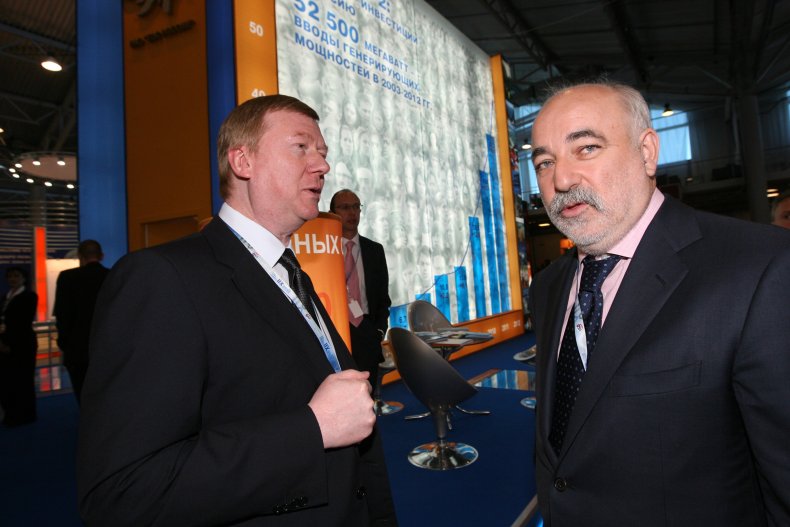 The oligarch's precise location was not disclosed, but he is said to be in intensive care.
A source close to Chubais told Reuters that he cannot walk but can talk.
The news of Chubais' hospitalization was met with a flood of speculation and unevidenced claims in pro-Kremlin media and Telegram channels, including unfounded claims that it came as a result of "complications following being diagnosed as HIV positive," effects of long COVID or the COVID vaccine, or alcohol poisoning.
While none of the rumors were supported by any evidence or official statements, from Chubais, his allies or the hospital, many noted that this flood of theories was not dissimilar to the claims spread by Pro-Kremlin outlets following high-profile poisonings of Russian dissidents, including Alexei Navalny and Sergei Skripal.
Newsweek has contacted Smirnova for comment on her husband's health.
Kremlin spokesperson Dmitry Peskov said the news of Chubais' hospitalization was sad and he wished him a quick recovery.
Chubais is seen by many as one of the architects of the Russian oligarchy, and has been one of the longest serving officials and allies of Putin throughout his reign. He has been an ally of the president since the 1990s, and oversaw the privatisation of post-Soviet Russia's transition to a market economy.
Chubais, who was previously former president Boris Yeltsin's chief of staff, was Putin's special representative for ties with international organisations before he resigned in March.
Before that he was head of state technology firm Rusnano until 2020.
Meanwhile, on Monday, Ukraine made its first shipment of corn since the war started. With the first shipment out of Odessa, Ukraine hopes to kickstart the unblocking of millions of tons of grains pilling up in the country and boost global food supplies.
Turkish, Ukrainian and Russian officials, as well as the U.N., agreed on a deal last month that ensured that grain exports could continue out of the port, to avoid a global food crisis.
However, Russia violated the agreement by bombing the port, less than 24 hours after the deal was brokered.