Maintaining a marvelous physique at a younger age is still doable, but keeping that same energy at 54 is commendable. The bodybuilding world is always graced with individuals like Mike O'Hearn or Phil Heath who keep on grinding even after they cross 50. There are others in the industry as well who might not go on stage but train the pros. One such bodybuilder and trainer is Bill Maeda, who at the age of 54 is giving young people a run for their money.
America's Favorite Video Today
ADVERTISEMENT
Article continues below this ad
The owner and founder of FitPro Hawaii has helped countless individuals to gain their fitness goals. His recent video on Instagram again inspired fans and left them open-mouthed.
Bill Maeda never stops his fitness journey
ADVERTISEMENT
Article continues below this ad
The video showed Bill lifting heavyweights with just one hand and that too, in the pouring rain. Not even the weather could deter him from his fitness goals. Maeda captioned the post saying, "200 lbs./90.9 kg. Single Arm Suitcase Deadlift – age 54, July 19, 2023, 1:08 pm." The degree holder in kinesiology showed his 720K fans how it's done.
Apart from opening the fitness organization, Bill has also opened two instructional at BJJ Fanatics. The two training processes are 'Breathing Life into Fitness' and 'Breathing Life into Fitness: Lateral Core Training.' These combine breath work and fitness to provide the best outcome for cardio.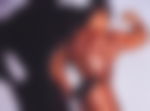 Fitness Enthusiasts Declare War Over Modern-Day Bodybuilders With 6x Mr. Olympia
Monster's Hulk-Like Form From the 90s: "Proportions and Mass Were Ridiculous"
ADVERTISEMENT
Article continues below this ad
Fans can learn a lot from the fitness influencer and this late post left all his fans awestruck.
Bill Madea gets fans fired up with his new workout
Followers and fans cheered for Bill and got inspired by his fitness. One fan said, "Uncle you getting swoler every time I see u." Another fan talked about the weather and said, "????It's the rain ????️ Aloha ????."
ADVERTISEMENT
Article continues below this ad
One fan applauded his prowess and said, "With the storm, the humidity had to make this difficult ????????." A follower cheered for the suitcase deadlift and said, "The suitcase deadlift is my favorite ????." Finally, another fan wrote, "I love how you switch it up every workout very inspiring." What do you think about the amazing fitness trainer? Tell us in the comments below!
Watch This Story: "You're Better Than All Heavyweights": Mass Monster Dorian Yates Shocked the Head of IFBB in England During His First Contest