Driving a hypercar that looks and sounds more like a fighter jet on the streets of SoCal triggers intense emotions in Shmee150.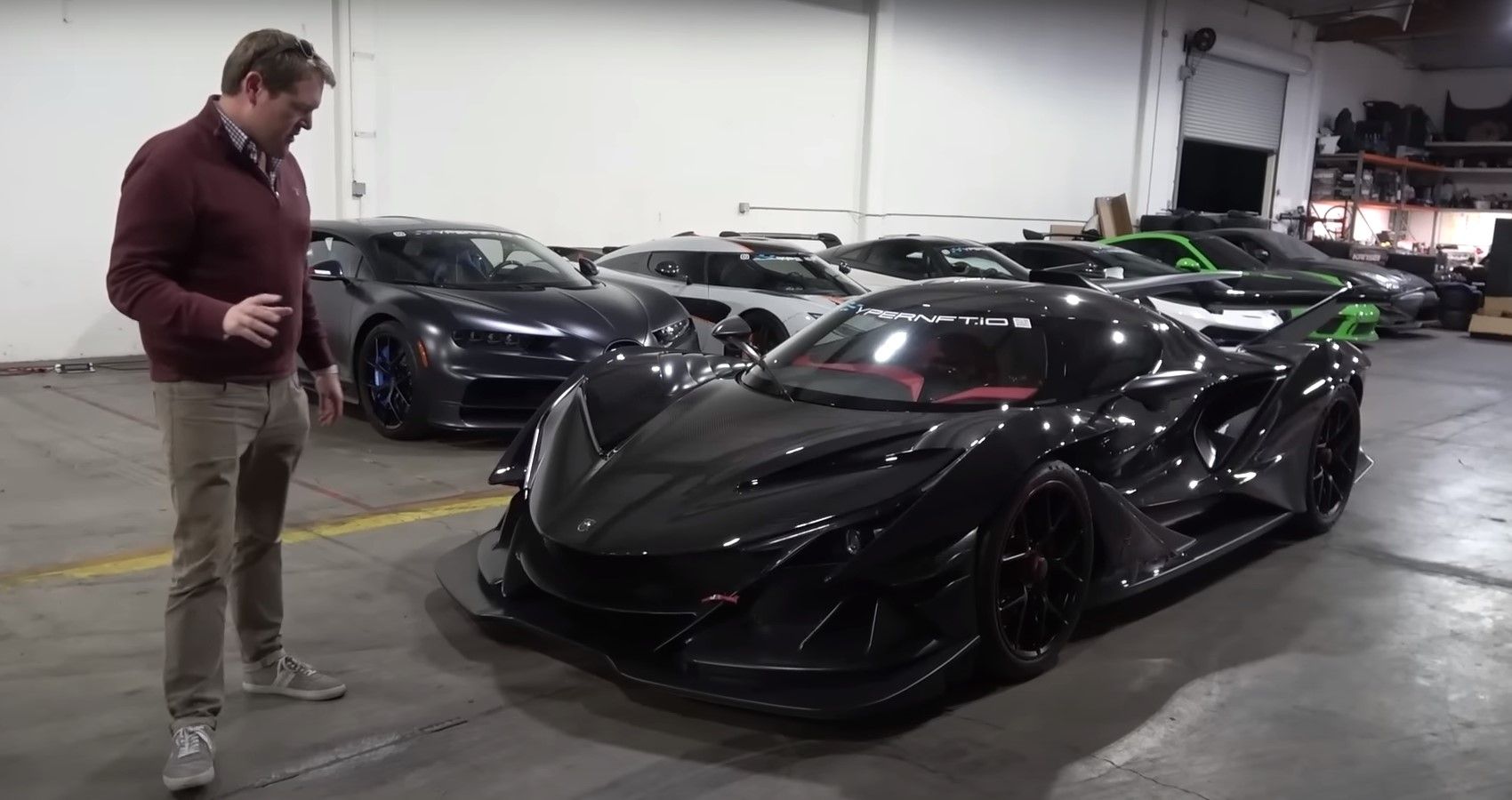 Despite his sizeable car collection and vast driving experience, YouTuber Shmee150 certainly hasn't become jaded when encountering a new supercar. While in Southern California, he has an opportunity to drive the over-the-top Apollo Intensa Emozione, or Apollo IE for short, and it blows him away.
Watch Shmee's extreme reaction in the video as he drives this Batmobile-like mid-engine car.
Rare, Ridiculously Expensive, Yet Road-Legal Apollo IE
Although Shmee has driven two Apollo IEs recently, both times it's been on the track. Understandably, it is exciting for Shmee to take this "Carbon Dragon" onto the streets of Orange County. It's 1 of only 10 customer cars in existence. But these customers have very deep pockets since they could afford the Apollo IE's price of $2,670,000.
RELATED: These Are The 10 Most Expensive Hypercars On The Market Today
Like its predecessor, the Gumpert Apollo, the Apollo IE is both street-legal and race-ready. Its 2,755-lb body consists almost entirely of carbon fiber, except for some bits of titanium and other high-strength metals. Its naturally-aspirated V12 makes 800 hp and 561 lb-ft of torque, producing a top speed of 205 mph. And it's no wonder, since HWA, a tuning team spun off from Mercedes' AMG, took on the finishing stage of this car.
The Apollo IE Sounds Like A Fighter Jet
During his walk-through of the Apollo IE, Shmee mentions that the car's designers used nature—specifically marine animals and insects—as inspiration. These design cues show up in the cocoon-like cockpit and the huge fin-like spine that runs from the roof snorkel to the enormous, barbed wing at the rear. This car is visually far bolder than the more rounded profiles of competitors such as the Audi R8 V10 or the McLaren 720S.
RELATED: McLaren 720S Becomes An Aerodynamic Tadpole Courtesy Of Prior Design
Shmee's goal is to reach 9,000 rpm in the Apollo IE. But only as he maneuvers this beast through traffic does he realize that the car, while technically road-ready, is extremely difficult to handle. It has a race car clutch pedal and an insane amount of downforce. To add to this, the rare hypercar roars like an F-35 fighter jet. He babies the clutch while inviting competition from a Ferrari 812 GTS.
He enters a freeway where he can finally open up the throttle. Since the Apollo IE can clock 0 to 60 in 2.7 sec, it takes almost no time for Shmee to hit the 9,000 rpm mark. After the test drive, an amazed Shmee in typical fashion deems this unusual and rare hypercar to be "mega".