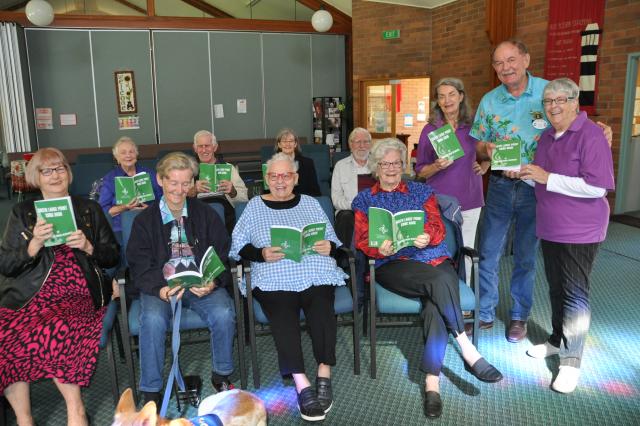 By Trish Bowman
The Sing 4 Health and Happiness not for profit group had a delightful treat this week after Yeppoon Lions donated funds for the purchase of twenty-five large print song books for their weekly group sing-alongs.
The move enabled the group to sing along to more songs in a bid to improve their health and wellbeing.
Coordinator Jan Boyd said they are thrilled to receive the donation which allows everyone to join in on the fun.
"Each week we meet up and do some vocal exercises then join in on some toe tapping melodies," Ms Boyd said.
"This is all about music, song, movement, and social interaction to improve our health and wellbeing.
"Singing is known to be good for you, it exercises the whole brain and has the ability to make you feel better.
"Music is a non-invasive method of influencing heart rate, breathing quality and physical pain.
"Singing releases endorphins, dopamine and serotonin, hormones associated with feelings of pleasure as well as oxytocin, a chemical that manages stress and enhances trust and bonding, helping to reduce depression and loneliness.
"Stroke patients who have lost the ability to speak have been trained to say hundreds of phrases through singing them first.
"Music therapy has also been known to work similar wonders with Alzheimer's patients.
"Used appropriately, music can improve moods, manage stress induced agitation, stimulate positive interactions, stimulate cognitive function, and coordinate motor movements.
"Music can be beneficial to people with Parkinson's stimulating the neurotransmitters dopamine and serotonin that are absent in PD patient's brains.
"Most of all, it makes you feel good and is a wonderful way to engage with others."
Yeppoon Lions spokesperson Don Knowles said Lions were happy to donate to this very worthwhile group.
"Singing together offers some marvellous benefits, it brings people together and offers a sense of spiritual connectivity," Mr Knowles said.
"There was a moment in the movie Billy Elliot when Billy explained how music makes him feel, he said it was like electricity running through his body.
"This seems a fitting way to sum up what music does for the senses."
Sing 4 Health and Happiness meet every Wednesday from 9.30am at the Uniting Church, 17 Lorikeet Avenue, Yeppoon. Phone enquiries are welcome on 4939 5681.
Ms Boyd said everyone is welcome to join in the fun followed by a light morning tea.