The weather was as harsh as it could ever be. He was bleeding profusely from the nose. He did not have auxiliary oxygen support. He had a medical condition, which made it difficult to breathe, forget running in an unforgiving terrain with all the gear on. But, Armyman Muhsin V.A. battled all these odds, and more, to finally reach the Mount Everest Base Camp (MEBC) after an arduous 22-hour trek to etch his name in the record books.
The 29-year old from Aluva, Kerala, who started the trek from Lukla, a small town in northeast Nepal, entered the Asia Book of Records as the fastest to reach the MEBC.
"It usually takes days, and sometimes even weeks, to complete this stretch. I had to run most of the way with all the gear strapped on, to reach the camp in the shortest possible time. I didn't carry any auxiliary oxygen support, too," Muhsin told THE WEEK.
For Muhsin, a tech soldier now posted in Ladakh, overcoming his medical condition was one of the biggest challenges. "I was first posted in Himachal Pradesh. My medical condition was an issue, which I overcame with breathing exercises and yoga. This gave me confidence."
It was not the first trek to the MEBC for the mountaineering enthusiast. "My first time, back in 2016, I took 15 days and the second time, a week, to complete this trek. The climate then was not that harsh," Muhsin, who joined the Army in 2015, said.
"This time, it was snowing heavily, making it difficult to take each step. The wind was blowing so hard that it kept pushing me backwards." Muhsin even lost his way once.
He started the trek from the Gateway of the Everest – Lukla – at 4am on May 1. It took only three hours to reach Phakding. The real challenge, however, started from there. By around 10:30am, Muhsin reached Namche Bazar but was drained of all his energy. "Since I hadn't had any food, each step was getting harder. No shops were open," he said.
With heavy rains ruling out further movement, Muhsin decided to rest. "By around 11am, I started again. My next stop was Deboche, and by the time I reached, heavy snowfall had covered the village in a blanket of white. The chilling wind was making it extremely difficult to trek.
"From Deboche, I reached Thukla by around 6pm but lost my way after that due to the thick fog. Even my phone was about to die and I knew that if my GPS tracker lost its signal, then there was no point continuing the trek. Thankfully, I heard the sound of cattle bells, which I followed to find a trail. I met a villager who showed me the track to follow. Following the cattle tracks, I reached a tea shop, charged my phone and set out for the Base Camp, and reached by 2am on May 2," Muhsin said.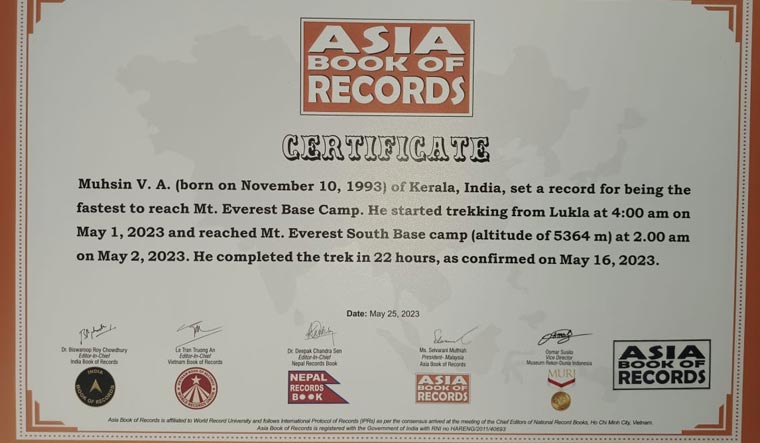 Certificate from the Asia Book of Records | Sourced image
On the way up, there were constant reminders of how deadly each step could be. "There were posters of missing persons. They are a chilling reminder that there are so many people who have been lost here, to these mountains," he said.
The aim was to reach the Base Camp in 16 hours but adverse weather delayed his plans, he said.
Muhsin had trekked with a message '#SaveLakshadweep', to raise awareness on the threat of global warming. At 5am, he started trekking down, and reached Lukla at 10pm.
Muhsin trained in mountaineering at the Nehru Institute of Mountaineering, Uttarkashi, Uttarakhand, and the National Institute of Mountaineering and Adventure Sports (NIMAS), Dirang, Arunachal Pradesh. He has his sights set on advanced training at the High Altitude Warfare School in Gulmarg in August, in preparation for his trek to Mount Everest next year.
"My target is to reach Mount Everest in 24 hours. On this trek, when people would advise me to go slow, I would tell them that I was in a hurry to complete the trek in record time. 'Are you kidding', they would ask. I made that possible and I am confident that I will be able to achieve my next target as well," he said.
Muhsin has conquered other peaks, too, including Island Peak, Mera Peak and Kala Patthar in Nepal.
"There is no easy way to get used to the high altitude. Your body has to adapt to the conditions. Correct diet and exercise help you adapt."
His feat was acknowledged by the International Book of Records, too, when they named him one of the fastest individuals to have trekked to the MEBC.