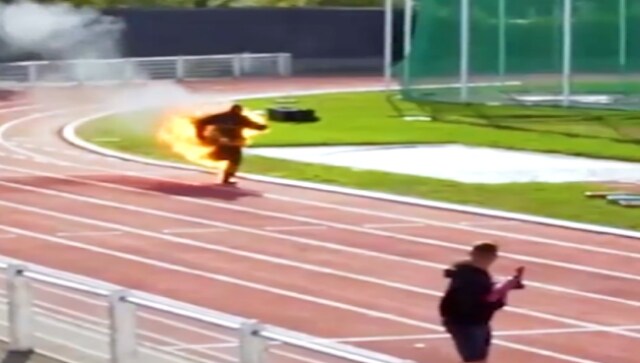 There was a day when people used to steer away from the fire but today, thanks to technological advancement, people are even able to move while on fire. Set to etch his name in history books, a French firefighter, Jonathan Vero, has created the world record for achieving fastest full body burn 100m sprint without oxygen, as per Guinness World Records. The 39-year-old set the mind-boggling feat in just 17 seconds. Jonathan reportedly ran 272.25 meters while being on fire. The Frenchman also broke the previous record of 204.23 meters. Both records were previously held by United Kingdom's Antony Britton. The Guinness Book of World Records–the official body for keeping records– has also posted a video of the courageous act on Instagram. The clip has till now amassed more than 1.7 million views.
New record: The fastest full body burn 100 m sprint without oxygen – 17 seconds by Jonathan Vero (France)

Jonathan also set the record for the farthest distance ran in full body burn during this attempt at 272.25 metres! ???? pic.twitter.com/J0QJsPNkPf

— Guinness World Records (@GWR) June 29, 2023
While many applauded the effort, one of the users highlighted the training process of Jonathan for the challenge. "For anyone who cares to know: 'Jonathan spent three months preparing for his record-breaking run, training his endurance, explosiveness, and breathing.' – Emphasis are mine," wrote one Twitter user.
For anyone who cares to know:

" Jonathan spent THREE MONTHS preparing for his record-breaking run, training his ENDURANCE, EXPLOSIVENESS, AND BREATHING." – Emphasis are mine.

— Ayọ̀wùmí (@ayowumie) June 29, 2023
"People are creating records though," commented another person.
Lavishing immense praise on the Frenchman, another person tweeted, "Wow. Hats Off To You. Congratulations."
The current record-breaker of this unimaginable body burn race is Jonathan Vero, a French firefighter, stuntman. The pyrotechnician and fire juggler reportedly had a passion for fire and he loved playing with it, ever since he was a child.
"This performance has a lot of meaning for me, for my job as a firefighter and for the people who trained me and watched me grow. I've still got a lot to try and a lot of records to go for. Here, I'm considered a 'paradox', even a 'cheater of death', and I think that in the months to come, these descriptors will take on their full meaning," Vero was quoted as saying by New York Post.
Read all the Latest News, Trending News, Cricket News, Bollywood News,
India News and Entertainment News here. Follow us on Facebook, Twitter and Instagram.