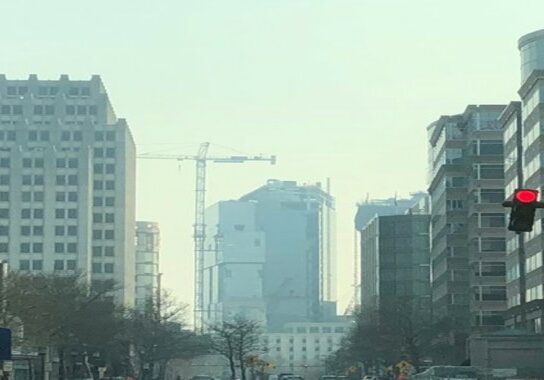 The air quality in Montgomery County and the surrounding D.C. region is unhealthy right now. Smoke from wildfires burning in Canada has moved into the area. That has created hazy and smoky conditions in the sky. The Air Quality Index reached code red or unhealthy status on Wednesday. The AQI determines how clean or polluted the air is that people breathe.  The unhealthy air is expected to linger in the region over the next couple of days.
MyMCM spoke with Dr. Fabian Sandoval, the President and C.E.O. of Emerson Clinical Research in Washington, D.C. about the potential dangers this unhealthy air can have on people:
Impact on Pets
The unhealthy air quality also has an impact on animals. Dr. Katie Malehorn is the lead veterinarian at Veterinary Park Potomac in Potomac, Maryland. She said pets are similar to people. If people are feeling discomfort in a smoky or polluted environment, then most likely pets are feeling the same.
Signs and Symptoms
She said some signs and symptoms to watch out for in a pet include:
Increased coughing
Respiratory noise or wheezing
Open mouthed breathing
Nasal discharge
Eye irritation
Fatigue or weakness
Reduced appetite or thirst
Malehorn said some breeds are more vulnerable than others because they have a condition known as Brachycephalic Obstructive Airway Syndrome. Animals such as French bull dogs, bull dogs, and shih tzu's fall into this category in part because they have small noses.  They already have trouble breathing when the air quality is good. Poor air quality makes it worse.
"Pet owners should limit their time outdoors to short walks until the air clears to a safer level for both people and pets," Malehorn said.  She also suggests people use an air filtration system for themselves and their pets.