Summary
Emirates celebrates milestone with 20,000 cabin crew globally recruited from 340 cities, representing over 140 nationalities.
Extensive training includes realistic emergency simulations, first aid, security, hospitality, and service training.
Opportunities for promotion within Emirates, with over 1,100 pursers and long-serving crew members, showcasing generous benefits and retention.
Emirates is celebrating having 20,000 cabin crew employees in an August 9 statement. To Emirates, this is an important milestone in the airline's growth trajectory showing the diversity and opportunities within its cabin crew.
Emirates cabin crew globally recruited for a global mission
For Emirates, a full-service carrier airline that prides itself on serving 134 cities in 76 countries & territories with 2559 passenger airliners, having a world-class, diverse cabin crew is a priority.
Emirates in its August 9 statement, noted the airline has recruited in 340 cities across 6 continents its 20,000+ cabin crew. Currently, Emirates cabin crew represent over 140 nationalities with 130 languages spoken.
40 days of extensive training
Furthermore, Emirates provides each successful applicant with 40 days of training. Flight attendants trained by Emirates start with 3 days of introduction, followed by 13 days of aircraft equipment, fire-fighting, and in-flight emergency and evacuation procedure training. This training is done in full-motion cabin flight simulators, including smoke simulation plus visual and audio displays to increase realism. See here according to an Emirates April 7 factsheet to stress the intensive safety training;
Cabin Crew learn how to evacuate an aircraft, put out a fire, respond to a loss of cabin pressure, deal with severe turbulence and prepare a full cabin of passengers for an emergency landing. Cabin Crew are also trained on the different technical components of the aircraft within the Emirates fleet; for example, a variety of aircraft door malfunctions can be simulated, including blocked doors, slide failure, obstructions, smoke, and fire.
As if 13 days of very realistic aircraft emergency training was insufficient, each Emirates flight attendant in training will receive five days of first aid medical training. The training goes beyond CPR or reviving someone who's lost breathing and/or heartbeat to also include sudden illness, injuries, childbirth, and airline accessibility. Psychological training to be kind in stressful situations is also provided.
This is followed by two days of security training. The security training ranges from international aviation security law to security checks to addressing an unruly passenger situation.
Only at this point, after three days of introduction and 20 days of emergency training, does a cabin crew trainee receive two days of Emirates Hospitality training, one day of uniform training, and 14 days of service training. When completing the Emirates Aviation College's Cabin Crew Training, there are two annual days of recurrent training to ensure cabin crew are ready for any situation.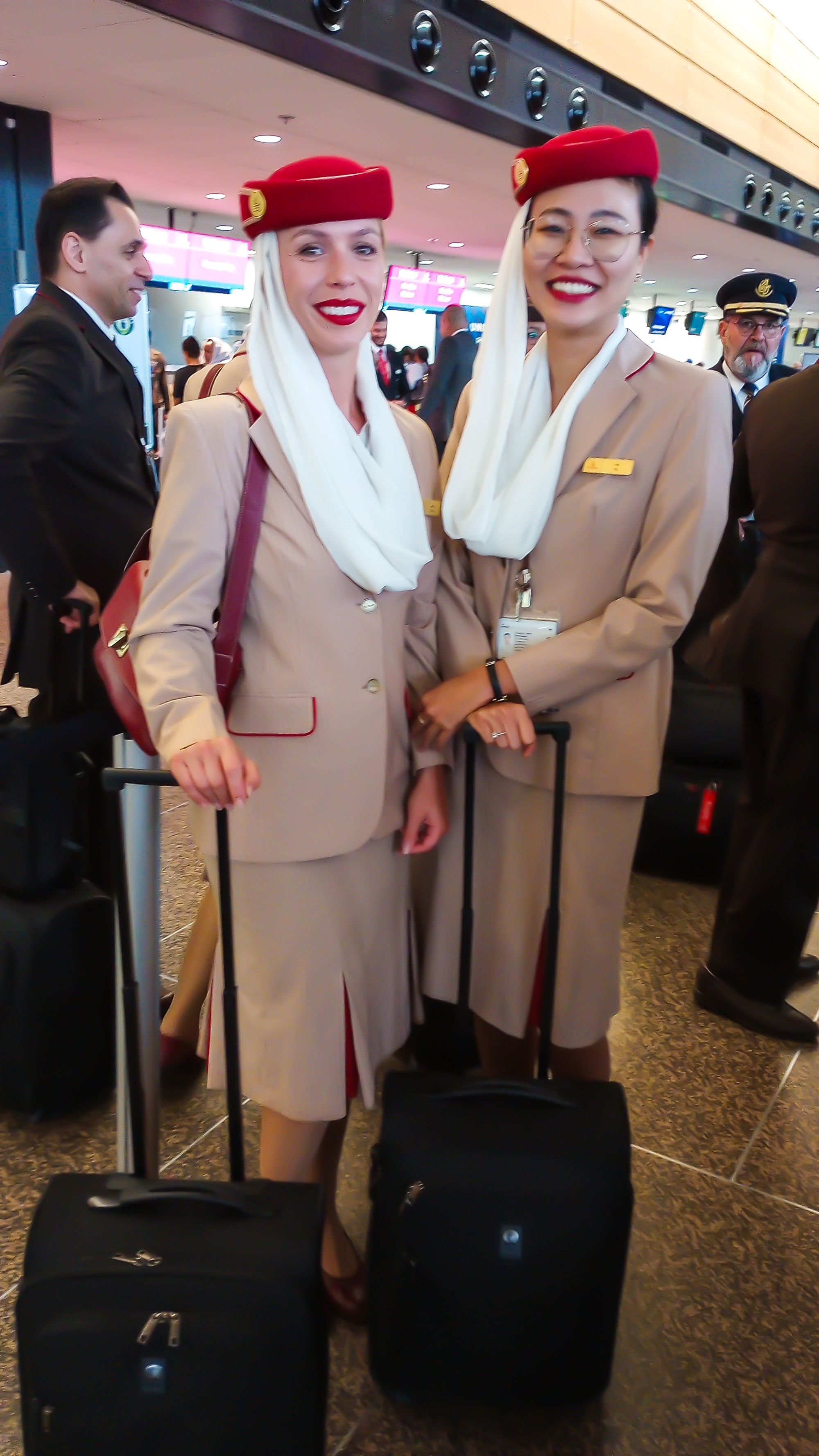 Photo: Joe Kunzler | Simple Flying
But being a member of the Emirates cabin crew is more than training for emergencies and providing service at altitude. There are cabin crew who find the career very rewarding.
Emirates Cabin Crew have unique opportunities
Yes, one can go through all of the training and be keen to do the work. As Moosa Mubarak, Emirati Purser and Emirates' longest serving cabin crew, said in the Emirates August 9 statement;
"I've flown as Emirates' cabin crew for 36 years on over 3,500 flights. Even now, after all these years, I'm always keen and excited to start my duty onboard. Mentoring my crew colleagues and serving as an ambassador for Emirates and my country is what I am most proud of. I have had a long and successful career, incredible experiences and have made mind-blowing memories doing exactly what I love."
Working for Emirates comes with opportunities for promotion. Promotion opportunities include upgrading to a higher cabin, becoming a cabin supervisor, trainer or purser – and all come with additional training. Today Emirates has over 1,100 pursers who have moved through the ranks from junior cabin crew, showing the airline promotes well from within.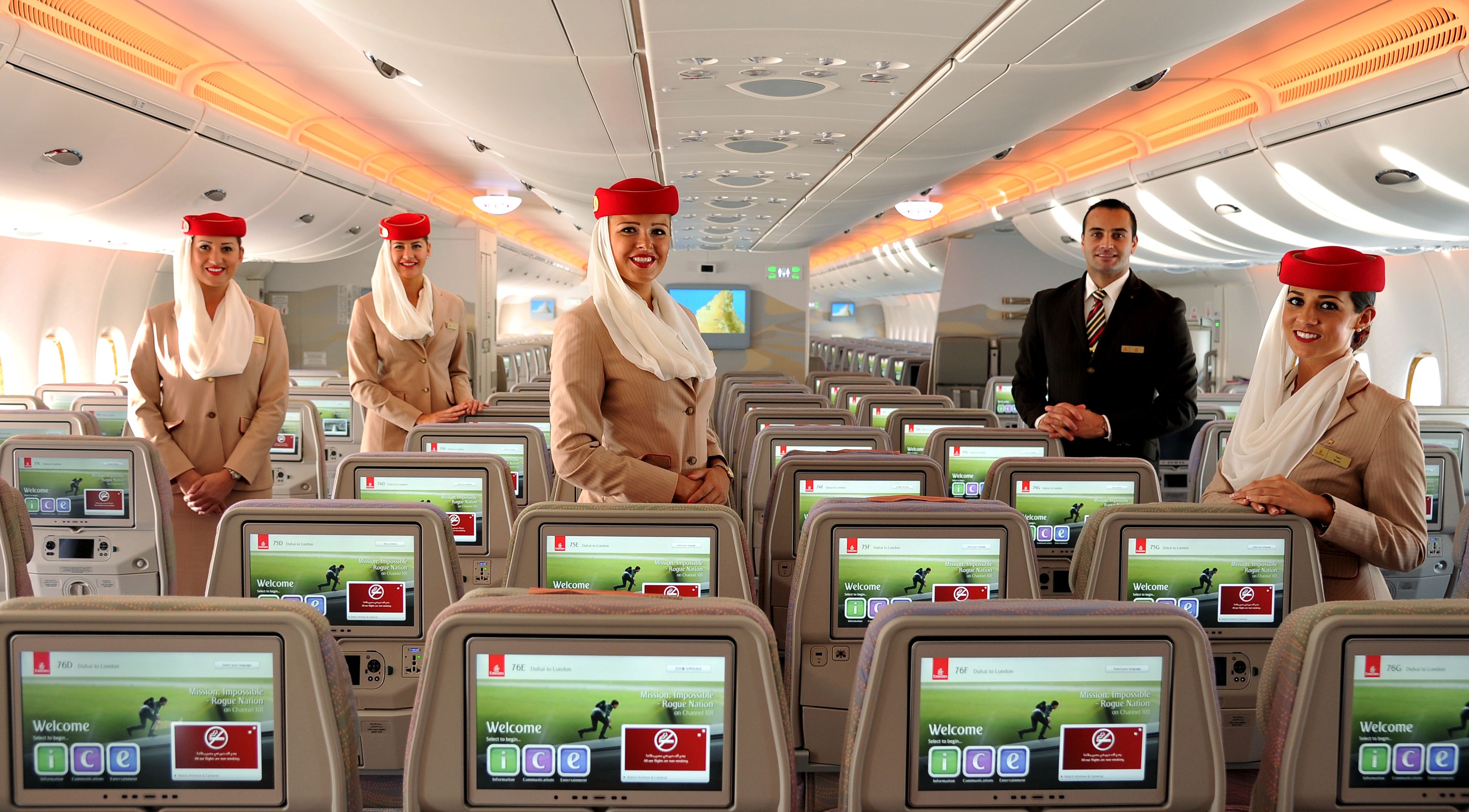 Photo: Emirates
Furthermore, of the 20,000 currently working Emirates cabin crew, over 4,000 have worked 5-9 years, almost 3,000 10-14 years, over 1,500 crew working 15–19 years; and some 400 crew members working over 20 years with Emirates. The longevity shows that the airline's generous benefits package and path to promotion help recruit and retain cabin crew.
Basic requirements to join Emirates cabin crew
According to Emirates, the below are the minimum requirements to apply to receive the training and work for Emirates as cabin crew:
Fluent in written and spoken English (additional languages are an advantage)
A natural team player with a personality that shines
At least 160cm (5'3") tall and able to reach 212cm (6'11") high
Able to meet the United Arab Emirates' (UAE's) employment visa requirements
At least one year of hospitality or customer service experience
A minimum of high school (Grade 12) education
No visible tattoos while in Emirates cabin crew uniform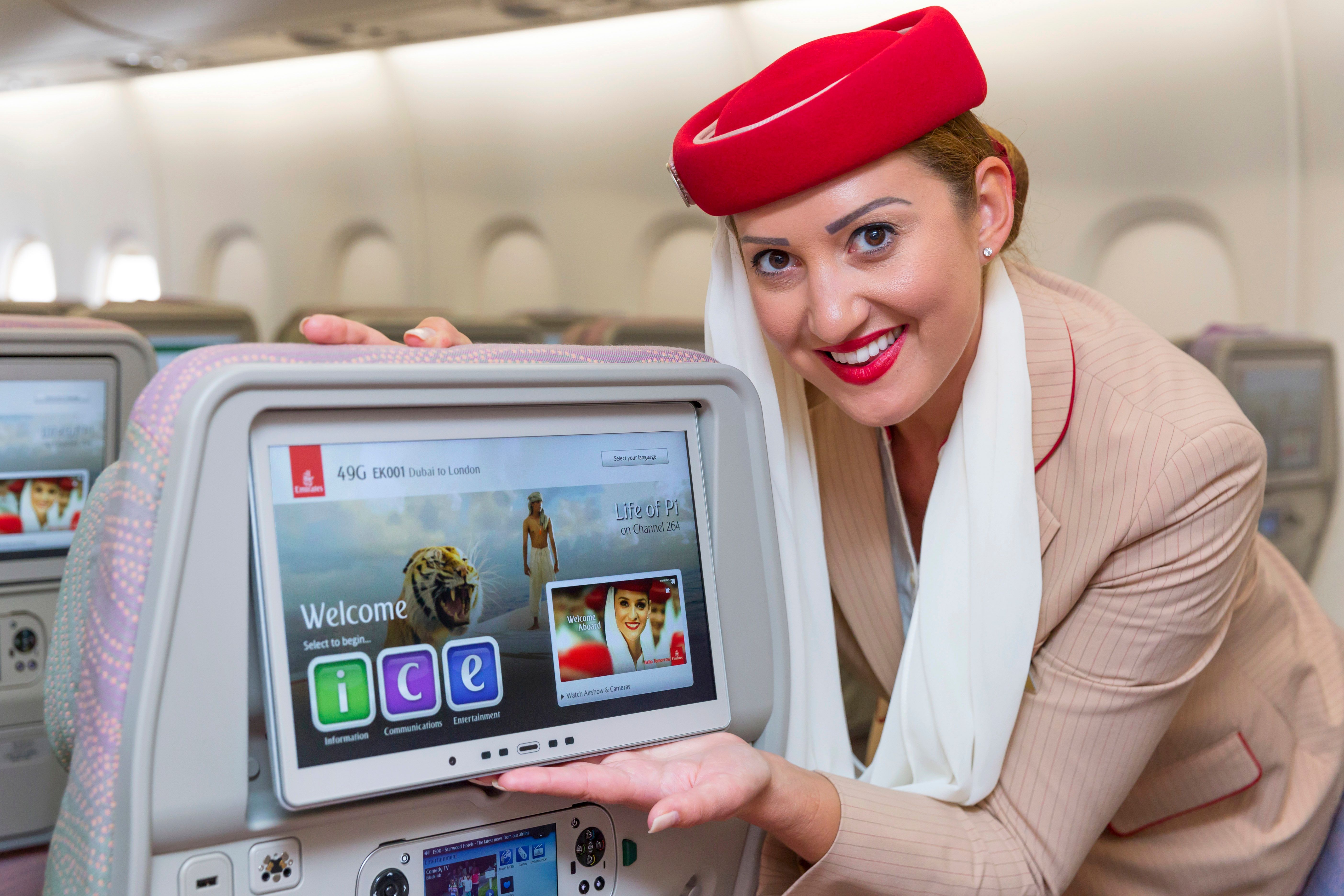 Photo: Emirates
Seems many can apply to start the intensive training for such opportunities.
Would you consider joining the Emirates cabin crew? Yes or no? Please feel free to share in the comments.
Emirates has been unable to fly to Nigeria, so local travelers have found other ways of getting to the UAE. Photo: Vincenzo Pace/Alvin Man - Simple Flying

IATA/ICAO Code:

EK/UAE

Airline Type:

Full Service Carrier

Hub(s):

Dubai International Airport

Year Founded:

1985

CEO:

Ahmed bin Saeed Al Maktoum

Country:

United Arab Emirates