A mysterious odor that spread across Indiana was reportedly caused by an issue at a BP refinery, with authorities across the state urging people not to call 911 about it.
Residents received a public safety alert on Sunday that said fire and police departments in Lake, Porter and LaPorte counties have been "alerted to the presence of a sulfur-like odor spreading across Northwest Indiana."
According to screenshots shared on social media, the alert continued: "At this time, the origin of the odor is unknown. All emergency personnel and agencies have been made aware and are investigating. Currently, there is no immediate threat to public safety."
Some took to Twitter to share their concerns, with one user writing: "There is a very nasty sulfur smell going across the whole northwestern part of Indiana right now… I opened front door and it's bad my son has asthma & I'm worried."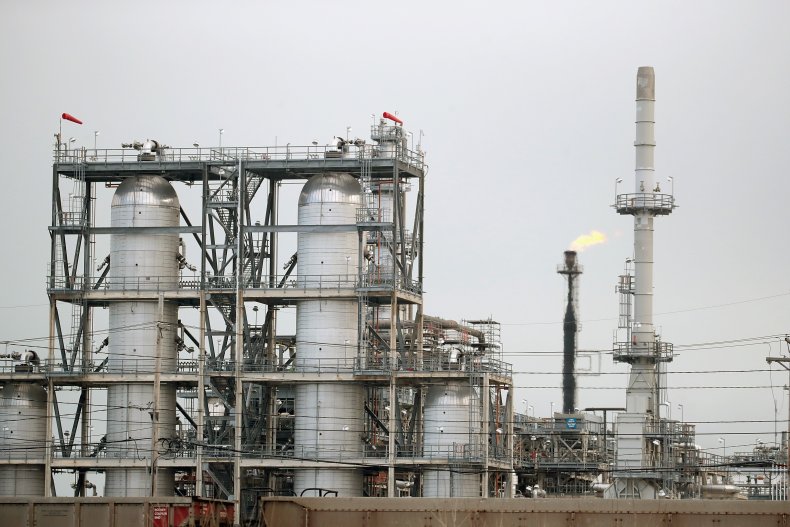 Early Monday, Porter County's Emergency Management Agency said that because of severe weather, BP's refinery in Whiting "experienced an operational disruption that triggered unplanned flaring of gases from their facility."
In a statement, the agency said BP crews "have been on site to manage the situation. Community monitoring has been ongoing throughout the day and BP advises they expect the situation to be resolved in the coming hours.
"They further advise there is no danger to the community at this time. Other industries throughout Porter, Lake and LaPorte Counties have been contacted and we have found no other evidence of releases or spills."
The Indiana Department of Environmental Management has been notified of the situation and will be conducting follow-up evaluations, the agency added.
Newsweek has contacted the agency and BP for further comment via email.
On Sunday, police departments in Indiana said the source of the smell was being investigated and urged residents not to call 911 about it.
The Chesterton Police Department said in a Facebook post on Sunday night that the odor was thought to have "originated in the vicinity of the oil refinery/steel mills located in Lake County."
The department urged people to refrain from calling 911 about the odor as local dispatch centers "are already receiving a high volume of calls concerning this matter. It is essential to keep the emergency 911 lines available for those experiencing active emergencies. We sincerely appreciate your patience and understanding in this situation."
The fire department in Lake Station encouraged people with asthma or breathing issues to stay indoors.
"The entire area from East Chicago as far as Portage is experiencing what people are calling a natural gas smell / sulfur smell," the department wrote on Facebook Sunday night. "We do not believe currently there's any danger but if you are a person that is asthmatic or has breathing issues please stay indoors as a precaution."
The Northern Indiana Public Service Company (NIPSCO), a the gas and electric utility for much of northwest Indiana, said it was investigating the odor.
In statement shared on Facebook on Sunday night, the company said it was notified about the smell of natural gas near Beverly Shores, Michigan City and Long Beach that then migrated to areas throughout Lake, LaPorte, Porter and St. Joseph counties at around 4 p.m. local time.
"NIPSCO supervisors and service workers have been dispatched throughout the service areas to investigate the smell," NIPSCO said. "It has been determined that the smell is not gas related. The source of the smell remains unknown at this time."
In another statement posted about an hour later, NIPSCO said the company had received hundreds of calls.
"Throughout the afternoon and evening, we have received several hundred calls from customers regarding odors in the air," it said.
"When we receive those calls, we send service crews and techs into those areas. Based on all the readings we've conducted, we have not sourced any of those calls to being related to natural gas. Calls have ranged from Porter, LaPorte, Lake and St. Joseph counties."