"Being under-vaccinated is the overwhelming common feature in people who need to be admitted to hospital, and they do not do as well when they're treated," he said.
Raymond Daly, 86, received his third COVID-19 vaccine more than a year ago, but said he had "never heard anything more about it after that". He spent three days in the Northern Hospital in Epping during a nasty first bout of the virus.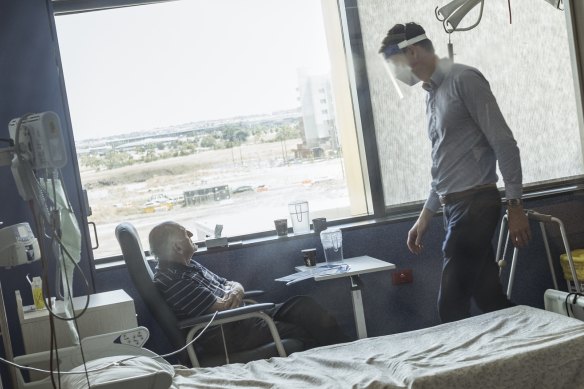 "I started getting worse and worse. I couldn't breathe. I had a funny cough. I couldn't even lay down; that's how bad it was," said the retiree from Kilmore.
Associate Professor Craig Aboltins, the head of infectious diseases at Northern Health, said Daly was really sick when he was first admitted, requiring oxygen to breathe and antiviral treatment.
"We were quite worried about him because he has had problems with his kidney and his heart. But he's going really well," Aboltins said.
Loading
Daly, whose wife is also being treated in the same hospital for COVID, said people around his age should know that they might need to have another injection, adding "time goes by and you don't know how long ago that things happened".
Most Australians aged 50 or over should now have received their fourth vaccine. However, close to two in 10 people aged 70 or older are yet to receive a fourth dose.
Aboltins said it seemed elderly people and those with medical conditions became more vulnerable to severe infection from COVID once six months had passed since their most recent vaccination.
"We're seeing more people who are having fevers, and they're feeling really unwell … so they might become dehydrated, and they might go into kidney failure, they might become very confused," he said.
"It might lead them to have a fall and to fracture something and hurt themselves very badly, so there's lots of different ways they can be affected."
The median age of death from COVID-19 in Australia is about 85, according to the Australian Bureau of Statistics.
The other group that doctors are worried about is those who are medically vulnerable to COVID for reasons other than just their age; it includes transplant recipients and those with blood cancer, asthma, kidney failure, diabetes, significant autoimmune conditions and heart disease.
Romanes urged those vulnerable to COVID to ensure their immunisations were up to date, to wear high-quality masks in crowds and to have an action plan prepared with their GP in case they become infected.
"Antiviral treatment can save your life if it's given early after COVID infection … and antivirals work best, as we know, the sooner they're given, and this should be within days of the onset of the COVID infection," he said.
Loading
Those eligible for antivirals include any Australian aged 70 or over and any adults with certain conditions that compromise their immune systems, such as congenital heart disease or those on chemotherapy.
Romanes said other Victorians should keep in mind that they might not know when they were interacting with someone who was immune suppressed. He advised the public to ensure they had their latest booster shot, to wear a mask inside any time there was a crowd and to keep rooms well ventilated.
Liam Mannix's Examine newsletter explains and analyses science with a rigorous focus on the evidence. Sign up to get it each week.