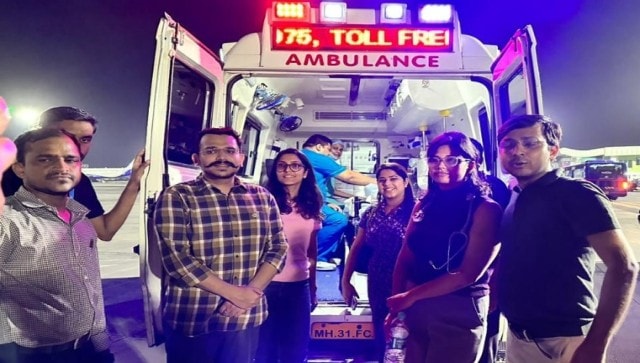 In a piece of positive news from the skies, a miracle recovery was made by a two-year-old toddler who stopped breathing mid-flight on a Bangalore to Delhi Vistara flight after receiving emergency medical care from a group of five doctors who were also on the trip.
The incident took place onboard a Vistara Airline flight UK-814 carrying five senior resident doctors from the All India Institute of Medical Sciences (AIIMS) on their way back to Delhi from the Indian Society for Vascular and Interventional Radiology (ISVIR) on Sunday.
The case's specifics, as well as pictures of the baby and the doctors, were posted by AIIMS Delhi in a post on X (previously Twitter).
Also read: Explained: Why directives to Indian doctors to prescribe generic medications have been put on hold
How doctors saved the child?
A distress call was made on the plane after the child stopped breathing, and the plane was then diverted to Nagpur.
"It was a two-year-old cyanotic female child who was operated outside for intracardiac repair, was unconscious and cyanosed," AIIMS Delhi wrote.
Upon examining the infant after hearing the distress call, the flight's medical staff discovered that her "pulse was absent, extremities were cold, and the child was not breathing with cyanosed lips and fingers."
#Always available #AIIMSParivar
While returning from ISVIR- on board Bangalore to Delhi flight today evening, in Vistara Airline flight UK-814- A distress call was announced

It was a 2 year old cyanotic female child who was operated outside for intracardiac repair , was… pic.twitter.com/crDwb1MsFM

— AIIMS, New Delhi (@aiims_newdelhi) August 27, 2023
Using skilful work and proactive team management, immediate CPR was performed on the infant while they were still in the air.
"Successfully IV canulla was placed, the oropharyngeal airway was put and emergency response was initiated by the whole team of residents on board – and the baby for brought to ROSC – the return of circulation. It was complicated by another cardiac arrest for which an AED was used," the post read.
The infant was resuscitated for 45 minutes as the plane was diverted to Nagpur, where she was handed over to the paediatrician while still having a stable hemodynamic condition.
The child was saved by Dr Navdeep Kaur (SR Anaesthesia), Dr Damandeep Singh (SR Cardiac Radiology), Dr Rishab Jain (Ex-SR AIIMS Radiology), Dr Oishika (SR OBG), and Dr Avichala Taxak (SR Cardiac Radiology).
Also read: Why junior doctors in UK are on longest-ever strike in NHS history
Similar incident
Last year in September, a nurse was being hailed for saving a three-month-old baby who had stopped breathing during a flight from Pittsburgh, Pennsylvania, to Orlando, Florida.
According to Fox affiliate WOFL of Orlando, Baby Anjele experienced a medical emergency about 30 minutes after takeoff.
The nurse, identified as Tamara Panzino, was on Spirit Airlines Flight 1691.
On my flight back from Pittsburgh to Orlando, a baby stopped breathing three rows ahead of me. Thankfully a nurse (Tamara Panzino) was able to get the baby to breathe again. (1) pic.twitter.com/6oDgFCG7FS

— Ian Cassette FOX 35 (@iancassette_wx) September 9, 2022
She acted swiftly and began massaging the infant's legs and chest. After a short while, the infant resumed breathing.
Ian Cassette, the station's meteorologist, was on board and saw what happened.
The news station quoted Panzino, a nurse of more than 20 years, as saying that she felt "really good" about being of assistance.
Also read: Scientists find a bacteria that can 'eat' methane. But can it curb global heating?
With inputs from agencies